Urology
Generally, you should see a primary care physician to determine if there is a need for you to see the urologist. Physicians from Mayo Clinic Health System or other healthcare facilities may refer you to see a urologist. When it has been established that you need to see a urologist, an appointment can be made through our receptionist. Once the urologist has examined you and developed an appropriate plan of care, he or she will communicate this with your primary care provider.
Learn more about Urology services at Mayo Clinic Health System Franciscan Healthcare.
A urologist provides services at the Onalaska Clinic on a weekly basis.
Locations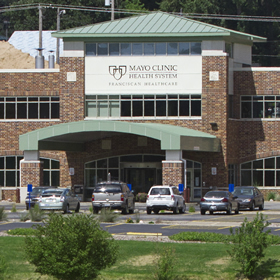 Clinic
191 Theater Road, Onalaska, WI 54650
Hours:

Mon-Fri:

7:00 AM - 5:00 PM
Hours:

Mon-Fri:

7:00 AM - 5:00 PM
Providers