Lake Crystal welcomes new family medicine provider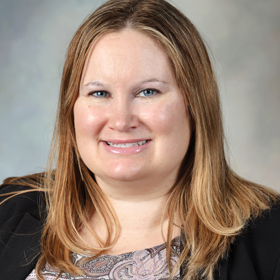 LAKE CRYSTAL, Minn. — Mayo Clinic Health System in Lake Crystal recently welcomed Doni Walker-Jackson, physician assistant, to the Family Medicine team. As a family medicine provider, Walker-Jackson helps care for people of all ages with preventive treatment and illness evaluation. She starts seeing patients July 15.
"One of the main reasons I wanted to move into primary care is to build a rapport with patients and to see my patients grow and progress," says Walker-Jackson. "Ideally, I had always wanted to practice rural primary care, so I am excited to see that goal come to fruition."
Originally from Garden City, Kansas, Walker-Jackson received her medical training from Arcadia University in Glenside, Pennsylvania, where she completed her Master in Medical Science in Physician Assistant Studies and Master in Public Health.
Prior to coming to Mayo Clinic Health System in Lake Crystal, Walker-Jackson was a physician assistant at Pediatrix in Jacksonville, Fla., and Wolfson Children's Hospital in Jacksonville, Fla., working mostly in newborn intensive care. Her special interests include maternal and newborn health, lactation counseling, preventive medicine and health education for all ages.
"My approach as a provider is to be very compassionate. I like to take time to really listen to my patients," says Walker-Jackson. "I also like to take a holistic look at the entire picture of a person's health."
To schedule an appointment, call 507-726-6966.
# # #
Mayo Clinic Health System consists of clinics, hospitals and other health care facilities that serve the health care needs of people in more than 60 communities in Minnesota, Wisconsin and Iowa. The community-based providers, paired with the resources and expertise of Mayo Clinic, enable patients in the region to receive the highest-quality health care close to home.
Press Contact
Amanda Dyslin
e-mail: Dyslin.Amanda@mayo.edu
phone: 507-594-2691
fax: 507-594-2992