Need to make an appointment?
Pediatric & Adolescent Medicine
Take a Tour of Our Pediatric Clinic
Children's Center
The best care for your child — close to home.
The new children's center offers all of the same pediatric and adolescent medicine services as before, plus a wide variety of specialized care to help keep your child healthy.
Your child will have access to the latest medical treatments and technology, in a caring, patient-centered environment.
The children's center provides many exceptional services for children and their families, including:
Endocrinologists care for patients with complex hormonal disorders and metabolic conditions, including diabetes and thyroid issues. All pediatric patients must have a referral from their pediatrician/primary care provider prior to being scheduled with endocrinology.

Our

Gastroenterology team

specializes in the diagnosis and treatment of children and teenagers with diseases of the digestive tract or liver. Gastrointestinal (GI) problems in children may be quite different from those of adults, not only in presentation but also in types of diseases.

Convenient care for non-emergency illnesses and injuries.

Nephrology

provides care and education for children with acute and chronic kidney conditions.

Mayo Clinic neurologists trained in treating children with brain and nervous system conditions (pediatric neurologists) have experience evaluating and treating children with many neurological conditions.

Psychiatry and Behavioral Health

Highly skilled specialists provide expert assessment and care to teenagers and children who have mental, addictive and emotional disorders. We are committed to providing respectful, effective psychiatric care in a safe, confidential and therapeutic environment.

Learn more about behavioral health services

.

Social Services

is dedicated to assisting you with your emotional, medical, financial and behavioral health needs. Our providers can determine your child's needs and are knowledgeable in the available resources available to you within the community.

Surgical consultation services

Our pediatric surgical team offers

surgical care

for a wide variety of illnesses ranging from simple to complex. Surgery is a major event in a family's life, so we strive to make the experience as positive and comfortable as possible.

If you child is experiencing problems of the urinary tract or reproductive organs, our urologists can help. We offer screening, diagnosis and treatment for a broad-range of conditions, and collaborate with medical experts in

Internal Medicine

,

Gynecology

,

Pediatrics

and

Oncology

to make sure you are receiving exactly the care you need.

Our team of pediatric and adolescent providers is dedicated to meeting your child's health care needs and is committed to keeping them healthy in mind, body and spirit.

When the need for specialty care arises, our health care providers work with referring patients to the appropriate specialists. Our partnership with Mayo Clinic in Rochester gives us a direct link to a wide range of medical specialists.
*Certain pediatric specialty services will remain at Mayo Clinic Health System's hospital campus in Mankato. Patients with questions about a service location can call 507-625-4031.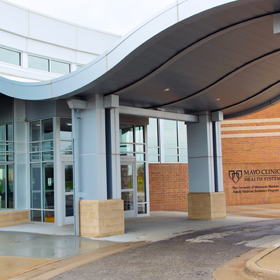 Children's Center
Pediatric Specialty Clinic Mankato
101 Martin Luther King Jr. Drive
Appointments: 507-594-4700
Clinic Hours: Mon-Fri: 7:30 AM - 5:00 PM
Clinic hours subject to change on holidays.