Need to make an appointment?
Cardiology (Heart)
Heart Issues We Treat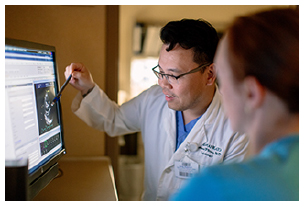 We are committed to providing you with the best information related to heart disease and the conditions we treat. Our team educates you on heart-related issues, because the role you play in your heart's health makes all the difference.
Sudden cardiac arrest is the sudden, unexpected loss of heart function, breathing and consciousness. Sudden cardiac arrest usually results from an electrical disturbance in your heart that disrupts its pumping action, stopping blood flow to the rest of your body.

Sudden cardiac arrest is different from a heart attack, which occurs when blood flow to a portion of the heart is blocked. However, a heart attack can sometimes trigger an electrical disturbance that leads to sudden cardiac arrest.

Sudden cardiac arrest is a medical emergency. If not treated immediately, it causes sudden cardiac death. With fast, appropriate medical care, survival is possible. Administering cardiopulmonary resuscitation (CPR), treating with a defibrillator — or even just compressions to the chest — can improve the chances of survival until emergency personnel arrive.

Symptoms

Sudden cardiac arrest symptoms are immediate and drastic and include:

Sudden collapse
No pulse
No breathing
Loss of consciousness

Sometimes other signs and symptoms precede sudden cardiac arrest. These may include fatigue, fainting, blackouts, dizziness, chest pain, shortness of breath, weakness, palpitations or vomiting. But sudden cardiac arrest often occurs with no warning.

When to see a doctor

If you have frequent episodes of chest pain or discomfort, heart palpitations, irregular or rapid heartbeats, unexplained wheezing or shortness of breath, fainting or near fainting, or you're feeling lightheaded or dizzy, see your doctor promptly. If these symptoms are ongoing, you should call 911 or emergency medical help.

When the heart stops, the lack of oxygenated blood can cause brain damage in only a few minutes. Death or permanent brain damage can occur within four to six minutes. Time is critical when you're helping an unconscious person who isn't breathing. Take immediate action.

Call 911, or the emergency number in your area, if you encounter someone who has collapsed or is found unresponsive. If the unconscious person is a child and you're alone, administer CPR, or chest compressions only, for two minutes before calling 911 or emergency medical help or before using a portable defibrillator.
Perform CPR. Quickly check the unconscious person's breathing. If he or she isn't breathing normally, begin CPR. Push hard and fast on the person's chest — at the rate of 100 to 120 compressions a minute. If you've been trained in CPR, check the person's airway and deliver rescue breaths after every 30 compressions.
If you haven't been trained, just continue chest compressions. Allow the chest to rise completely between compressions. Keep doing this until a portable defibrillator is available or emergency personnel arrive.
Use a portable defibrillator, if one is available. If you're not trained to use a portable defibrillator, a 911 or emergency medical help operator may be able to guide you in its use. Deliver one shock if advised by the device and then immediately begin CPR starting with chest compressions, or give chest compressions only, for about two minutes.
Using the defibrillator, check the person's heart rhythm. If necessary, the defibrillator will administer a shock. Repeat this cycle until the person recovers consciousness or emergency personnel take over.

Portable automated external defibrillators (AEDs) are available in an increasing number of places, including airports, casinos and shopping malls. You can also purchase them for your home. AEDs come with built-in instructions for their use. They're programmed to allow a shock only when appropriate.

Causes

Chambers and valves of the heart Chambers and valves of the heart The immediate cause of sudden cardiac arrest is usually an abnormality in your heart rhythm (arrhythmia), the result of a problem with your heart's electrical system.

Unlike other muscles in your body, which rely on nerve connections to receive the electrical stimulation they need to function, your heart has its own electrical stimulator — a specialized group of cells called the sinus node located in the upper right chamber (right atrium) of your heart. The sinus node generates electrical impulses that flow in an orderly manner through your heart to synchronize the heart rate and coordinate the pumping of blood from your heart to the rest of your body.

If something goes wrong with the sinus node or the flow of electric impulses through your heart, an arrhythmia can result, causing your heart to beat too fast, too slow or in an irregular fashion. Often these interruptions in rhythm are momentary and harmless. But some types of arrhythmia can be serious and lead to a sudden stop in heart function (sudden cardiac arrest).

The most common cause of cardiac arrest is an arrhythmia called ventricular fibrillation — when rapid, erratic electrical impulses cause your ventricles to quiver uselessly instead of pumping blood.

Most of the time, cardiac-arrest-inducing arrhythmias don't occur on their own. In a person with a normal, healthy heart, a lasting irregular heart rhythm isn't likely to develop without an outside trigger, such as an electrical shock, the use of illegal drugs or trauma to the chest at just the wrong time of the heart's cycle (commotio cordis).

Heart conditions that can lead to sudden cardiac arrest

A life-threatening arrhythmia usually develops in a person with a pre-existing heart condition, such as:

Coronary artery disease. Most cases of sudden cardiac arrest occur in people who have coronary artery disease. In coronary artery disease, your arteries become clogged with cholesterol and other deposits, reducing blood flow to your heart. This can make it harder for your heart to conduct electrical impulses smoothly.
Heart attack. If a heart attack occurs, often as a result of severe coronary artery disease, it can trigger ventricular fibrillation and sudden cardiac arrest. In addition, a heart attack can leave behind areas of scar tissue. Electrical short circuits around the scar tissue can lead to abnormalities in your heart rhythm.
Enlarged heart (cardiomyopathy). This occurs primarily when your heart's muscular walls stretch and enlarge or thicken. In both cases, your heart's muscle is abnormal, a condition that often leads to heart tissue damage and potential arrhythmias.
Valvular heart disease. Leaking or narrowing of your heart valves can lead to stretching or thickening of your heart muscle or both. When the chambers become enlarged or weakened because of stress caused by a tight or leaking valve, there's an increased risk of developing arrhythmia.
Congenital heart disease. When sudden cardiac arrest occurs in children or adolescents, it may be due to a heart condition that was present at birth (congenital heart disease). Even adults who've had corrective surgery for a congenital heart defect still have a higher risk of sudden cardiac arrest.
Electrical problems in the heart. In some people, the problem is in the heart's electrical system itself instead of a problem with the heart muscle or valves. These are called primary heart rhythm abnormalities and include conditions such as Brugada's syndrome and long QT syndrome.

Risk factors

Because sudden cardiac arrest is so often linked with coronary artery disease, the same factors that put you at risk of coronary artery disease may also put you at risk of sudden cardiac arrest. These include:

A family history of coronary artery disease
Smoking
High blood pressure
High blood cholesterol
Obesity
Diabetes
A sedentary lifestyle
Drinking too much alcohol (more than two drinks a day)

Other factors that may increase your risk of sudden cardiac arrest include:

A previous episode of cardiac arrest or a family history of cardiac arrest
A previous heart attack
A personal or family history of other forms of heart disease, such as heart rhythm disorders, congenital heart defects, heart failure and cardiomyopathy
Age — the incidence of sudden cardiac arrest increases with age
Being male — men are two to three times more likely to experience sudden cardiac arrest
Using illegal drugs, such as cocaine or amphetamines
Nutritional imbalance, such as low potassium or magnesium levels

Complications

When sudden cardiac arrest occurs, your brain is the first part of your body to suffer because, unlike other organs, it doesn't have a reserve of oxygen-rich blood. It's completely dependent on an uninterrupted supply of blood. Reduced blood flow to your brain causes unconsciousness.

If your heart rhythm doesn't rapidly return to its normal rhythm, brain damage occurs and death results. If sudden cardiac arrest lasts more than 8 minutes, survival is rare. Survivors of cardiac arrest may show signs of brain damage.

Prevention

There's no sure way to know your risk of sudden cardiac arrest, so reducing your risk is the best strategy. Steps to take include regular checkups, screening for heart disease and living a heart-healthy lifestyle with the following approaches:

Don't smoke, and use alcohol in moderation (no more than one to two drinks a day).
Eat a nutritious, balanced diet.
Stay physically active.

If you know you have heart disease or conditions that make you more vulnerable to an unhealthy heart, your doctor may recommend that you take appropriate steps to improve your health, such as taking medications for high cholesterol or carefully managing diabetes.

In some people with a known high risk of sudden cardiac arrest — such as those with a heart condition — doctors may recommend anti-arrhythmic drugs or an implantable cardioverter-defibrillator (ICD) as primary prevention.

If you have a high risk of sudden cardiac arrest, you may also wish to consider purchasing an automated external defibrillator (AED) for home use. Before purchasing one, discuss the decision with your doctor. AEDs can be expensive and aren't always covered by health insurance.

If you live with someone who is vulnerable to sudden cardiac arrest, it's important that you be trained in CPR. The American Red Cross and other organizations offer courses in CPR and defibrillator use to the public. Being trained will help not only your loved one but also those in your community. The more people who know how to respond to a cardiac emergency, the more the survival rate for sudden cardiac arrest can be improved.

Claudication is pain caused by too little blood flow, usually during exercise. Sometimes called intermittent claudication, this condition generally affects the blood vessels in the legs, but claudication can affect the arms, too.

At first, you'll probably notice the pain only when you're exercising, but as claudication worsens, the pain may affect you even when you're at rest.

Although it's sometimes considered a disease, claudication is technically a symptom of a disease. Most often, claudication is a symptom of peripheral artery disease, a potentially serious but treatable circulation problem in which the vessels that supply blood flow to your legs or arms are narrowed.

Fortunately, with treatment, you may be able to maintain an active lifestyle without pain.

Symptoms

Claudication symptoms include:

Pain when exercising. You may feel pain or discomfort in your feet, calves, thighs, hips or buttocks, depending on where you might have artery narrowing or damage. Claudication can also occur in your arms, although this is less common.
Intermittent pain. Your pain may come and go as you do less-strenuous activities.
Pain when at rest. As your condition progresses, you may feel pain in your legs even when you're sitting or lying down.
Discolored skin or ulcerations. If blood flow is severely reduced, your toes or fingers may look bluish or feel cold to the touch. You may also develop sores on your lower legs, feet, toes, arms or fingers.

Other possible symptoms include:

An aching or burning feeling
Weakness

When to see a doctor

Talk to your doctor if you have pain in your legs or arms when you exercise. If left untreated, claudication and peripheral artery disease can reduce the quality of your life and lead to potentially life-threatening complications. Claudication may limit your ability to participate in social and leisure activities, interfere with work, and make exercise intolerable.

Causes

Illustration showing development of atherosclerosis Development of atherosclerosis Claudication is most often a symptom of peripheral artery disease. In peripheral artery disease, the arteries that supply blood to your limbs are damaged, usually as a result of atherosclerosis. Atherosclerosis can develop in any of your arteries, especially those in your heart. When atherosclerosis affects your arms and legs, it's called peripheral artery disease.

Atherosclerosis narrows the arteries and makes them stiffer and harder. That's because the arteries get clogged with clumps of fat, cholesterol and other material, called atherosclerotic plaques. These plaques can make arteries so narrow that less blood can flow through them. You feel pain because your leg muscles are not getting enough oxygenated blood. Oxygen is the fuel that muscles need to contract.

Atherosclerosis isn't the only possible cause of your symptoms of claudication. Other conditions associated with similar symptoms that need to be considered include spinal stenosis, peripheral neuropathy, certain musculoskeletal conditions and deep venous thrombosis.

Risk factors

The risk factors for claudication are the same as those for developing atherosclerosis, including:

Smoking
High cholesterol
High blood pressure
Obesity (a body mass index over 30)
Diabetes
Age older than 70 years
Age older than 50 years if you also smoke or have diabetes
A family history of atherosclerosis, peripheral artery disease or claudication

Complications

In extreme cases, the circulation in your legs or arms can be so limited that you feel pain even when you aren't exercising, and your legs or arms might feel cool to the touch. Severe peripheral artery disease can lead to poor healing of skin injuries and ulcers. These cuts and ulcers can develop gangrene and require limb amputation.

Prevention

The best way to prevent claudication is to maintain a healthy lifestyle. That means:

Quit smoking if you're a smoker.
If you have diabetes, keep your blood sugar in good control.
Exercise regularly.
Lower your cholesterol and blood pressure levels, if necessary.
Eat foods that are low in saturated fat.
Maintain a healthy weight.

Congenital heart disease (congenital heart defect) is one or more abnormalities in your heart's structure that you're born with. This most common of birth defects can alter the way blood flows through your heart. Defects range from simple, which might cause no problems, to complex, which can cause life-threatening complications.

Advances in diagnosis and treatment mean most babies who once died of congenital heart disease survive well into adulthood. However, signs and symptoms of the condition can occur in adults later in life, even those who had treatment as a child.

If you have congenital heart disease you might need care throughout your life. Check with your doctor to determine how often you should be seen as an adult.

Types

Symptoms

Some congenital heart defects cause no signs or symptoms. For some people, signs or symptoms occur later in life. They can recur years after you've had treatment for a heart defect.

Common congenital heart disease symptoms you might have as an adult include:

Abnormal heart rhythms (arrhythmias)
A bluish tint to the skin, lips and fingernails (cyanosis)
Shortness of breath
Tiring quickly upon exertion
Swelling of body tissue or organs (edema)

When to see a doctor

If you're having worrisome symptoms, such as chest pain or shortness of breath, seek emergency medical attention.

If you have signs or symptoms of congenital heart disease or were treated for a congenital heart defect as a child, make an appointment to see your doctor.

Causes

Researchers aren't sure what causes most congenital heart disease, which develops in the womb. Heredity might play a role in some congenital heart disease.

How the heart works

The heart is divided into two chambers on the right and two on the left. To pump blood through the body, the heart uses its left and right sides differently.

The right side of the heart moves blood to the lungs through certain blood vessels (pulmonary arteries). In the lungs, blood picks up oxygen and then returns to the left side through the pulmonary veins. The left side of the heart then pumps the blood through the aorta and out to the rest of the body.

Congenital heart disease can affect any of the heart's structures, including valves, chambers, the wall of tissue that separates the chambers (septum) and arteries.

Why congenital heart disease resurfaces in adulthood

For some adults, problems with their heart defects arise later in life, even if treated in childhood. Repairing defects improves heart function, but might not make the heart completely normal.

Even if the treatment you received in childhood was successful, a problem can occur or worsen as you age. It's also possible that problems in your heart, which weren't serious enough to repair when you were a child, have worsened and now require treatment.

Then there are complications of childhood surgeries to correct congenital heart disease that can occur later, such as scar tissue in your heart that contributes to an abnormal heart rhythm (arrhythmia).

Risk factors

Certain environmental and genetic risk factors might play a role in the development of your heart defect, including:

German measles (rubella). Your mother having had rubella while pregnant could have affected your heart development.
Diabetes. Your mother having type 1 or type 2 diabetes might have interfered with the development of your heart. Gestational diabetes generally doesn't increase the risk of developing a heart defect.
Medications. Taking certain medications while pregnant can cause congenital heart and other birth defects. They include isotretinoin (Amnesteem, Claravis, others), used to treat acne; and lithium, used to treat bipolar disorder. Drinking alcohol while pregnant also contributes to the risk of heart defects.
Heredity. Congenital heart disease appears to run in families and is associated with many genetic syndromes. For instance, children with Down syndrome often have heart defects. Genetic testing can detect Down syndrome and other disorders during a baby's development.
Smoking. A mother who smokes while pregnant increases her risk of having a child with a congenital heart defect.

Complications

Congenital heart disease complications that might develop years after the initial treatment include:

Abnormal heart rhythms (arrhythmias). Arrhythmias occur when the electrical impulses that coordinate heartbeats don't function properly, causing your heart to beat too fast, too slowly or irregularly. In some people, severe arrhythmias can cause sudden cardiac death if not treated.
Heart infection (endocarditis). Your heart comprises four chambers and four valves, which are lined by a thin membrane called the endocardium. Endocarditis is an infection of this inner lining, which generally occurs when bacteria or other germs enter your bloodstream and lodge in your heart. Untreated, endocarditis can damage or destroy your heart valves or trigger a stroke.
If you have an artificial (prosthetic) heart valve or your heart was repaired with prosthetic material, or if your heart defect wasn't completely repaired, your doctor might prescribe ongoing antibiotics to lower your risk of developing endocarditis.
Stroke. Stroke occurs when the blood supply to a part of your brain is interrupted or severely reduced, depriving brain tissue of oxygen. A congenital heart defect can allow a blood clot to pass through your heart and travel to your brain.
Certain heart arrhythmias also can increase your chance of blood clot formation leading to a stroke.
Heart failure. Heart failure, also known as congestive heart failure, means your heart can't pump enough blood to meet your body's needs. Some types of congenital heart disease can lead to heart failure.
Over time, certain conditions such as coronary artery disease or high blood pressure gradually sap your heart of its strength, leaving it too weak or too stiff to fill and pump efficiently.
Pulmonary hypertension. This is a type of high blood pressure that affects the arteries in your lungs. Some congenital heart defects cause more blood to flow to the lungs, causing pressure to build and making your heart work harder. This eventually causes your heart muscle to weaken and sometimes to fail.
Heart valve problems. In some types of congenital heart disease, the heart valves are abnormal.

Heart failure, sometimes known as congestive heart failure, occurs when your heart muscle doesn't pump blood as well as it should. Certain conditions, such as narrowed arteries in your heart (coronary artery disease) or high blood pressure, gradually leave your heart too weak or stiff to fill and pump efficiently.

Not all conditions that lead to heart failure can be reversed, but treatments can improve the signs and symptoms of heart failure and help you live longer. Lifestyle changes — such as exercising, reducing sodium in your diet, managing stress and losing weight — can improve your quality of life.

One way to prevent heart failure is to prevent and control conditions that cause heart failure, such as coronary artery disease, high blood pressure, diabetes or obesity.

Symptoms

Heart failure can be ongoing (chronic), or your condition may start suddenly (acute). Heart failure signs and symptoms may include:

Shortness of breath (dyspnea) when you exert yourself or when you lie down
Fatigue and weakness
Swelling (edema) in your legs, ankles and feet
Rapid or irregular heartbeat
Reduced ability to exercise
Persistent cough or wheezing with white or pink blood-tinged phlegm
Increased need to urinate at night
Swelling of your abdomen (ascites)
Very rapid weight gain from fluid retention
Lack of appetite and nausea
Difficulty concentrating or decreased alertness
Sudden, severe shortness of breath and coughing up pink, foamy mucus
Chest pain if your heart failure is caused by a heart attack

When to see a doctor

See your doctor if you think you might be experiencing signs or symptoms of heart failure. Seek emergency treatment if you experience any of the following:

Chest pain
Fainting or severe weakness
Rapid or irregular heartbeat associated with shortness of breath, chest pain or fainting
Sudden, severe shortness of breath and coughing up pink, foamy mucus

Although these signs and symptoms may be due to heart failure, there are many other possible causes, including other life-threatening heart and lung conditions. Don't try to diagnose yourself. Call 911 or your local emergency number for immediate help. Emergency room doctors will try to stabilize your condition and determine if your symptoms are due to heart failure or something else.

If you have a diagnosis of heart failure and if any of the symptoms suddenly become worse or you develop a new sign or symptom, it may mean that existing heart failure is getting worse or not responding to treatment. This may be also the case if you gain 5 pounds (2.3 kg) or more within a few days. Contact your doctor promptly.

Causes

Chambers and valves of the heart Chambers and valves of the heart Illustration of an enlarged heart Enlarged heart, in heart failure Heart failure often develops after other conditions have damaged or weakened your heart. However, the heart doesn't need to be weakened to cause heart failure. It can also occur if the heart becomes too stiff.

In heart failure, the main pumping chambers of your heart (the ventricles) may become stiff and not fill properly between beats. In some cases of heart failure, your heart muscle may become damaged and weakened, and the ventricles stretch (dilate) to the point that the heart can't pump blood efficiently throughout your body.

Over time, the heart can no longer keep up with the normal demands placed on it to pump blood to the rest of your body.

An ejection fraction is an important measurement of how well your heart is pumping and is used to help classify heart failure and guide treatment. In a healthy heart, the ejection fraction is 50 percent or higher — meaning that more than half of the blood that fills the ventricle is pumped out with each beat.

But heart failure can occur even with a normal ejection fraction. This happens if the heart muscle becomes stiff from conditions such as high blood pressure.

Heart failure can involve the left side (left ventricle), right side (right ventricle) or both sides of your heart. Generally, heart failure begins with the left side, specifically the left ventricle — your heart's main pumping chamber.

Type of heart failure

Left-sided heart failure: Fluid may back up in your lungs, causing shortness of breath.

Right-sided heart failure: Fluid may back up into your abdomen, legs and feet, causing swelling.

Systolic heart failure: The left ventricle can't contract vigorously, indicating a pumping problem.

Diastolic heart failure (also called heart failure with preserved ejection fraction): The left ventricle can't relax or fill fully, indicating a filling problem.

Any of the following conditions can damage or weaken your heart and can cause heart failure. Some of these can be present without your knowing it:

Coronary artery disease and heart attack. Coronary artery disease is the most common form of heart disease and the most common cause of heart failure. The disease results from the buildup of fatty deposits (plaque) in your arteries, which reduce blood flow and can lead to heart attack.
High blood pressure (hypertension). If your blood pressure is high, your heart has to work harder than it should to circulate blood throughout your body. Over time, this extra exertion can make your heart muscle too stiff or too weak to effectively pump blood.
Faulty heart valves. The valves of your heart keep blood flowing in the proper direction through the heart. A damaged valve — due to a heart defect, coronary artery disease or heart infection — forces your heart to work harder, which can weaken it over time.
Damage to the heart muscle (cardiomyopathy). Heart muscle damage (cardiomyopathy) can have many causes, including several diseases, infections, alcohol abuse and the toxic effect of drugs, such as cocaine or some drugs used for chemotherapy. Genetic factors also can play a role.
Myocarditis. Myocarditis is an inflammation of the heart muscle. It's most commonly caused by a virus and can lead to left-sided heart failure.
Heart defects you're born with (congenital heart defects). If your heart and its chambers or valves haven't formed correctly, the healthy parts of your heart have to work harder to pump blood through your heart, which, in turn, may lead to heart failure.
Abnormal heart rhythms (heart arrhythmias). Abnormal heart rhythms may cause your heart to beat too fast, creating extra work for your heart. A slow heartbeat also may lead to heart failure.
Other diseases. Chronic diseases — such as diabetes, HIV, hyperthyroidism, hypothyroidism, or a buildup of iron (hemochromatosis) or protein (amyloidosis) — also may contribute to heart failure.

Causes of acute heart failure include viruses that attack the heart muscle, severe infections, allergic reactions, blood clots in the lungs, the use of certain medications or any illness that affects the whole body.

Risk factors

A single risk factor may be enough to cause heart failure, but a combination of factors also increases your risk.

Risk factors include:

High blood pressure. Your heart works harder than it has to if your blood pressure is high.
Coronary artery disease. Narrowed arteries may limit your heart's supply of oxygen-rich blood, resulting in weakened heart muscle.
Heart attack. A heart attack is a form of coronary disease that occurs suddenly. Damage to your heart muscle from a heart attack may mean your heart can no longer pump as well as it should.
Diabetes. Having diabetes increases your risk of high blood pressure and coronary artery disease.
Some diabetes medications. The diabetes drugs rosiglitazone (Avandia) and pioglitazone (Actos) have been found to increase the risk of heart failure in some people. Don't stop taking these medications on your own, though. If you're taking them, discuss with your doctor whether you need to make any changes. Certain medications. Some medications may lead to heart failure or heart problems. Medications that may increase the risk of heart problems include nonsteroidal anti-inflammatory drugs (NSAIDs); certain anesthesia medications; some anti-arrhythmic medications; certain medications used to treat high blood pressure, cancer, blood conditions, neurological conditions, psychiatric conditions, lung conditions, urological conditions, inflammatory conditions and infections; and other prescription and over-the-counter medications.
Don't stop taking any medications on your own. If you have questions about medications you're taking, discuss with your doctor whether he or she recommends any changes.
Sleep apnea. The inability to breathe properly while you sleep at night results in low blood oxygen levels and increased risk of abnormal heart rhythms. Both of these problems can weaken the heart.
Congenital heart defects. Some people who develop heart failure were born with structural heart defects.
Valvular heart disease. People with valvular heart disease have a higher risk of heart failure.
Viruses. A viral infection may have damaged your heart muscle.
Alcohol use. Drinking too much alcohol can weaken heart muscle and lead to heart failure.
Tobacco use. Using tobacco can increase your risk of heart failure.
Obesity. People who are obese have a higher risk of developing heart failure.
Irregular heartbeats. These abnormal rhythms, especially if they are very frequent and fast, can weaken the heart muscle and cause heart failure.

Complications

If you have heart failure, your outlook depends on the cause and the severity, your overall health, and other factors such as your age. Complications can include:

Kidney damage or failure. Heart failure can reduce the blood flow to your kidneys, which can eventually cause kidney failure if left untreated. Kidney damage from heart failure can require dialysis for treatment.
Heart valve problems. The valves of your heart, which keep blood flowing in the proper direction through your heart, may not function properly if your heart is enlarged or if the pressure in your heart is very high due to heart failure.
Heart rhythm problems. Heart rhythm problems (arrhythmias) can be a potential complication of heart failure.
Liver damage. Heart failure can lead to a buildup of fluid that puts too much pressure on the liver. This fluid backup can lead to scarring, which makes it more difficult for your liver to function properly.

Some people's symptoms and heart function will improve with proper treatment. However, heart failure can be life-threatening. People with heart failure may have severe symptoms, and some may require heart transplantation or support with a ventricular assist device.

Prevention

The key to preventing heart failure is to reduce your risk factors. You can control or eliminate many of the risk factors for heart disease — high blood pressure and coronary artery disease, for example — by making lifestyle changes along with the help of any needed medications.

Lifestyle changes you can make to help prevent heart failure include:

Not smoking
Controlling certain conditions, such as high blood pressure and diabetes
Staying physically active
Eating healthy foods
Maintaining a healthy weight
Reducing and managing stress

Coronary artery disease develops when the major blood vessels that supply your heart with blood, oxygen and nutrients (coronary arteries) become damaged or diseased. Cholesterol-containing deposits (plaque) in your arteries and inflammation are usually to blame for coronary artery disease.

When plaque builds up, they narrow your coronary arteries, decreasing blood flow to your heart. Eventually, the decreased blood flow may cause chest pain (angina), shortness of breath, or other coronary artery disease signs and symptoms. A complete blockage can cause a heart attack.

Because coronary artery disease often develops over decades, you might not notice a problem until you have a significant blockage or a heart attack. But there's plenty you can do to prevent and treat coronary artery disease. A healthy lifestyle can make a big impact.

Symptoms

If your coronary arteries narrow, they can't supply enough oxygen-rich blood to your heart — especially when it's beating hard, such as during exercise. At first, the decreased blood flow may not cause any coronary artery disease symptoms. As plaque continues to build up in your coronary arteries, however, you may develop coronary artery disease signs and symptoms, including:

Chest pain (angina). You may feel pressure or tightness in your chest, as if someone were standing on your chest. This pain, referred to as angina, usually occurs on the middle or left side of the chest. Angina is generally triggered by physical or emotional stress.
The pain usually goes away within minutes after stopping the stressful activity. In some people, especially women, this pain may be fleeting or sharp and felt in the neck, arm or back.
Shortness of breath. If your heart can't pump enough blood to meet your body's needs, you may develop shortness of breath or extreme fatigue with exertion.
Heart attack. A completely blocked coronary artery may cause a heart attack. The classic signs and symptoms of a heart attack include crushing pressure in your chest and pain in your shoulder or arm, sometimes with shortness of breath and sweating.
Women are somewhat more likely than men are to experience less typical signs and symptoms of a heart attack, such as neck or jaw pain. Sometimes a heart attack occurs without any apparent signs or symptoms.

When to see a doctor

If you suspect you're having a heart attack, immediately call 911 or your local emergency number. If you don't have access to emergency medical services, have someone drive you to the nearest hospital. Drive yourself only as a last resort.

If you have risk factors for coronary artery disease — such as high blood pressure, high cholesterol, tobacco use, diabetes, a strong family history of heart disease or obesity — talk to your doctor. He or she may want to test you for the condition, especially if you have signs or symptoms of narrowed arteries.

Causes

Illustration showing development of atherosclerosis Development of atherosclerosis Coronary artery disease is thought to begin with damage or injury to the inner layer of a coronary artery, sometimes as early as childhood. The damage may be caused by various factors, including:

Smoking
High blood pressure
High cholesterol
Diabetes or insulin resistance
Sedentary lifestyle

Once the inner wall of an artery is damaged, fatty deposits (plaque) made of cholesterol and other cellular waste products tend to accumulate at the site of injury in a process called atherosclerosis. If the surface of the plaque breaks or ruptures, blood cells called platelets will clump at the site to try to repair the artery. This clump can block the artery, leading to a heart attack.

Risk factors

Risk factors for coronary artery disease include:

Age. Simply getting older increases your risk of damaged and narrowed arteries.
Sex. Men are generally at greater risk of coronary artery disease. However, the risk for women increases after menopause.
Family history. A family history of heart disease is associated with a higher risk of coronary artery disease, especially if a close relative developed heart disease at an early age. Your risk is highest if your father or a brother was diagnosed with heart disease before age 55 or if your mother or a sister developed it before age 65.
Smoking. People who smoke have a significantly increased risk of heart disease. Exposing others to your secondhand smoke also increases their risk of coronary artery disease.
High blood pressure. Uncontrolled high blood pressure can result in hardening and thickening of your arteries, narrowing the channel through which blood can flow.
High blood cholesterol levels. High levels of cholesterol in your blood can increase the risk of formation of plaques and atherosclerosis. High cholesterol can be caused by a high level of low-density lipoprotein (LDL), known as the "bad" cholesterol. A low level of high-density lipoprotein (HDL), known as the "good" cholesterol, can be a sign of atherosclerosis.
Diabetes. Diabetes is associated with an increased risk of coronary artery disease. Type 2 diabetes and coronary artery disease share similar risk factors, such as obesity and high blood pressure.
Overweight or obesity. Excess weight typically worsens other risk factors.
Physical inactivity. Lack of exercise also is associated with coronary artery disease and some of its risk factors, as well.
High stress. Unrelieved stress in your life may damage your arteries as well as worsen other risk factors for coronary artery disease.

Risk factors often occur in clusters and may build on one another, such as obesity leading to type 2 diabetes and high blood pressure. When grouped together, certain risk factors put you at an even greater risk of coronary artery disease. For example, metabolic syndrome — a cluster of conditions that includes elevated blood pressure, high triglycerides, elevated insulin levels and excess body fat around the waist — increases the risk of coronary artery disease.

Sometimes coronary artery disease develops without any classic risk factors. Researchers are studying other possible factors, including:

Sleep apnea. This disorder causes you to repeatedly stop and start breathing while you're sleeping. Sudden drops in blood oxygen levels that occur during sleep apnea increase blood pressure and strain the cardiovascular system, possibly leading to coronary artery disease.
High sensitivity C-reactive protein. High sensitivity C-reactive protein (hs-CRP) is a normal protein that appears in higher amounts when there's inflammation somewhere in your body. High hs-CRP levels may be a risk factor for heart disease. It's thought that as coronary arteries narrow, you'll have more hs-CRP in your blood.
High triglycerides. This is a type of fat (lipid) in your blood. High levels may raise the risk of coronary artery disease, especially for women.
Homocysteine. Homocysteine is an amino acid your body uses to make protein and to build and maintain tissue. But high levels of homocysteine may increase your risk of coronary artery disease.

Complications

Coronary artery disease can lead to:

Chest pain (angina). When your coronary arteries narrow, your heart may not receive enough blood when demand is greatest — particularly during physical activity. This can cause chest pain (angina) or shortness of breath.
Heart attack. If a cholesterol plaque ruptures and a blood clot forms, complete blockage of your heart artery may trigger a heart attack. The lack of blood flow to your heart may damage your heart muscle. The amount of damage depends in part on how quickly you receive treatment.
Heart failure. If some areas of your heart are chronically deprived of oxygen and nutrients because of reduced blood flow, or if your heart has been damaged by a heart attack, your heart may become too weak to pump enough blood to meet your body's needs. This condition is known as heart failure.
Abnormal heart rhythm (arrhythmia). Inadequate blood supply to the heart or damage to heart tissue can interfere with your heart's electrical impulses, causing abnormal heart rhythms.

Prevention

The same lifestyle habits that can help treat coronary artery disease can also help prevent it from developing in the first place. Leading a healthy lifestyle can help keep your arteries strong and clear of plaques. To improve your heart health, you can:

Quit smoking
Control conditions such as high blood pressure, high cholesterol and diabetes
Stay physically active
Eat a low-fat, low-salt diet that's rich in fruits, vegetables and whole grains
Maintain a healthy weight
Reduce and manage stress

Deep vein thrombosis (DVT) occurs when a blood clot (thrombus) forms in one or more of the deep veins in your body, usually in your legs. Deep vein thrombosis can cause leg pain or swelling, but also can occur with no symptoms.

Deep vein thrombosis can develop if you have certain medical conditions that affect how your blood clots. It can also happen if you don't move for a long time, such as after surgery or an accident, or when you're confined to bed.

Deep vein thrombosis can be very serious because blood clots in your veins can break loose, travel through your bloodstream and lodge in your lungs, blocking blood flow (pulmonary embolism).

Symptoms

Deep vein thrombosis signs and symptoms can include:

Swelling in the affected leg. Rarely, there's swelling in both legs.

Pain in your leg. The pain often starts in your calf and can feel like cramping or soreness.
Red or discolored skin on the leg.
A feeling of warmth in the affected leg.

Deep vein thrombosis can occur without noticeable symptoms.

When to see a doctor

If you develop signs or symptoms of deep vein thrombosis, contact your doctor.

If you develop signs or symptoms of a pulmonary embolism — a life-threatening complication of deep vein thrombosis — seek immediate medical attention.

The warning signs and symptoms of a pulmonary embolism include:

Sudden shortness of breath
Chest pain or discomfort that worsens when you take a deep breath or when you cough
Feeling lightheaded or dizzy, or fainting
Rapid pulse
Coughing up blood

Causes

The blood clots of deep vein thrombosis can be caused by anything that prevents your blood from circulating or clotting normally, such as injury to a vein, surgery, certain medications and limited movement.

Risk factors

Many factors can increase your risk of developing deep vein thrombosis (DVT). The more you have, the greater your risk of DVT. Risk factors include:

Inheriting a blood-clotting disorder. Some people inherit a disorder that makes their blood clot more easily. This condition on its own might not cause blood clots unless combined with one or more other risk factors.
Prolonged bed rest, such as during a long hospital stay, or paralysis. When your legs remain still for long periods, your calf muscles don't contract to help blood circulate, which can increase the risk of blood clots. Injury or surgery. Injury to your veins or surgery can increase the risk of blood clots.
Pregnancy. Pregnancy increases the pressure in the veins in your pelvis and legs. Women with an inherited clotting disorder are especially at risk. The risk of blood clots from pregnancy can continue for up to six weeks after you have your baby.
Birth control pills (oral contraceptives) or hormone replacement therapy. Both can increase your blood's ability to clot.
Being overweight or obese. Being overweight increases the pressure in the veins in your pelvis and legs.
Smoking. Smoking affects blood clotting and circulation, which can increase your risk of DVT.
Cancer. Some forms of cancer increase substances in your blood that cause your blood to clot. Some forms of cancer treatment also increase the risk of blood clots.
Heart failure. This increases your risk of DVT and pulmonary embolism. Because people with heart failure have limited heart and lung function, the symptoms caused by even a small pulmonary embolism are more noticeable.
Inflammatory bowel disease. Bowel diseases, such as Crohn's disease or ulcerative colitis, increase the risk of DVT.
A personal or family history of deep vein thrombosis or pulmonary embolism. If you or someone in your family has had one or both of these, you might be at greater risk of developing a DVT.
Age. Being older than 60 increases your risk of DVT, though it can occur at any age.
Sitting for long periods of time, such as when driving or flying. When your legs remain still for hours, your calf muscles don't contract, which normally helps blood circulate. Blood clots can form in the calves of your legs if your calf muscles don't move for long periods.

Complications

Pulmonary embolism Pulmonary embolism A serious complication associated with deep vein thrombosis is pulmonary embolism.

Pulmonary embolism

A pulmonary embolism occurs when a blood vessel in your lung becomes blocked by a blood clot (thrombus) that travels to your lung from another part of your body, usually your leg.

A pulmonary embolism can be life-threatening. It's important to watch for signs and symptoms of a pulmonary embolism and seek medical attention if they occur. Signs and symptoms of a pulmonary embolism include:

Sudden shortness of breath
Chest pain or discomfort that worsens when you take a deep breath or when you cough
Feeling lightheaded or dizzy, or fainting
Rapid pulse
Coughing up blood

Postphlebitic syndrome

A common complication that can occur after deep vein thrombosis is known as postphlebitic syndrome, also called postthrombotic syndrome. Damage to your veins from the blood clot reduces blood flow in the affected areas, which can cause:

Persistent swelling of your legs (edema)
Leg pain
Skin discoloration
Skin sores

Prevention

Measures to prevent deep vein thrombosis include:

Avoid sitting still. If you have had surgery or have been on bed rest for other reasons, try to get moving as soon as possible. If you're sitting for a while, don't cross your legs, which can hamper blood flow. If you're traveling a long distance by car, stop every hour or so and walk around.
If you're on a plane, stand or walk occasionally. If you can't do that, exercise your lower legs. Try raising and lowering your heels while keeping your toes on the floor, then raising your toes with your heels are on the floor.
Make lifestyle changes. Lose weight and quit smoking.
Exercise. Regular exercise lowers your risk of blood clots, which is especially important for people who sit a lot or travel frequently.

Heart rhythm problems (heart arrhythmias) occur when the electrical impulses that coordinate your heartbeats don't work properly, causing your heart to beat too fast, too slow or irregularly.

Heart arrhythmias (uh-RITH-me-uhs) may feel like a fluttering or racing heart and may be harmless. However, some heart arrhythmias may cause bothersome — sometimes even life-threatening — signs and symptoms.

Heart arrhythmia treatment can often control or eliminate fast, slow or irregular heartbeats. In addition, because troublesome heart arrhythmias are often made worse — or are even caused — by a weak or damaged heart, you may be able to reduce your arrhythmia risk by adopting a heart-healthy lifestyle.

Symptoms

Arrhythmias may not cause any signs or symptoms. In fact, your doctor might find you have an arrhythmia before you do, during a routine examination. Noticeable signs and symptoms don't necessarily mean you have a serious problem, however.

Noticeable arrhythmia symptoms may include:

A fluttering in your chest
A racing heartbeat (tachycardia)
A slow heartbeat (bradycardia)
Chest pain
Shortness of breath
Lightheadedness or dizziness
Sweating
Fainting (syncope) or near fainting

When to see a doctor

Arrhythmias may cause you to feel premature or extra heartbeats, or you may feel that your heart is racing or beating too slowly. Other signs and symptoms may be related to your heart not pumping effectively due to the fast or slow heartbeat. These include shortness of breath, weakness, dizziness, lightheadedness, fainting or near fainting, and chest pain or discomfort.

Seek urgent medical care if you suddenly or frequently experience any of these signs and symptoms at a time when you wouldn't expect to feel them.

Ventricular fibrillation is one type of arrhythmia that can be deadly. It occurs when the heart beats with rapid, erratic electrical impulses. This causes pumping chambers in your heart (the ventricles) to quiver uselessly instead of pumping blood. Without an effective heartbeat, blood pressure plummets, cutting off blood supply to your vital organs.

A person with ventricular fibrillation will collapse within seconds and soon won't be breathing or have a pulse. If this occurs, follow these steps:

Call 911 or the emergency number in your area.
If there's no one nearby trained in cardiopulmonary resuscitation (CPR), provide hands-only CPR. That means uninterrupted chest compressions at a rate of 100 to 120 a minute until paramedics arrive. To do chest compressions, push hard and fast in the center of the chest. You don't need to do rescue breathing.
If you or someone nearby knows CPR, begin providing it if it's needed. CPR can help maintain blood flow to the organs until an electrical shock (defibrillation) can be given.
Find out if an automated external defibrillator (AED) is available nearby. These portable defibrillators, which can deliver an electric shock that may restart heartbeats, are available in an increasing number of places, such as in airplanes, police cars and shopping malls. They can even be purchased for your home.
No training is required. The AED will tell you what to do. It's programmed to allow a shock only when appropriate.

Causes

Normal heartbeat Normal heartbeat Many things can lead to, or cause, an arrhythmia, including:

A heart attack that's occurring right now
Scarring of heart tissue from a prior heart attack
Changes to your heart's structure, such as from cardiomyopathy
Blocked arteries in your heart (coronary artery disease)
High blood pressure
Overactive thyroid gland (hyperthyroidism)
Underactive thyroid gland (hypothyroidism)
Smoking
Drinking too much alcohol or caffeine
Drug abuse
Stress
Certain medications and supplements, including over-the-counter cold and allergy drugs and nutritional supplements
Diabetes
Sleep apnea
Genetics

What's a normal heartbeat?

Your heart is made up of four chambers — two upper chambers (atria) and two lower chambers (ventricles). The rhythm of your heart is normally controlled by a natural pacemaker (the sinus node) located in the right atrium. The sinus node produces electrical impulses that normally start each heartbeat.

From the sinus node, electrical impulses travel across the atria, causing the atria muscles to contract and pump blood into the ventricles.

The electrical impulses then arrive at a cluster of cells called the atrioventricular node (AV node) — usually the only pathway for signals to travel from the atria to the ventricles.

The AV node slows down the electrical signal before sending it to the ventricles. This slight delay allows the ventricles to fill with blood. When electrical impulses reach the muscles of the ventricles, they contract, causing them to pump blood either to the lungs or to the rest of the body.

In a healthy heart, this process usually goes smoothly, resulting in a normal resting heart rate of 60 to 100 beats a minute.

Types of arrhythmias

Doctors classify arrhythmias not only by where they originate (atria or ventricles) but also by the speed of heart rate they cause:

Tachycardia (tak-ih-KAHR-dee-uh). This refers to a fast heartbeat — a resting heart rate greater than 100 beats a minute.
Bradycardia (brad-e-KAHR-dee-uh). This refers to a slow heartbeat — a resting heart rate less than 60 beats a minute.

Not all tachycardias or bradycardias mean you have heart disease. For example, during exercise it's normal to develop a fast heartbeat as the heart speeds up to provide your tissues with more oxygen-rich blood. During sleep or times of deep relaxation, it's not unusual for the heartbeat to be slower.

Tachycardias in the atria

Tachycardias originating in the atria include:

Atrial fibrillation. Atrial fibrillation is a rapid heart rate caused by chaotic electrical impulses in the atria. These signals result in rapid, uncoordinated, weak contractions of the atria.
The chaotic electrical signals bombard the AV node, usually resulting in an irregular, rapid rhythm of the ventricles. Atrial fibrillation may be temporary, but some episodes won't end unless treated.
Atrial fibrillation may lead to serious complications such as stroke.
Atrial flutter. Atrial flutter is similar to atrial fibrillation. The heartbeats in atrial flutter are more-organized and more-rhythmic electrical impulses than in atrial fibrillation. Atrial flutter may also lead to serious complications such as stroke.
Supraventricular tachycardia. Supraventricular tachycardia is a broad term that includes many forms of arrhythmia originating above the ventricles (supraventricular) in the atria or AV node.
Wolff-Parkinson-White syndrome. In Wolff-Parkinson-White syndrome, a type of supraventricular tachycardia, there is an extra electrical pathway between the atria and the ventricles, which is present at birth. However, you may not experience symptoms until you're an adult. This pathway may allow electrical signals to pass between the atria and the ventricles without passing through the AV node, leading to short circuits and rapid heartbeats.

Tachycardias in the ventricles

Tachycardias occurring in the ventricles include:

Ventricular tachycardia. Ventricular tachycardia is a rapid, regular heart rate that originates with abnormal electrical signals in the ventricles. The rapid heart rate doesn't allow the ventricles to fill and contract efficiently to pump enough blood to the body. Ventricular tachycardia can often be a medical emergency. Without prompt medical treatment, ventricular tachycardia may worsen into ventricular fibrillation.
Ventricular fibrillation. Ventricular fibrillation occurs when rapid, chaotic electrical impulses cause the ventricles to quiver ineffectively instead of pumping necessary blood to the body. This serious problem is fatal if the heart isn't restored to a normal rhythm within minutes.
Most people who experience ventricular fibrillation have an underlying heart disease or have experienced serious trauma, such as being struck by lightning.
Long QT syndrome. Long QT syndrome is a heart disorder that carries an increased risk of fast, chaotic heartbeats. The rapid heartbeats, caused by changes in the electrical system of your heart, may lead to fainting, and can be life-threatening. In some cases, your heart's rhythm may be so erratic that it can cause sudden death.
You can be born with a genetic mutation that puts you at risk of long QT syndrome. In addition, several medications may cause long QT syndrome. Some medical conditions, such as congenital heart defects, may also cause long QT syndrome.

Bradycardia — A slow heartbeat

Although a heart rate below 60 beats a minute while at rest is considered bradycardia, a low resting heart rate doesn't always signal a problem. If you're physically fit, you may have an efficient heart capable of pumping an adequate supply of blood with fewer than 60 beats a minute at rest.

In addition, certain medications used to treat other conditions, such as high blood pressure, may lower your heart rate. However, if you have a slow heart rate and your heart isn't pumping enough blood, you may have one of several bradycardias, including:

Sick sinus syndrome. If your sinus node, which is responsible for setting the pace of your heart, isn't sending impulses properly, your heart rate may be too slow (bradycardia), or it may speed up (tachycardia) and slow down intermittently. Sick sinus syndrome can also be caused by scarring near the sinus node that's slowing, disrupting or blocking the travel of impulses.
Conduction block. A block of your heart's electrical pathways can occur in or near the AV node, which lies on the pathway between your atria and your ventricles. A block can also occur along other pathways to each ventricle.
Depending on the location and type of block, the impulses between the upper and lower halves of your heart may be slowed or blocked. If the signal is completely blocked, certain cells in the AV node or ventricles can make a steady, although usually slower, heartbeat.
Some blocks may cause no signs or symptoms, and others may cause skipped beats or bradycardia.

Premature heartbeats

Although it often feels like a skipped heartbeat, a premature heartbeat is actually an extra beat. Even though you may feel an occasional premature beat, it seldom means you have a more serious problem. Still, a premature beat can trigger a longer lasting arrhythmia — especially in people with heart disease.

Premature heartbeats are commonly caused by stress, strenuous exercise or stimulants, such as caffeine or nicotine.

Risk factors

Certain factors may increase your risk of developing an arrhythmia. These include:

Coronary artery disease, other heart problems and previous heart surgery. Narrowed heart arteries, a heart attack, abnormal heart valves, prior heart surgery, heart failure, cardiomyopathy and other heart damage are risk factors for almost any kind of arrhythmia.
High blood pressure. This increases your risk of developing coronary artery disease. It may also cause the walls of your left ventricle to become stiff and thick, which can change how electrical impulses travel through your heart.
Congenital heart disease. Being born with a heart abnormality may affect your heart's rhythm.
Thyroid problems. Having an overactive or underactive thyroid gland can raise your risk of arrhythmias.
Drugs and supplements. Certain over-the-counter cough and cold medicines and certain prescription drugs may contribute to arrhythmia development.
Diabetes. Your risk of developing coronary artery disease and high blood pressure greatly increases with uncontrolled diabetes.
Obstructive sleep apnea. This disorder, in which your breathing is interrupted during sleep, can increase your risk of bradycardia, atrial fibrillation and other arrhythmias.
Electrolyte imbalance. Substances in your blood called electrolytes — such as potassium, sodium, calcium and magnesium — help trigger and conduct the electrical impulses in your heart. Electrolyte levels that are too high or too low can affect your heart's electrical impulses and contribute to arrhythmia development.
Drinking too much alcohol. Drinking too much alcohol can affect the electrical impulses in your heart and can increase the chance of developing atrial fibrillation.
Caffeine or nicotine use. Caffeine, nicotine and other stimulants can cause your heart to beat faster and may contribute to the development of more-serious arrhythmias. Illegal drugs, such as amphetamines and cocaine, may profoundly affect the heart and lead to many types of arrhythmias or to sudden death due to ventricular fibrillation.

Complications

Certain arrhythmias may increase your risk of developing conditions such as:

Stroke. When your heart quivers, it's unable to pump blood effectively, which can cause blood to pool. This can cause blood clots to form. If a clot breaks loose, it can travel from your heart to your brain. There it might block blood flow, causing a stroke.
Certain medications, such as blood thinners, can greatly lower your risk of stroke or damage to other organs caused by blood clots. Your doctor will determine if a blood-thinning medication is appropriate for you, depending on your type of arrhythmia and your risk of blood clots.
Heart failure. Heart failure can result if your heart is pumping ineffectively for a prolonged period due to a bradycardia or tachycardia, such as atrial fibrillation. Sometimes controlling the rate of an arrhythmia that's causing heart failure can improve your heart's function.

Prevention

To prevent heart arrhythmia, it's important to live a heart-healthy lifestyle to reduce your risk of heart disease. A heart-healthy lifestyle may include:

Eating a heart-healthy diet
Increasing your physical activity
Avoiding smoking
Keeping a healthy weight
Limiting or avoiding caffeine and alcohol
Reducing stress, as intense stress and anger can cause heart rhythm problems
Using over-the-counter medications with caution, as some cold and cough medications contain stimulants that may trigger a rapid heartbeat

High Blood Pressure (Hypertension)

High blood pressure is a common condition in which the long-term force of the blood against your artery walls is high enough that it may eventually cause health problems, such as heart disease.

Blood pressure is determined both by the amount of blood your heart pumps and the amount of resistance to blood flow in your arteries. The more blood your heart pumps and the narrower your arteries, the higher your blood pressure.

You can have high blood pressure (hypertension) for years without any symptoms. Even without symptoms, damage to blood vessels and your heart continues and can be detected. Uncontrolled high blood pressure increases your risk of serious health problems, including heart attack and stroke.

High blood pressure generally develops over many years, and it affects nearly everyone eventually. Fortunately, high blood pressure can be easily detected. And once you know you have high blood pressure, you can work with your doctor to control it.

Symptoms

Most people with high blood pressure have no signs or symptoms, even if blood pressure readings reach dangerously high levels.

A few people with high blood pressure may have headaches, shortness of breath or nosebleeds, but these signs and symptoms aren't specific and usually don't occur until high blood pressure has reached a severe or life-threatening stage.

When to see a doctor

You'll likely have your blood pressure taken as part of a routine doctor's appointment.

Ask your doctor for a blood pressure reading at least every two years starting at age 18. If you're age 40 or older, or you're age 18-39 with a high risk of high blood pressure, ask your doctor for a blood pressure reading every year. Blood pressure generally should be checked in both arms to determine if there is a difference. It's important to use an appropriate-sized arm cuff. Your doctor will likely recommend more frequent readings if you've already been diagnosed with high blood pressure or have other risk factors for cardiovascular disease. Children age 3 and older will usually have blood pressure measured as a part of their yearly checkups.

If you don't regularly see your doctor, you may be able to get a free blood pressure screening at a health resource fair or other locations in your community. You can also find machines in some stores that will measure your blood pressure for free.

Public blood pressure machines, such as those found in pharmacies, may provide helpful information about your blood pressure, but they may have some limitations. The accuracy of these machines depends on several factors, such as a correct cuff size and proper use of the machines. Ask your doctor for advice on using public blood pressure machines.

Causes

There are two types of high blood pressure.

Primary (essential) hypertension

For most adults, there's no identifiable cause of high blood pressure. This type of high blood pressure, called primary (essential) hypertension, tends to develop gradually over many years.

Secondary hypertension

Some people have high blood pressure caused by an underlying condition. This type of high blood pressure, called secondary hypertension, tends to appear suddenly and cause higher blood pressure than does primary hypertension. Various conditions and medications can lead to secondary hypertension, including:

Obstructive sleep apnea
Kidney problems
Adrenal gland tumors
Thyroid problems
Certain defects in blood vessels you're born with (congenital)
Certain medications, such as birth control pills, cold remedies, decongestants, over-the-counter pain relievers and some prescription drugs
Illegal drugs, such as cocaine and amphetamines
Alcohol abuse or chronic alcohol use

Risk factors

High blood pressure has many risk factors, including:

Age. The risk of high blood pressure increases as you age. Through early middle age, or about age 45, high blood pressure is more common in men. Women are more likely to develop high blood pressure after age 65.
Race. High blood pressure is particularly common among blacks, often developing at an earlier age than it does in whites. Serious complications, such as stroke, heart attack and kidney failure, also are more common in blacks.
Family history. High blood pressure tends to run in families.
Being overweight or obese. The more you weigh the more blood you need to supply oxygen and nutrients to your tissues. As the volume of blood circulated through your blood vessels increases, so does the pressure on your artery walls.
Not being physically active. People who are inactive tend to have higher heart rates. The higher your heart rate, the harder your heart must work with each contraction and the stronger the force on your arteries. Lack of physical activity also increases the risk of being overweight.
Using tobacco. Not only does smoking or chewing tobacco immediately raise your blood pressure temporarily, but the chemicals in tobacco can damage the lining of your artery walls. This can cause your arteries to narrow, increasing your blood pressure. Secondhand smoke also can increase your blood pressure.
Too much salt (sodium) in your diet. Too much sodium in your diet can cause your body to retain fluid, which increases blood pressure.
Too little potassium in your diet. Potassium helps balance the amount of sodium in your cells. If you don't get enough potassium in your diet or retain enough potassium, you may accumulate too much sodium in your blood.
Too little vitamin D in your diet. It's uncertain if having too little vitamin D in your diet can lead to high blood pressure. Vitamin D may affect an enzyme produced by your kidneys that affects your blood pressure.
Drinking too much alcohol. Over time, heavy drinking can damage your heart. Having more than two drinks a day for men and more than one drink a day for women may affect your blood pressure.
If you drink alcohol, do so in moderation. For healthy adults, that means up to one drink a day for women of all ages and men older than age 65, and up to two drinks a day for men age 65 and younger. One drink equals 12 ounces of beer, 5 ounces of wine or 1.5 ounces of 80-proof liquor.
Stress. High levels of stress can lead to a temporary increase in blood pressure. If you try to relax by eating more, using tobacco or drinking alcohol, you may only increase problems with high blood pressure.
Certain chronic conditions. Certain chronic conditions also may increase your risk of high blood pressure, such as kidney disease, diabetes and sleep apnea.

Sometimes pregnancy contributes to high blood pressure, as well.

Although high blood pressure is most common in adults, children may be at risk, too. For some children, high blood pressure is caused by problems with the kidneys or heart. But for a growing number of kids, poor lifestyle habits, such as an unhealthy diet, obesity and lack of exercise, contribute to high blood pressure.

Complications

The excessive pressure on your artery walls caused by high blood pressure can damage your blood vessels, as well as organs in your body. The higher your blood pressure and the longer it goes uncontrolled, the greater the damage.

Uncontrolled high blood pressure can lead to:

Heart attack or stroke. High blood pressure can cause hardening and thickening of the arteries (atherosclerosis), which can lead to a heart attack, stroke or other complications.
Aneurysm. Increased blood pressure can cause your blood vessels to weaken and bulge, forming an aneurysm. If an aneurysm ruptures, it can be life-threatening.
Heart failure. To pump blood against the higher pressure in your vessels, your heart muscle thickens. Eventually, the thickened muscle may have a hard time pumping enough blood to meet your body's needs, which can lead to heart failure.
Weakened and narrowed blood vessels in your kidneys. This can prevent these organs from functioning normally.
Thickened, narrowed or torn blood vessels in the eyes. This can result in vision loss.
Metabolic syndrome. This syndrome is a cluster of disorders of your body's metabolism, including increased waist circumference; high triglycerides; low high-density lipoprotein (HDL) cholesterol, the "good" cholesterol; high blood pressure; and high insulin levels. These conditions make you more likely to develop diabetes, heart disease and stroke.
Trouble with memory or understanding. Uncontrolled high blood pressure may also affect your ability to think, remember and learn. Trouble with memory or understanding concepts is more common in people with high blood pressure.

Peripheral Artery Disease

Peripheral artery disease (also called peripheral arterial disease) is a common circulatory problem in which narrowed arteries reduce blood flow to your limbs.

When you develop peripheral artery disease (PAD), your extremities — usually your legs — don't receive enough blood flow to keep up with demand. This causes symptoms, most notably leg pain when walking (claudication).

Peripheral artery disease is also likely to be a sign of a more widespread accumulation of fatty deposits in your arteries (atherosclerosis). This condition may be reducing blood flow to your heart and brain, as well as your legs.

You often can successfully treat peripheral artery disease by quitting tobacco, exercising and eating a healthy diet.

Symptoms

While many people with peripheral artery disease have mild or no symptoms, some people have leg pain when walking (claudication).

Claudication symptoms include muscle pain or cramping in your legs or arms that's triggered by activity, such as walking, but disappears after a few minutes of rest. The location of the pain depends on the location of the clogged or narrowed artery. Calf pain is the most common location.

The severity of claudication varies widely, from mild discomfort to debilitating pain. Severe claudication can make it hard for you to walk or do other types of physical activity.

Peripheral artery disease symptoms include:

Painful cramping in your hip, thigh or calf muscles after certain activities, such as walking or climbing stairs (claudication)
Leg numbness or weakness
Coldness in your lower leg or foot, especially when compared with the other side
Sores on your toes, feet or legs that won't heal
A change in the color of your legs
Hair loss or slower hair growth on your feet and legs
Slower growth of your toenails
Shiny skin on your legs
No pulse or a weak pulse in your legs or feet
Erectile dysfunction in men

If peripheral artery disease progresses, pain may even occur when you're at rest or when you're lying down (ischemic rest pain). It may be intense enough to disrupt sleep. Hanging your legs over the edge of your bed or walking around your room may temporarily relieve the pain.

When to see a doctor

If you have leg pain, numbness or other symptoms, don't dismiss them as a normal part of aging. Call your doctor and make an appointment.

Even if you don't have symptoms of peripheral artery disease, you may need to be screened if you are:

Over age 70
Over age 50 and have a history of diabetes or smoking
Under age 50, but have diabetes and other peripheral artery disease risk factors, such as obesity or high blood pressure

Causes

Illustration showing development of atherosclerosis Development of atherosclerosis Peripheral artery disease is often caused by atherosclerosis. In atherosclerosis, fatty deposits (plaques) build up in your artery walls and reduce blood flow.

Although the heart is usually the focus of discussion of atherosclerosis, this disease can and usually does affect arteries throughout your body. When it occurs in the arteries supplying blood to your limbs, it causes peripheral artery disease.

Less commonly, the cause of peripheral artery disease may be blood vessel inflammation, injury to your limbs, unusual anatomy of your ligaments or muscles, or radiation exposure.

Risk factors

Factors that increase your risk of developing peripheral artery disease include:

Smoking
Diabetes
Obesity (a body mass index over 30)
High blood pressure
High cholesterol
Increasing age, especially after reaching 50 years of age
A family history of peripheral artery disease, heart disease or stroke
High levels of homocysteine, a protein component that helps build and maintain tissue
People who smoke or have diabetes have the greatest risk of developing peripheral artery disease due to reduced blood flow.

Complications

If your peripheral artery disease is caused by a buildup of plaques in your blood vessels (atherosclerosis), you're also at risk of developing:

Critical limb ischemia. This condition begins as open sores that don't heal, an injury, or an infection of your feet or legs. Critical limb ischemia occurs when such injuries or infections progress and can cause tissue death (gangrene), sometimes requiring amputation of the affected limb.
Stroke and heart attack. The atherosclerosis that causes the signs and symptoms of peripheral artery disease isn't limited to your legs. Fat deposits also build up in arteries supplying your heart and brain.

Prevention

The best way to prevent claudication is to maintain a healthy lifestyle. That means:

Quit smoking if you're a smoker.
If you have diabetes, keep your blood sugar in good control.
Exercise regularly. Aim for 30 minutes several times a week after you have gotten your doctor's OK.
Lower your cholesterol and blood pressure levels, if applicable.
Eat foods that are low in saturated fat.
Maintain a healthy weight.

A stroke occurs when the blood supply to part of your brain is interrupted or reduced, depriving brain tissue of oxygen and nutrients. Within minutes, brain cells begin to die.

A stroke is a medical emergency. Prompt treatment is crucial. Early action can minimize brain damage and potential complications.

The good news is that strokes can be treated and prevented, and many fewer Americans die of stroke now than in the past.

Symptoms

Watch for these signs and symptoms if you think you or someone else may be having a stroke. Pay attention to when the signs and symptoms begin. The length of time they have been present can affect your treatment options:

Trouble with speaking and understanding. You may experience confusion. You may slur your words or have difficulty understanding speech.
Paralysis or numbness of the face, arm or leg. You may develop sudden numbness, weakness or paralysis in your face, arm or leg. This often happens just on one side of your body. Try to raise both your arms over your head at the same time. If one arm begins to fall, you may be having a stroke. Also, one side of your mouth may droop when you try to smile.
Trouble with seeing in one or both eyes. You may suddenly have blurred or blackened vision in one or both eyes, or you may see double.
Headache. A sudden, severe headache, which may be accompanied by vomiting, dizziness or altered consciousness, may indicate you're having a stroke.
Trouble with walking. You may stumble or experience sudden dizziness, loss of balance or loss of coordination.

When to see a doctor

Seek immediate medical attention if you notice any signs or symptoms of a stroke, even if they seem to fluctuate or disappear. Think "FAST" and do the following:

Face. Ask the person to smile. Does one side of the face droop?
Arms. Ask the person to raise both arms. Does one arm drift downward? Or is one arm unable to rise up?
Speech. Ask the person to repeat a simple phrase. Is his or her speech slurred or strange?
Time. If you observe any of these signs, call 911 immediately.

Call 911 or your local emergency number right away. Don't wait to see if symptoms stop. Every minute counts. The longer a stroke goes untreated, the greater the potential for brain damage and disability.

If you're with someone you suspect is having a stroke, watch the person carefully while waiting for emergency assistance.

Causes

A stroke may be caused by a blocked artery (ischemic stroke) or the leaking or bursting of a blood vessel (hemorrhagic stroke). Some people may experience only a temporary disruption of blood flow to the brain (transient ischemic attack, or TIA) that doesn't cause permanent damage.

Ischemic stroke

Ischemic stroke Ischemic stroke About 80 percent of strokes are ischemic strokes. Ischemic strokes occur when the arteries to your brain become narrowed or blocked, causing severely reduced blood flow (ischemia). The most common ischemic strokes include:

Thrombotic stroke. A thrombotic stroke occurs when a blood clot (thrombus) forms in one of the arteries that supply blood to your brain. A clot may be caused by fatty deposits (plaque) that build up in arteries and cause reduced blood flow (atherosclerosis) or other artery conditions.
Embolic stroke. An embolic stroke occurs when a blood clot or other debris forms away from your brain — commonly in your heart — and is swept through your bloodstream to lodge in narrower brain arteries. This type of blood clot is called an embolus.

Hemorrhagic stroke

Hemorrhagic stroke occurs when a blood vessel in your brain leaks or ruptures. Brain hemorrhages can result from many conditions that affect your blood vessels. These include:

Uncontrolled high blood pressure (hypertension)
Overtreatment with anticoagulants (blood thinners)
Weak spots in your blood vessel walls (aneurysms)

A less common cause of hemorrhage is the rupture of an abnormal tangle of thin-walled blood vessels (arteriovenous malformation). Types of hemorrhagic stroke include:

Intracerebral hemorrhage. In an intracerebral hemorrhage, a blood vessel in the brain bursts and spills into the surrounding brain tissue, damaging brain cells. Brain cells beyond the leak are deprived of blood and are also damaged.
High blood pressure, trauma, vascular malformations, use of blood-thinning medications and other conditions may cause an intracerebral hemorrhage.
Subarachnoid hemorrhage. In a subarachnoid hemorrhage, an artery on or near the surface of your brain bursts and spills into the space between the surface of your brain and your skull. This bleeding is often signaled by a sudden, severe headache.
A subarachnoid hemorrhage is commonly caused by the bursting of a small sack-shaped or berry-shaped aneurysm. After the hemorrhage, the blood vessels in your brain may widen and narrow erratically (vasospasm), causing brain cell damage by further limiting blood flow.

Transient ischemic attack (TIA)

A transient ischemic attack (TIA) — sometimes known as a ministroke — is a temporary period of symptoms similar to those you'd have in a stroke. A temporary decrease in blood supply to part of your brain causes TIAs, which may last as little as five minutes.

Like an ischemic stroke, a TIA occurs when a clot or debris blocks blood flow to part of your nervous system — but there is no permanent tissue damage and no lasting symptoms.

Seek emergency care even if your symptoms seem to clear up. Having a TIA puts you at greater risk of having a full-blown stroke, causing permanent damage later. If you've had a TIA, it means there's likely a partially blocked or narrowed artery leading to your brain or a clot source in the heart.

It's not possible to tell if you're having a stroke or a TIA based only on your symptoms. Even when symptoms last for under an hour, there is still a risk of permanent tissue damage.

Risk factors

Many factors can increase your stroke risk. Some factors can also increase your chances of having a heart attack. Potentially treatable stroke risk factors include:

Lifestyle risk factors

Being overweight or obese
Physical inactivity
Heavy or binge drinking
Use of illicit drugs such as cocaine and methamphetamines

Medical risk factors

Blood pressure readings higher than 120/80 millimeters of mercury (mm Hg)
Cigarette smoking or exposure to secondhand smoke
High cholesterol
Diabetes
Obstructive sleep apnea
Cardiovascular disease, including heart failure, heart defects, heart infection or abnormal heart rhythm
Personal or family history of stroke, heart attack or transient ischemic attack.

Other factors associated with a higher risk of stroke include:

Age —People age 55 or older have a higher risk of stroke than do younger people.
Race — African-Americans have a higher risk of stroke than do people of other races.
Sex — Men have a higher risk of stroke than women. Women are usually older when they have strokes, and they're more likely to die of strokes than are men.
Hormones — use of birth control pills or hormone therapies that include estrogen, as well as increased estrogen levels from pregnancy and childbirth.

Complications

A stroke can sometimes cause temporary or permanent disabilities, depending on how long the brain lacks blood flow and which part was affected. Complications may include:

Paralysis or loss of muscle movement. You may become paralyzed on one side of your body, or lose control of certain muscles, such as those on one side of your face or one arm. Physical therapy may help you return to activities affected by paralysis, such as walking, eating and dressing.
Difficulty talking or swallowing. A stroke might affect control of the muscles in your mouth and throat, making it difficult for you to talk clearly (dysarthria), swallow (dysphagia) or eat. You also may have difficulty with language (aphasia), including speaking or understanding speech, reading, or writing. Therapy with a speech-language pathologist might help.
Memory loss or thinking difficulties. Many people who have had strokes experience some memory loss. Others may have difficulty thinking, making judgments, reasoning and understanding concepts.
Emotional problems. People who have had strokes may have more difficulty controlling their emotions, or they may develop depression.
Pain. Pain, numbness or other strange sensations may occur in the parts of the body affected by stroke. For example, if a stroke causes you to lose feeling in your left arm, you may develop an uncomfortable tingling sensation in that arm.
People also may be sensitive to temperature changes, especially extreme cold, after a stroke. This complication is known as central stroke pain or central pain syndrome. This condition generally develops several weeks after a stroke, and it may improve over time. But because the pain is caused by a problem in your brain, rather than a physical injury, there are few treatments.
Changes in behavior and self-care ability. People who have had strokes may become more withdrawn and less social or more impulsive. They may need help with grooming and daily chores.

As with any brain injury, the success of treating these complications varies from person to person.

Prevention

Knowing your stroke risk factors, following your doctor's recommendations and adopting a healthy lifestyle are the best steps you can take to prevent a stroke. If you've had a stroke or a transient ischemic attack (TIA), these measures might help prevent another stroke. The follow-up care you receive in the hospital and afterward also may play a role as well.

Many stroke prevention strategies are the same as strategies to prevent heart disease. In general, healthy lifestyle recommendations include:

Controlling high blood pressure (hypertension). This is one of the most important things you can do to reduce your stroke risk. If you've had a stroke, lowering your blood pressure can help prevent a subsequent TIA or stroke.
Exercising, managing stress, maintaining a healthy weight and limiting the amount of sodium and alcohol you eat and drink can all help to keep high blood pressure in check. In addition to recommending lifestyle changes, your doctor may prescribe medications to treat high blood pressure.
Lowering the amount of cholesterol and saturated fat in your diet. Eating less cholesterol and fat, especially saturated fat and trans fats, may reduce the plaque in your arteries. If you can't control your cholesterol through dietary changes alone, your doctor may prescribe a cholesterol-lowering medication.
Quitting tobacco use. Smoking raises the risk of stroke for smokers and nonsmokers exposed to secondhand smoke. Quitting tobacco use reduces your risk of stroke.
Controlling diabetes. You can manage diabetes with diet, exercise, weight control and medication.
Maintaining a healthy weight. Being overweight contributes to other stroke risk factors, such as high blood pressure, cardiovascular disease and diabetes. Losing as little as 10 pounds may lower your blood pressure and improve your cholesterol levels.
Eating a diet rich in fruits and vegetables. A diet containing five or more daily servings of fruits or vegetables may reduce your risk of stroke. Following the Mediterranean diet, which emphasizes olive oil, fruit, nuts, vegetables and whole grains, may be helpful.
Exercising regularly. Aerobic or "cardio" exercise reduces your risk of stroke in many ways. Exercise can lower your blood pressure, increase your level of high-density lipoprotein cholesterol, and improve the overall health of your blood vessels and heart. It also helps you lose weight, control diabetes and reduce stress. Gradually work up to 30 minutes of activity — such as walking, jogging, swimming or bicycling — on most, if not all, days of the week.
Drinking alcohol in moderation, if at all. Alcohol can be both a risk factor and a protective measure for stroke. Heavy alcohol consumption increases your risk of high blood pressure, ischemic strokes and hemorrhagic strokes. However, drinking small to moderate amounts of alcohol, such as one drink a day, may help prevent ischemic stroke and decrease your blood's clotting tendency. Alcohol may also interact with other drugs you're taking. Talk to your doctor about what's appropriate for you.
Treating obstructive sleep apnea (OSA). Your doctor may recommend an overnight oxygen assessment to screen for OSA — a sleep disorder in which the oxygen level intermittently drops during the night. Treatment for OSA includes oxygen at night or wearing a small device in your mouth to help you breathe.
Avoiding illegal drugs. Certain street drugs, such as cocaine and methamphetamines, are established risk factors for a TIA or a stroke. Cocaine reduces blood flow and can narrow the arteries.

Preventive medications

If you've had an ischemic stroke or TIA, your doctor may recommend medications to help reduce your risk of having another stroke. These include:

Anti-platelet drugs. Platelets are cells in your blood that form clots. Anti-platelet drugs make these cells less sticky and less likely to clot. The most commonly used anti-platelet medication is aspirin. Your doctor can help you determine the right dose of aspirin for you.
Your doctor might also consider prescribing Aggrenox, a combination of low-dose aspirin and the anti-platelet drug dipyridamole to reduce the risk of blood clotting. If aspirin doesn't prevent your TIA or stroke, or if you can't take aspirin, your doctor may instead prescribe an anti-platelet drug such as clopidogrel (Plavix).
Anticoagulants. These drugs, which include heparin and warfarin (Coumadin, Jantoven), reduce blood clotting. Heparin is fast acting and may be used over a short period of time in the hospital. Slower acting warfarin may be used over a longer term.
Warfarin is a powerful blood-thinning drug, so you'll need to take it exactly as directed and watch for side effects. Your doctor may prescribe these drugs if you have certain blood-clotting disorders, certain arterial abnormalities, an abnormal heart rhythm or other heart problems. Other newer blood thinners may be used if your TIA or stroke was caused by an abnormal heart rhythm.

Varicose veins are gnarled, enlarged veins. Any vein may become varicose, but the veins most commonly affected are those in your legs and feet. That's because standing and walking upright increases the pressure in the veins of your lower body.

For many people, varicose veins and spider veins — a common, mild variation of varicose veins — are simply a cosmetic concern. For other people, varicose veins can cause aching pain and discomfort. Sometimes varicose veins lead to more-serious problems.

Varicose veins may also signal a higher risk of other circulatory problems. Treatment may involve self-care measures or procedures by your doctor to close or remove veins.

Symptoms

Varicose veins may not cause any pain. Signs you may have with varicose veins include:

Veins that are dark purple or blue in color
Veins that appear twisted and bulging; often like cords on your legs

When painful signs and symptoms occur, they may include:

An achy or heavy feeling in your legs
Burning, throbbing, muscle cramping and swelling in your lower legs
Worsened pain after sitting or standing for a long time
Itching around one or more of your veins
Bleeding from varicose veins
A painful cord in the vein with red discoloration of the skin
Color changes, hardening of the vein, inflammation of the skin or skin ulcers near your ankle, which can mean you have a serious form of vascular disease that requires medical attention

Spider veins are similar to varicose veins, but they're smaller. Spider veins are found closer to the skin's surface and are often red or blue.

They occur on the legs, but can also be found on the face. Spider veins vary in size and often look like a spider's web.

When to see a doctor

Self-care — such as exercise, elevating your legs or wearing compression stockings — can help you ease the pain of varicose veins and may prevent them from getting worse. But if you're concerned about how your veins look and feel and self-care measures haven't stopped your condition from getting worse, see your doctor.

Causes

Arteries carry blood from your heart to the rest of your tissues. Veins return blood from the rest of your body to your heart, so the blood can be recirculated. To return blood to your heart, the veins in your legs must work against gravity.

Muscle contractions in your lower legs act as pumps, and elastic vein walls help blood return to your heart. Tiny valves in your veins open as blood flows toward your heart then close to stop blood from flowing backward.

Causes of varicose veins can include:

Age. As you get older, your veins can lose elasticity, causing them to stretch. The valves in your veins may become weak, allowing blood that should be moving toward your heart to flow backward.
Blood pools in your veins, and your veins enlarge and become varicose. The veins appear blue because they contain deoxygenated blood, which is in the process of being recirculated through the lungs.
Pregnancy. Some pregnant women develop varicose veins. Pregnancy increases the volume of blood in your body, but decreases the flow of blood from your legs to your pelvis. This circulatory change is designed to support the growing fetus, but it can produce an unfortunate side effect — enlarged veins in your legs.
Varicose veins may surface for the first time or may worsen during late pregnancy, when your uterus exerts greater pressure on the veins in your legs. Changes in your hormones during pregnancy also may play a role. Varicose veins that develop during pregnancy generally improve without medical treatment three to 12 months after delivery.

Risk factors

These factors increase your risk of developing varicose veins:

Age. The risk of varicose veins increases with age. Aging causes wear and tear on the valves in your veins that help regulate blood flow. Eventually, that wear causes the valves to allow some blood to flow back into your veins where it collects instead of flowing up to your heart.
Sex. Women are more likely to develop the condition. Hormonal changes during pregnancy, premenstruation or menopause may be a factor because female hormones tend to relax vein walls. Taking hormone replacement therapy or birth control pills may increase your risk of varicose veins.
Family history. If other family members had varicose veins, there's a greater chance you will too.
Obesity. Being overweight puts added pressure on your veins.
Standing or sitting for long periods of time. Your blood doesn't flow as well if you're in the same position for long periods.

Complications

Complications of varicose veins, although rare, can include:

Ulcers. Extremely painful ulcers may form on the skin near varicose veins, particularly near the ankles. Ulcers are caused by long-term fluid buildup in these tissues, caused by increased pressure of blood within affected veins.
A discolored spot on the skin usually begins before an ulcer forms. See your doctor immediately if you suspect you've developed an ulcer.
Blood clots. Occasionally, veins deep within the legs become enlarged. In such cases, the affected leg may swell considerably. Any sudden leg swelling warrants urgent medical attention because it may indicate a blood clot — a condition known medically as thrombophlebitis.
Bleeding. Occasionally, veins very close to the skin may burst. This usually causes only minor bleeding. But, any bleeding warrants medical attention because there's a high risk it can happen again.

Prevention

There's no way to completely prevent varicose veins. But improving your circulation and muscle tone can reduce your risk of developing varicose veins or getting additional ones. The same measures you can take to treat the discomfort from varicose veins at home can help prevent varicose veins, including:

Exercising
Watching your weight
Eating a high-fiber, low-salt diet
Avoiding high heels and tight hosiery
Elevating your legs
Changing your sitting or standing position regularly