Need to make an appointment?
Orthopedics
Sports Medicine
When you experience any sports-related injury or issue, Mayo Clinic Health System sports medicine can help you get back in action quickly — and at your peak performance level — through an integrated, efficient, team approach to care. Whether you're on an athletic team or striving to improve your overall fitness, our sports medicine experts are ready to help you at every age, stage and ability.
Best-in-class sports medicine care close to home
Our sports medicine team can provide exactly the care you need by customizing a treatment program to meet your individual needs and goals. Our highly specialized experts assess, treat and help prevent activity-related musculoskeletal injuries. Plus, a variety of advanced screening tests and research-based insights can help you reach your performance goals. You'll receive Mayo Clinic care in a location conveniently close to home.
Accessible providers offer same-day appointments to save you time and streamline your care
Providers across specialties work hand in hand for a seamless patient experience from diagnosis to treatment to training plan to rehabilitation
Regular collaboration with orthopedics physicians and orthopedic surgeons ensures highly comprehensive care plans and productive appointments
Non-surgical treatments often start the same day you see your provider for diagnosis, so you can achieve your goals as quickly and conveniently as possible
A seamless care path helps you return to an active, pain-free life
Our highly trained experts work together to create a seamless, efficient pathway to recovery. This strategic team approach addresses your unique needs and goals, helps you get back in action sooner and includes:
World-class, advanced treatment for existing injuries
A conservative approach to treatment whenever possible
Minimally invasive in-office procedures including ultrasound-guided injections for tendons and joints
Minimally invasive surgeries when appropriate
State-of-the-art rehabilitation equipment
Recommendations for injury prevention
Personalized treatment for sports-related injuries and conditions
The sports medicine experts at Mayo Clinic Health System commonly treat:
Ankle sprain
Arthritis
Back pain
Muscle and joint sprains and strains
Knee injuries
Ligament/tendon ruptures and tears
Shoulder dislocation
Shoulder rotator cuff injuries
Tendinopathies
Expert care to help you perform at full speed
The sports medicine experts at Mayo Clinic Health System also provide personalized, research-based sports medicine to help you boost your athletic performance, achieve your goals and prevent injury in your chosen activities. You can be your personal best with a variety of specialized services, including:
Body composition assessment
Metabolic testing
Hormone analysis
Nutritional analysis
Personalized consultations based on your specific goals
Our providers also have unique expertise in sports nutrition strategy and dietary supplements, which can help you enhance your daily performance and health in general.
Experts dedicated to bringing you pain-free, top performance
The sports medicine department at Mayo Clinic Health System is led by certified sports medicine physician Jake Erickson, D.O., who also serves as athletics team physician for student athletes at the University of Wisconsin-La Crosse. Dr. Erickson personalizes your care through expert diagnosis and the coordination of a team of expert providers, including:
Orthopedic surgeons
Licensed athletic trainers
Physical therapists
Exercise physiologist, certified personal trainer and sports nutritionist Andrew Jagim, Ph.D.
Providers from other specialties may also be part of your care team
You'll receive the personalized care you need to return to and/or optimize your performance in all your daily activities.
Schedule your personalized care today
Call us at the number listed above with questions or to schedule your appointment. No referral is needed.
10 Providers found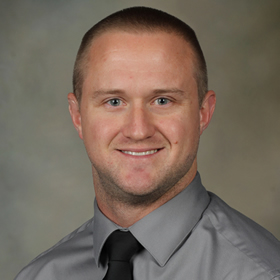 Grant Morgan, P.A.-C.
Orthopedic Surgery, Orthopedics