We are experiencing high call volumes:
Use your account on the Mayo Clinic app or patient portal to check symptoms, get care recommendations and make an appointment.
Radiology and Imaging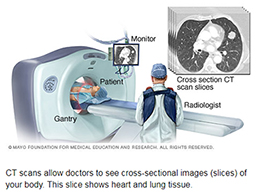 Computerized Tomography (CT)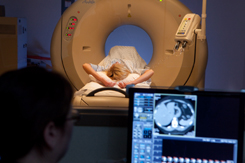 A computerized tomography (CT) scan is a detailed X-ray used to produce three-dimensional images of the body. This type of imagery allows doctors to view the body without having to perform surgery.
The scanner is shaped like a circle, which the patient slides into the center so the machine can X-ray the body from all sides. CT scans are painless and typically take only a few minutes to complete. A routine CT scan will not interfere with a pacemaker or affect any other implanted device.
CT images can be compared to looking down at single slices of bread from a loaf. Your doctor will be able to look at each of these slices individually or perform additional visualization to view your body from different angles. In some cases, CT images can be combined to create 3-D images. CT scan images can provide much more information than plain X-rays.
Your doctor may recommend a CT scan to help:

Diagnose muscle and bone disorders, such as bone tumors and fractures
Pinpoint the location of a tumor, infection or blood clot
Guide procedures such as surgery, biopsy and radiation therapy
Detect and monitor diseases and conditions such as cancer, heart disease, lung nodules and liver masses
Monitor the effectiveness of certain treatments, such as cancer treatment
Detect internal injuries and internal bleeding

CT scanners are shaped like a large doughnut standing on its side. You lie on a narrow table that slides into the doughnut hole, which is called a gantry. Straps and pillows may help you stay in position. During a CT scan of the head, the table may be fitted with a special cradle that holds your head still.

The table will move slowly through the gantry during the CT scan, as the gantry rotates in a circle around you. Each rotation yields several images of thin slices of your body. You may hear buzzing, clicking and whirring noises.

A technologist will be nearby, in a separate room. You'll be able to communicate with the technologist via intercom. The technologist may ask you to hold your breath at certain points to avoid blurring the images.

After the exam you can return to your normal routine. If you were given a contrast material, you may receive special instructions. In some cases, you may be asked to wait for a short time before leaving to ensure you feel well after the exam.

After the scan, you'll likely be told to drink lots of fluids to help your kidneys remove the contrast material from your body.

CT images are stored as electronic data files and are usually viewed on a computer screen. A radiologist interprets these images and sends a report to your primary care provider.