About Us
December 2020
The end of the year often is a time of reflection, and 2020 is no exception. The significant changes to our community, daily routines, schools, businesses and more would have been impossible to predict in January. One thing that has not changed this year is our commitment to our patients and the Fairmont community. Thank you for your continued support during this unprecedented time.
As we close this year, we continue to see COVID-19 community infection rates rising in Fairmont. If left unchecked, we are at risk for overwhelming our health care system. We are asking for your help to slow down the spread. We know what works: avoiding medium and large gatherings, masking, social distancing and hand washing. Please do your part for your friends and neighbors so we can get through this time together.
Here are a few other updates from Mayo Clinic Health System in Fairmont:
COVID-19 testing
Due to an increase in testing demand, we moved the COVID-19 testing location to the main hospital entrance on the south side of the medical center. The testing location is open from 10 a.m. to 2 p.m. daily. The testing location will be closed on Dec. 25, 26 and Jan 1. If you need a COVID-19 test, call your local clinic. There is no charge for the test.
Urgent Care holiday hours
Please note the adjustments in Urgent Care hours during the holidays: Dec. 24, 8 a.m.-3 p.m.; Dec 25, closed; Dec. 31, 8 a.m.-3 p.m.; and Jan. 1, 8 a.m.-3 p.m.
Remote patient monitoring available
The COVID-19 pandemic has changed some of the ways that we deliver health care to our patients. An example of this is a new home monitoring program for people who have tested positive for COVID-19.
This program uses medical technology and devices that are sent to patients' homes to collect vital signs and symptoms every day. A team of nurses monitors the data and calls the patients to discuss symptoms and offer recommendations and information. The program provides reassurance and peace of mind and is available to patients in Fairmont for no additional cost.
Schedule your flu shot
It's time to schedule your seasonal flu immunization, and this year it's more important than ever to put up your best defense against illness. Fewer people sick with the flu means more resources are freed up to care for patients with COVID-19.
You can schedule your own flu shot appointment using our patient portal called Patient Online Services. You can use this service to also schedule flu shot appointments for children between 6 months and age 12.
Blue distinction center for maternity care
We are proud to be recognized by Blue Cross Blue Shield as a Blue Distinction Center for maternity care. This national designation program recognizes our commitment to providing safe, high-quality patient care that leads to excellent results. It is an honor and privilege to receive this designation.
New respiratory rehabilitation area
Our new respiratory rehabilitation space is up and running, and shares a location with Cardiac Rehabilitation. Our respiratory therapists work with other specialties to provide testing, treatments and therapies to help patients breathe easier. Thank you to the Fairmont Community Hospital Foundation for funding the renovations.
Hometown Health grants
We awarded a $5,500 Hometown Health grant to Project 1590 for Fairmont Downtown Revitalization, as part of the LEAD for America project. The project involves a LEAD fellow working to support local businesses in accessing recovery assistance, in addition to building a two-year plan for economic recovery towards growth.
Employee feature: Jenna Faber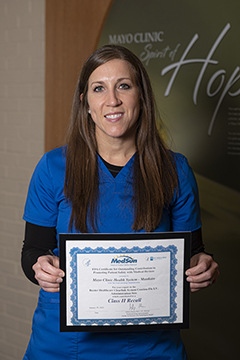 We are fortunate to have an amazing team in Fairmont. Jenna Faber, a registered nurse in Oncology, is an example of having a safety and patient-first mindset. While caring for a patient, she noticed that a patient's IV tube appeared to be wet. Jenna acted quickly to check on her patient, follow safety protocols and report the issue. Her actions resulted in a nationwide recall of the IV tubing and set. We want to thank Jenna for prioritizing patient safety on this and every day.
We appreciate your help in keeping everyone safe during the pandemic.
Happy holidays, stay safe and be well.
― Marie Morris, M.D., medical director, Mayo Clinic Health System in Fairmont
― Amy Long, administrator, Mayo Clinic Health System in Fairmont
Direct questions to comments to Amy Long, administrator, Mayo Clinic Health System in Fairmont, at 507-238-5070.