We are experiencing high call volumes:
Use your account on the Mayo Clinic app or patient portal to check symptoms, get care recommendations and make an appointment.
Need to make an appointment?
Orthopedics | Orthopedic Surgery
Joint Replacement
Joint replacement can provide relief from your pain and restore function. When you have hip, knee or shoulder replacement surgery in Barron, you will be supported from your first appointment through recovery.
To learn more about hip, knee or shoulder replacement, you and your family can attend a free two-hour educational program to understand the benefits and risks of joint replacement surgery, as well as discuss any special needs and concerns you may have. The Joint PREP class will help you:
Understand what to expect from the joint replacement procedure.
Prepare for surgery.
Learn how to achieve the best outcome for you.
Understand how important your participation is in the success of your joint replacement procedure.
Prepare for your return home from the hospital.
---
Joint PREP Class Videos
---
HIP REPLACEMENT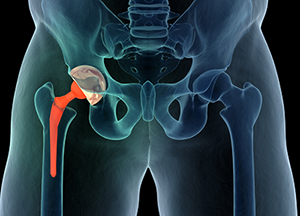 During hip replacement, a surgeon removes the damaged sections of your hip joint and replaces them with parts usually constructed of metal, ceramic and hard plastic. This artificial joint, called a prosthesis, helps reduce pain and improve function.
You may benefit from hip replacement surgery if your hip pain interferes with daily activities and more conservative treatments haven't helped or no longer are effective. You might consider hip replacement if you're experiencing hip pain that:
Persists, despite pain medication
Worsens with walking, even with a cane or walker
Interferes with your sleep
Affects your ability to go up or down stairs
Makes it difficult to rise from a seated position
Arthritis damage is the most common reason to need hip replacement. Conditions that can damage the hip joint, sometimes necessitating hip replacement surgery, include:
Osteoarthritis — Commonly known as wear-and-tear arthritis, osteoarthritis damages the slick cartilage that covers the ends of bones and helps joints move smoothly.
Rheumatoid arthritis — Caused by an overactive immune system, rheumatoid arthritis produces a type of inflammation that can erode cartilage and, occasionally, underlying bone, resulting in damaged and deformed joints.
Osteonecrosis — If there is inadequate blood supply to the ball portion of the hip joint, the bone may collapse and deform.
---
KNEE REPLACEMENT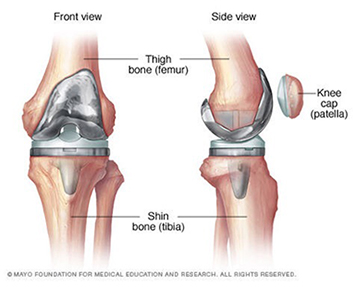 Knee replacement surgery can help relieve pain and restore function in severely diseased knee joints. The procedure involves cutting away damaged bone and cartilage from your thighbone, shinbone and kneecap, and replacing it with an artificial joint — called a prosthesis — made of metal alloys, high-grade plastics and polymers.
In determining whether a knee replacement is right for you, an orthopedic surgeon assesses your knee's range of motion, stability and strength. X-rays help determine the extent of damage. A variety of knee replacement prostheses and surgical techniques are available depending on your age, weight, activity level, knee size and shape, and overall health.
The most common reason for knee replacement surgery is to relieve severe pain caused by osteoarthritis. People who need knee replacement surgery usually have problems walking, climbing stairs, and getting in and out of chairs. Some also have knee pain at rest.
---
SHOULDER REPLACEMENT
Problems with the rotator cuff — a group of muscles and tendons that hold the shoulder joint in place and allow movement of your arm and shoulder — may cause weakness or pain and restrict movement. It also may cause damage to the shoulder joint.
The top of the arm bone fits into a socket on the shoulder blade. In a typical shoulder replacement, a plastic lining is attached to the socket to allow smooth movement. The surgeon removes the top of the arm bone and inserts a metal stem with a ball on the end. However, if the rotator cuff is severely damaged, the joint may not be stable or work properly. In this case, an operation called reverse shoulder replacement may be a better way to improve the joint's function and reduce pain, especially if the joint is affected by arthritis.
In a reverse shoulder replacement, the normal ball-and-socket structure is reversed. An artificial ball is attached to the shoulder blade. An artificial socket is attached to the top of the arm bone. The large deltoid muscle that covers the shoulder is typically able to move the arm.