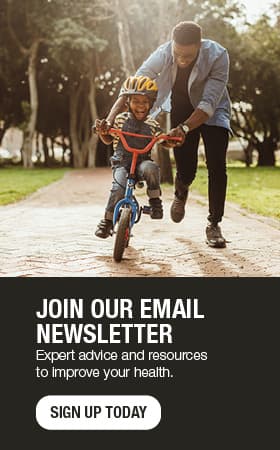 Wagging tail, puppy eyes bring comfort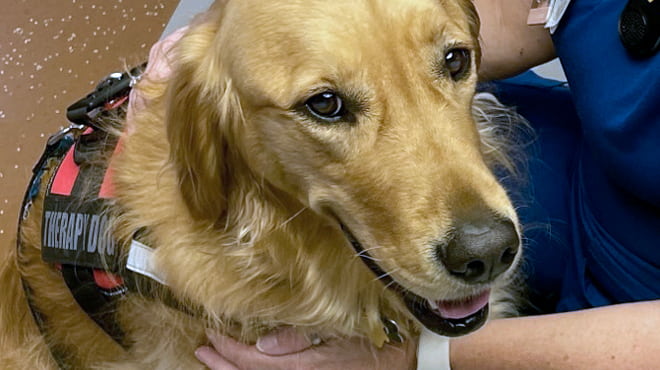 A new staff member at Mayo Clinic Health System in Mankato has many qualities that make her an asset to the team. She is compassionate, tender, empathetic and brings a smile to everyone she meets. She also happens to be 4 years old and a golden retriever.
Meet Maisy, a new therapy dog that helps patients feel more at ease during their visits and spreads joy to staff. She's assisted by her handler and owner, Meghan E. Murphy, M.D., a Mayo Clinic Health System neurosurgeon.
"I wanted a family dog and always wanted a golden retriever that was good with my kids," explains Dr. Murphy. "Maisy has the perfect demeanor for a therapy dog."
Dr. Murphy began bringing Maisy to the clinic during the COVID-19 pandemic as part of the Joy Canine program for staff. Maisy would sit under her desk while Dr. Murphy conducted video visits with patients.
"It was really uplifting for staff during a stressful time," she says. "They started looking for her, and it was nice to see how much joy she brought to the doctors, nurses, schedulers and team. People were just happier when she was around."
Over time, the duo completed the necessary training, and Maisy earned her certification as a therapy dog. She was able to start interacting with patients in September 2022.
"Maisy is unflappable and calm," says Dr. Murphy. "She's not too eager about initiating contact, which is helpful as a therapy dog. She waits for my prompting or for the patient to reach out to her."
Maisy spends most Fridays in the clinic and hospital, and visits patients, staff and volunteers. On a recent day, she and Dr. Murphy were busy across the clinic and hospital.
In the early morning, Dr. Murphy had a virtual meeting, so Maisy relaxed with a nap under her desk. Then it was time for Maisy to greet the staff. She made a quick trip down the hall to get a treat from Jim Partridge II, M.D., a Mayo Clinic Health System surgeon, and plenty of belly rubs from the nurses in the Neurosurgery Department. A quick trip to the Orthopedics Department helped that team start their Friday on a positive note as well. The hospital coffee shop team, Kelsey and Courtney, treated Maisy to a pup cup, and she got to visit with staff and patients in the first-floor atrium.
A hospice nurse contacted Dr. Murphy to ask if Maisy could visit a patient in the hospital. The family was worried that the patient wouldn't be able to return home and wanted to make his time in the hospital more comfortable.
Back at the clinic, a young patient with painful nerve damage had an appointment with Dr. Murphy, and Maisy tagged along.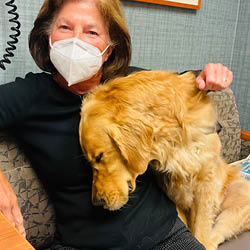 "I feel like she senses who is suffering," says Dr. Murphy. "She went straight up to the patient and put her head on her lap to calm her. Later she laid down next to the patient, and I was so proud of her."
In the afternoon, Maisy's comforting manner helped soothe a family that received news about a serious brain tumor and a mother concerned about her child. She finished her day in the hospital, spending time with a patient who was missing his dog. It was the perfect way to wrap up a busy day at work.
"Maisy is a wonderful dog that brings other people joy in hard times, whether it be in their work or in their illness. It's fun for me to see how she interacts with people," says Dr. Murphy. "We all need more love in our day, and Maisy brings love and joy to all she meets."
Learn more about pet therapy:
By Mayo Clinic Health System staff