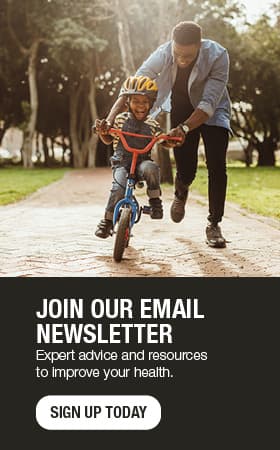 Care around the kitchen table, thanks to video appointment
Telehealth is an important way of delivering health care to patients, regardless of where they live. Video appointments are a form of telehealth that are seeing more use during the COVID-19 pandemic.
Video appointments are conducted using communication software accessible through Patient Online Services. This software complies with the Health Insurance Portability and Accountability Act. Using this software, patients log in to Patient Online Services, and in a few clicks, are connected to their health care provider for a video appointment on the patient's tablet or mobile device. It's like a home visit in the 21st century.
Sue's experience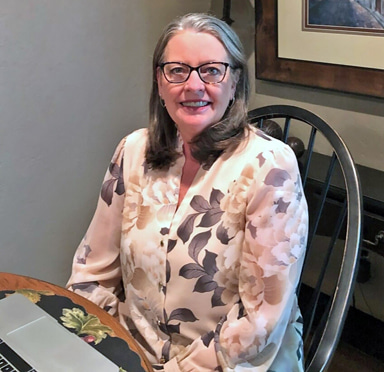 One patient benefitting from the use of video appointments is Sue Jaeger of Austin, Minnesota. Sue had her first video appointment in August, and she found the experience to be surprisingly comfortable and personable.
Sue was scheduled to have a biopsy of a nodule on her thyroid gland and was anxious about how soon she would get the results. Her care team contacted her about a video appointment consultation with Sumit Bhagra, M.D., a Mayo Clinic Health System endocrinologist who cares for patients in Albert Lea and Austin, Minnesota.
"They asked if I had used Zoom before and sent me a link through the portal," says the 67-year-old retired telecommunications professional. "I've used Zoom and Facebook Messenger before, and this system was like those. There was a phone number that I could call if I had trouble. It was really easy to set up."
Sue's biopsy was scheduled on a Thursday afternoon, and she would be able to see the results in her Patient Online Services account over the weekend. Dr. Bhagra was seeing patients in Albert Lea that day and would not have been able to discuss the biopsy with Sue in person until the following Monday or Tuesday.
"To allay the anxiety of this disconnect, we sequenced the appointment so she got the biopsy done and saw me the following morning through a video appointment," says Dr. Bhagra, who also is the site lead physician at Mayo Clinic Health System in Albert Lea and Austin.
During her appointment, Sue and her husband, Dan Jaeger, sat at their kitchen table while discussing her thyroid and biopsy with Dr. Bhagra. Even though he was in his Albert Lea office 20 miles away, Sue was surprised at how connected she felt to Dr. Bhagra.
"It felt like he was sitting across the table from us," she says. "It was really comfortable."
During her appointment, Dr. Bhagra had good news for Sue: The nodule on her thyroid was not cancerous. Overall, Sue says she is happy with her video appointment experience and offers advice to other patients.
"Don't be afraid of it, even if you don't have a technical background. There is always a phone number that you can call if you get stuck," she says. "During my appointment, it felt like he was sitting across the desk. I felt much better after my call."
Video appointment benefits
Video appointments bring health care closer to home, increase convenience, lower patient anxiety and provide insight into a patient's home environment. The appointments are less disruptive for patients and allow them to spend more time living life and less time commuting and waiting to be seen by health care providers.
"These digital pipelines, such as video appointments, allow people to live their lives with minimal disruption from the work of being a patient," says Dr. Bhagra. "Patients with chronic disease typically require periodic appointments, blood tests and imaging studies, and each touch point requires an individual to block a chunk of time away from life or work to accomplish these tasks. The convenience of video appointments decreases the disruption on patients' lives from chronic diseases. Visits that took two to three hours from the time the patient left their home to the time they return from the appointment are done in 30 minutes or less. This is one of the ways by which technology can make care more accessible and less burdensome."
Video appointments are time efficient and don't require travel, allowing patients with busy schedules or limited availability of transportation or impaired mobility able to integrate their health care needs with their unique circumstances.
A benefit that may be less apparent is the reduction in anxiety about the appointment.
"We know that video visits work really well in a mental health setting," says Dr. Bhagra. "Some people have a lot of anxiety about meeting a stranger face to face. Others have anxiety about new places, driving, parking, waiting, etc. The telemedicine piece just takes these concerns away."
Bright future
Dr. Bhagra explains that telemedicine technology also allows health care providers to remotely monitor specific patient's health conditions, such as heart failure, cardiac rhythm abnormalities or diabetes.
Widespread use of video appointments was accelerated due to the COVID-19 pandemic, but the technology was in use long before that.
"Mayo is at the forefront of innovation, and our 'Bold. Forward.' 2030 plan paved the way for success," says Dr. Bhagra. "We were ready with these solutions, even prior to the challenges of COVID-19, and shall continue to innovate going forward."
Learn more about video appointments: