We are experiencing high call volumes:
Use your account on the Mayo Clinic app or patient portal to check symptoms, get care recommendations and make an appointment.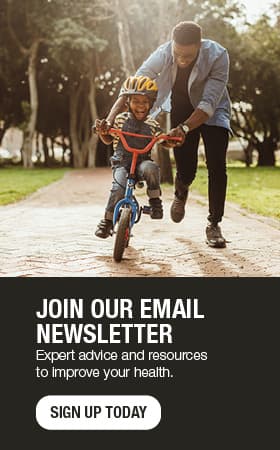 You get what you give: Take care of your body
Hesitant about going to the doctor for a checkup? Don't be. A healthy patient-provider relationship and some regular maintenance can give men a long, healthy life.
"Prioritizing your health in your thirties and forties is analogous to financial investing," says Paul Loomis, M.D., a Family Medicine physician at Mayo Clinic Health System in Eau Claire. "If men start when they're 50, they're behind the eight ball. Start when you're 25 and you will have invested well."
Know your risks
Men don't always appreciate the significance of cardiovascular disease, such as heart disease and stroke, according to Dr. Loomis.
"There's a lack of awareness about how significant that risk is," he says. "But we have better screening and treatment options than ever before."
Make the connection
"Establishing a trusting relationship with your health provider is extremely important for prevention," says Dr. Loomis.
Checking blood pressure, establishing healthy weight goals and understanding cholesterol and blood glucose numbers puts men on track for long-term health. It also helps with discussing sensitive topics, such as prostate exams.
"Current evidence says you should at least have the discussion at age 50," says Dr. Loomis.
Learn from the past
Building the patient-provider relationship leads to better care, makes patients more comfortable, helps reveal important health concerns and provides a more detailed family history.
"Talk to family members," Dr. Loomis says. "Sometimes it's hard to hash out what's genetic, and what's lifestyle."
Work hard, play hard
"I ask men how often they change the oil in their cars," says Dr. Loomis. "A lot of guys take better care of their toys than their health."
He recommends physical activity, healthy diet and an optimistic outlook for an overall healthy lifestyle.
Primary care providers are available to see patients at all Mayo Clinic Health System locations. Call the location most convenient for you to schedule an appointment.
---
For the safety of our patients, staff and visitors, Mayo Clinic has strict masking policies in place. Anyone shown without a mask was either recorded prior to COVID-19 or recorded in a non-patient care area where social distancing and other safety protocols were followed.
Topics in this Post