We are experiencing high call volumes:
Use your account on the Mayo Clinic app or patient portal to check symptoms, get care recommendations and make an appointment.
Posted By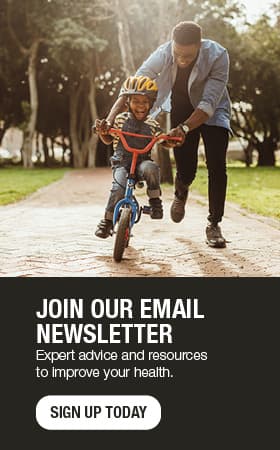 What are the top women's health risks in this country? Heart disease, stroke and cancer are the three biggest threats and the top causes of death among adult women in the U.S. While family history does play a factor, there are preventive measures women can take to reduce their risk of some of these chronic conditions.
There are certain lifestyle changes women can make to reduce their risk:
Stop smoking
Eat a healthy diet
Maintain a healthy weight
Be physically active
Limit alcohol intake
Manage stress
Watch your blood pressure and cholesterol
Heart disease is the No. 1 killer of American women, claiming more women's lives than all forms of cancer combined. A common misconception is that heart disease is primarily a problem for men, but more women than men die of heart disease every year. If you're aware of the symptoms and risks that are unique to women and you eat a heart-healthy diet (low fat, cholesterol and salt) and regularly exercise, you will be better protected.
Women who have heart attacks often experience different symptoms than men. Women of all ages are more likely than men to have heart attack symptoms unrelated to chest pain, such as:
Pain in the shoulder, back, neck, jaw, ear or stomach
Profound nausea
Fatigue
Shortness of breath
Unusual heartburn
Sudden lightheadedness
Sweating
If you're experiencing any of these symptoms or think you're having a heart attack, call for emergency medical help immediately.
For many women, breast health tops the list of health concerns. I recommend women begin annual mammogram exams starting at age 40. Women should also perform regular self-exams and be "breast aware." You should be familiar with the normal consistency of your breasts and the underlying tissue. About 40 percent of breast cancers are discovered as a result of self-exams. See your provider if you discover:
A hard lump or knot
Changes in the way your breasts feel or look
Changes in color, size, shape or texture
Dimples, puckers, bulges or ridges on the skin
Inverted nipple
Redness, warmth, swelling or pain
Itching, scales, sores or rashes
Bloody nipple discharge
Preventive exams such as mammograms play an important role in women's health. Other recommended screening guidelines for women from the U.S. Preventive Services Task Force include:
Blood pressure - At least every two years
Bone density test - At least once at age 65 or older
Cervical cancer (Pap test) – Ages 21-29, every two years; Over age 30, every five years
Cholesterol test – Starting at age 20, tested regularly if you're at an increased risk for heart disease
Colorectal cancer – Starting at age 50
Diabetes – Get screened for diabetes if your blood pressure is higher than 135/80.
HIV, STDs – Get tested for HIV and other sexually transmitted diseases if you are sexually active. Discuss your risk with your health care provider because you may need more frequent tests.
It's also important that women get regular checkups with their health care provider. Ask your provider how often you need to be seen for routine checkups. You can use that time in the doctor's office to bring up any health concerns or questions you might have.
Watch the Women's Health Speaking of Health episode below.
---
For the safety of our patients, staff and visitors, Mayo Clinic has strict masking policies in place. Anyone shown without a mask was either recorded prior to COVID-19 or recorded in a non-patient care area where social distancing and other safety protocols were followed.
Topics in this Post