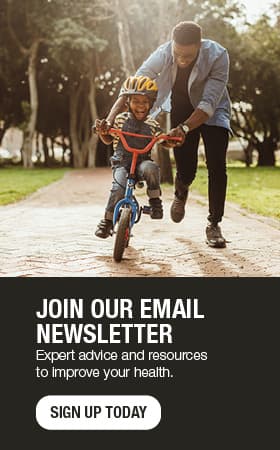 Why you should screen early and vaccinate against cervical cancer
By Mayo Clinic Health System staff
Cervical cancer is a highly preventable cancer. It used to be the leading cause of cancer deaths in women, but with the advent of regular Pap tests, the number of cervical cancer cases and related deaths has significantly decreased over that last 40 years.
The cervix is located just below the uterus. We now know that most of cervical cancer is caused by a sexually transmitted infection from a virus called Human Papilloma Virus (HPV). HPV infection is a common infection affecting about 80 million people, or about 1 in 4 people, in the U.S.
Types of HPV infections
HPV infections are divided into two types:
Infection from low-risk strains that can cause genital warts
Infection from high-risk strains that can lead to cervical cancer
Most HPV infections, about 9/10, will go away by themselves within two years. Only those that persist lead to cancer. Over the last 10 years, we have begun conducting HPV tests along with Pap tests for women over 30 and HPV testing in younger women with abnormal Pap results. This has allowed us to keep a closer eye on women that might be at risk for cervical cancer.
HPV can spread through intimate skin-to-skin contact and vaginal, oral and anal intercourse. Most people that carry HPV infections do not have symptoms. HPV infection can cause cancers of the cervix, vagina and vulva in women; cancer of the penis in men; and cancers of the anus, throat, tongue and tonsils in men and women.
Vaccines offer protection
Vaccinating against HPV can prevent cancer, especially cervical cancer. The Centers for Disease Control (CDC) recommends the vaccine for males and females between ages 9 and 26. It usually is given between ages 11 and 12. Boys and girls age 14 or younger should receive two doses of HPV vaccine at least six months apart. Teens and young adults between age 15 and 26 should receive three doses. HPV vaccination is safe and not associated with any serious side effects. Some reported minor side effects may include pain, redness or swelling at injection site, nausea, dizziness or fainting and headache.
Even if you have been vaccinated you still need regular Pap tests. Existing HPV vaccines protect against the most common strains that cause genital warts and cervical cancer, but there are still other strains out there. Pap tests play a big role in detecting pre-cancer and cancer of the cervix. Regular Pap tests are now recommended starting at age 21, for every three years until age 29. Thereafter, if HPV testing is performed along with the Pap test, it can be spaced out to every five years until age 65. After age 65, Pap tests can be discontinued if you have had an adequate number of normal results in the past. If you have had your uterus and cervix removed during a hysterectomy, Pap tests can be omitted if you have never had pre-cancer or cancer of the cervix.
All women are susceptible to cervical cancer. Prevention is better than a cure, so please consider the vaccine if you are between the ages of 9 and 26. And, remember to schedule Pap tests on a regular basis.