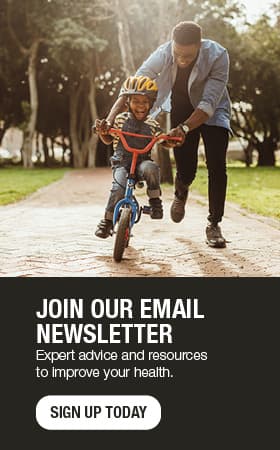 Take it one step at a time. This is good advice figuratively and literally.
I'm talking about walking. It's something we often take for granted, even though we do it every day. But did you know that taking a brisk walk for 20 minutes a day could help you better manage your weight and stress level?
Benefits of walking
Walking is a gentle, low-impact exercise that can ease you into a higher level of fitness and health. It's one of your body's most natural forms of exercise. It's safe, simple and doesn't require a lot of practice.
Walking for fitness can help:
Manage your blood pressure
Reduce your risk of developing type 2 diabetes
Manage your diabetes
Manage your weight
Reduce your risk of a heart attack
Manage stress and boost your spirits
Stay strong and active
Starting a walking program
Starting a walking program takes initiative. Sticking with it takes commitment. But when you think of the potential health benefits, it's well worth your effort. Over time, you'll likely feel more invigorated.
Sometimes things happen to keep you from sticking to a regular walking program. Unfortunately, many people are too hard on themselves when this occurs. You don't have to let a few days off sabotage your plan to reach a higher level of fitness and improved health.
Follow these tips to get back in the game:
Think positively.
Don't let negative self-talk get in the way of starting again.
Reevaluate your goals.
Set realistic goals for yourself, such as 20–30 minutes of exercise five days a week.
Get going.
Build walking into your schedule today.
Plan continually.
If you're taking a trip or working overtime, think of strategies for incorporating short walks into your day to keep your plan on track.
Although the first steps of any journey can be the most difficult, it helps to keep your goals foremost in your mind. Once you take that first step, you're on the way to an important destination: better health.
Learn more about walking for health:
By Mayo Clinic Health System staff