Posted By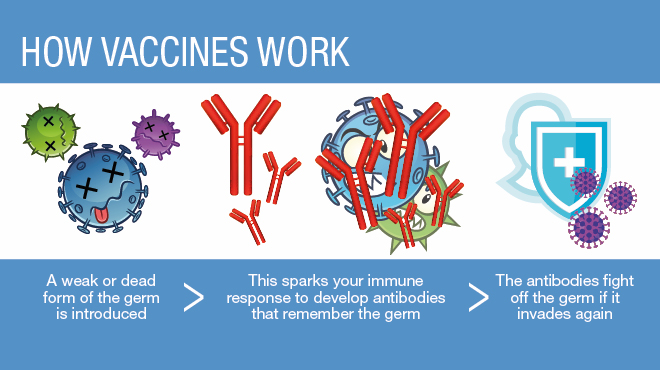 Do vaccines really work? Read the answer to that question and others to learn more about vaccines.
1. How do vaccines work?
Vaccines help your immune system fight infections faster and more effectively. They are made of small amounts of weak or dead germs. When you get a vaccine, it sparks your natural immune response, helping your body fight off and remember the germ so it can attack it if the germ ever invades again. Vaccines often provide long-lasting immunity to serious diseases without the risk of serious illness.
2. How do we know vaccines work?
Before a vaccine is recommended for use in the U.S., the Food and Drug Administration ensures it works and is safe.
Since vaccines were invented, the number of people who get sick or die from vaccine-preventable diseases has dropped significantly. Some diseases have been wiped out altogether in the U.S.
3. Is natural immunity better than vaccination?
A natural infection might provide better immunity than vaccination, but there are serious risks. For example, a natural chickenpox (varicella) infection could lead to pneumonia. A natural polio infection could cause permanent paralysis. A natural mumps infection could lead to deafness. A natural Haemophilus influenzae type b (Hib) infection could result in permanent brain damage. Vaccination can help prevent these diseases and the potentially serious complications. The Centers for Disease Control estimated the 2017–2018 flu season contributed to 80,000 deaths and 710,000 hospitalizations.
4. Who is protected from vaccines?
Vaccines don't just protect you — they also protect the people around you. Germs can quickly travel through a community and make a lot of people sick. If enough people get sick, it can lead to an outbreak. But when enough people are vaccinated against a certain disease, the germs can't travel as easily from person to person, and the entire community is less likely to get the disease.
That means even people who can't get vaccinated, such as those with weak or failing immune systems, will have some protection from getting sick. And if a person does get sick, there's less chance of an outbreak because it's harder for the disease to spread.
5. What if I'm injured as a result of a vaccine?
While vaccines can cause side effects, most are rare and quite mild. Read why it's a myth that vaccines cause autism. In rare cases, a vaccine can cause a serious problem, such as a severe allergic reaction. In these instances, the National Vaccine Injury Compensation Program may provide financial compensation to someone who files a petition and is found to have been injured by a program-covered vaccine. The program is a no-fault alternative to the traditional legal system for resolving vaccine injury petitions.
If you have questions or concerns about vaccines, talk to your health care provider.
Leanna Munoz is a nurse practitioner in Express Care in Eau Claire, Wisconsin.
Topics in this Post