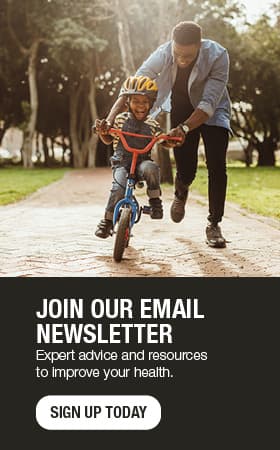 Tips to keep your summer safe and injury free
A backyard fireworks display may look pretty and get family and friends excited, but when it comes to lighting fireworks, leave it to the professionals, Mayo Clinic physicians are advising.
Each year, Mayo Clinic doctors see dozens of patients who have lost fingers and limbs, gotten severe burns and suffered hearing loss as a direct result of using fireworks. Even seemingly harmless fireworks – such as sparklers – can cause severe burns and even blindness.
"People have a false sense of security when it comes to fireworks," says Donald Jenkins, M.D., a trauma physician at Mayo Clinic in Rochester, Minn. "The reality is that often people are not a safe distance from exploding fireworks, or even worse, the firework actually ignites in their hand. These scenarios can lead to facial burns, eye injuries and amputation of fingers or the hand, especially among children."
Paul Horvath, M.D., emergency physician at Mayo Clinic Health System in Eau Claire, is working on July Fourth, so he expects to see a few injuries, likely burns.
"Most fireworks injuries are pretty minor, but there can be more extensive injuries," Horvath says. "Fireworks burn incredibly hot. They can burn the skin and underlying tissue. Fireworks also can cause other things to catch fire, which then can cause burns."
Horvath's advice: "Leave fireworks to the people who know what they're doing."
For those who use fireworks, take a few precautions:
Only use fireworks outside.
Never aim at people, animals, houses, bushes or trees.
Be sure other people are out of range before lighting fireworks.
Never allow children to play with or ignite fireworks.
Wear eye protection.
Never light fireworks while they are in your hand.
Always have water on hand (a garden hose and a bucket).
Other tips for keeping your summer safe:
Consume alcohol in moderation. Imbibing too much alcohol can lead to questionable decision-making, slowed reflexes and false confidence – traits that are dangerous in nearly any outdoor activity during the summer months.
Never assume a camp or bonfire is completely out. Fire-happy campers have been known to dump gasoline or other flammable liquids on fires that look like they are out or smoldering and ended up with third-degree burns. Children and adults make trips to the emergency room every summer after stepping into fire pits they thought were cool.
Always wear a helmet when biking, motorcycling, horseback riding or on an ATV. This is like wearing a seat belt in a car — an absolute must. Riders of all kinds can sustain serious injuries in an accident, but survival chances grow exponentially when a helmet is worn.
Use extra-sharp eyes when operating a motor vehicle on the water. Watch out for other boaters, water-skiers and swimmers. Every year, patients end up in the ER after getting tangled up in a boat propeller. And always wear a life jacket.
Avoid sunburn. Wear sunscreen or protective clothing to avoid sunburn, which can cause serious symptoms.
Check for ticks: Lyme disease is a real issue in this part of the country. Wear protective clothing. Do a tick check after spending time outdoors.