We are experiencing high call volumes:
Use your account on the Mayo Clinic app or patient portal to check symptoms, get care recommendations and make an appointment.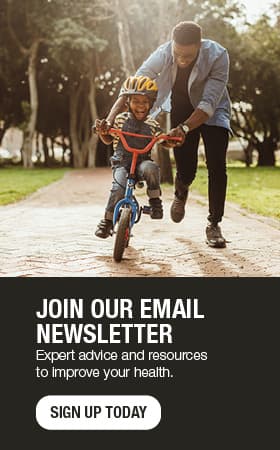 The Internal Benefits of Exercise
By Mayo Clinic staff
Exercise is an essential tool to becoming a better, healthier you. But contrary to popular belief, it doesn't only help you lose weight. There are many internal benefits to following a moderate exercise regimen.
One of the most important organs in your body is your heart. Its synchronized pulses continuously pump blood through your veins, supplying your body with what it needs to function properly. It is essential to keep your heart healthy. With the right amount of moderate physical activity — 150 minutes a week, to be exact — you can make your heart stronger, improve your blood vessels and fight heart disease. According to the Centers for Disease Control and Prevention, heart disease causes one out of every four deaths in the United States, so why wouldn't you do what it takes to stay heart healthy?
Also, when you're feeling sad and blue, exercising is a great way to deal with the melancholy. A good mix of aerobic and muscle-strengthening exercises helps you stay mentally sharp and has been proven to boost mood and alleviate depression symptoms. This type of exercise routine also helps you sleep better and stay more relaxed, both of which ease a troubled mind. Plus, looking and feeling better physically ultimately helps your self-esteem.
And if you frequently scream, "Oh, my aching bones!", exercise can relieve joint pain, expand your body's ability to manage arthritis and improve bone density. In fact, older women begin losing bone density at a rate of 1-2 percent each year. With moderate weight-bearing exercise, those same women can actually start increasing bone density at 1 percent each year.
Part 2: How does exercise help you lose weight and keep it off? >>
---
For the safety of our patients, staff and visitors, Mayo Clinic has strict masking policies in place. Anyone shown without a mask was either recorded prior to COVID-19 or recorded in a non-patient care area where social distancing and other safety protocols were followed.
Topics in this Post