We are experiencing high call volumes:
Use your account on the Mayo Clinic app or patient portal to check symptoms, get care recommendations and make an appointment.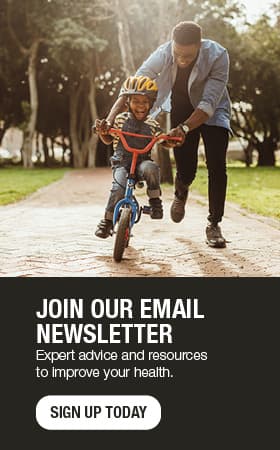 Rolling to recovery: Knee walkers a popular alternative to crutches
When people come to see me, it usually involves an ailment or injury affecting their knee, foot or ankle. And while pain will be the most common symptom, the most common complaint is a decrease or loss of mobility.
It's somewhat ironic then, in cases where surgery is necessary or weight must be kept off the joint or limb for healing, that mobility is even more hampered by being restricted to crutches. Depending on the age of the user or the environment that the user is in, crutches can sometimes place the patient at an even greater risk of falling or re-injury.
Patients in these circumstances might benefit from an alternative to crutches that has been growing in popularity: knee walkers. Knee walkers are similar to scooters, but with a raised, padded surface at knee height.
The user rests the knee of the injured leg on the scooter, while pushing themselves along with the other leg. The scooter has a steering post and a break for stability and control. Plus, users avoid the sore arms and armpits traditionally associated with crutches.
When stationary, knee walkers allow the user to rest their injured limb while keeping their hands free to do other tasks, such as when preparing a meal in the kitchen.
Patients as young as 5 and as old as 95 have used knee walkers. Most insurance policies cover the device, while some home medical supply stores, such as Mayo Clinic Health System Pharmacy & Home Medical, also rent them.
Depending of your situation, if weight-bearing activities are restricted and crutches are advised, you might want to look into giving knee walkers a spin.
---
For the safety of our patients, staff and visitors, Mayo Clinic has strict masking policies in place. Anyone shown without a mask was either recorded prior to COVID-19 or recorded in a non-patient care area where social distancing and other safety protocols were followed.