Posted By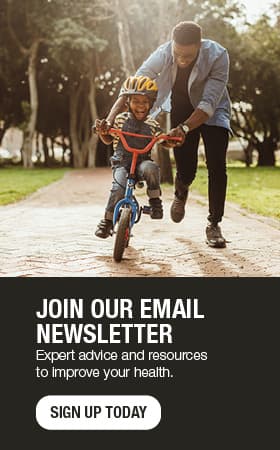 Open your heart to gratitude: Acknowledge suffering during challenging times
It's getting close to the holidays. It's a time when we gather in groups to celebrate life and relationships with family and friends. It's a time when it's typically easy to recognize the things in life that we are grateful for.
But it's 2020.
What happens when a pandemic strikes and threatens to upend the traditions and rituals that hold us together? What happens when there is collective fatigue, loss and grief obvious on the faces and in the voices of everyone around us? How can we get some of our "happy" back?
The practice of gratitude has been well-researched and shown to correlate with greater feelings of happiness. Specifically, people who took time to write down what they were grateful for or people who expressed gratitude for someone else's kindness were happier, exercised more and had fewer visits to a health care provider. Also, couples who expressed gratitude were shown to have better communication and feel more positive toward one another.
Additional research has demonstrated that consistently writing things to be grateful for over the course of a week had lasting effects on depressive symptoms, while practices such as mindfulness and forgiveness can increase gratitude and thankfulness. Physicians have noted that the body is positively affected by practicing gratitude, including higher immune responses and lower inflammatory, cortisol, heart rate, blood pressure and blood sugar levels. This is proof that looking for those positives is essential to living a happier, more content life.
But how can you find gratitude in challenging times?
Honestly, even as a professional counselor who knows the evidence, finding things to be grateful for recently seems like a daunting task. I have had some desperate moments where I ask myself the same question many of my clients — and maybe you — are asking: "What is there even to be grateful for?"
I also know that underneath all of the challenges, there are things to be grateful for. It's just that sometimes it's hard to see through the dark cloud of suffering in the moment to see those positive things. The first step to seeing positive things in life is acknowledging and validating pain.
Open your heart to gratitude
It is important to acknowledge your experiences of suffering. Doing this lays the foundation for gratitude and thankfulness.
Robert Emmons, Ph.D., a leading scientific expert on gratitude at the University of California, wrote this in Greater Good magazine:
---
"The field of positive psychology has at times been criticized for failing to acknowledge the value of negative emotions. To deny that life has its share of disappointments, frustrations, losses, hurts, setbacks and sadness would be unrealistic and untenable. Life is suffering. No amount of positive thinking exercises will change this truth. So telling people simply to buck up, count their blessings, and remember how much they still have to be grateful for can certainly do much harm.
---
The first step is validating your suffering. In other words, give yourself permission to recognize that what is happening to you, loved ones and the community is painful, and it is OK to feel this way.
It helps when others recognize suffering. You can do this for yourself, too. Many of us do a better job of the former and need to work on the latter. You must first have compassion for yourself and those around you to be able to move past the difficulty of the situation to see the things to be grateful for.
But how do you do this?
Here are some ways to begin to have compassion by recognizing and acknowledging the suffering of others:
Notice what is happening in the lives of the people you encounter daily.
Note the struggles that you hear in your conversations.
Mentally validate what you notice. Think "That is so hard" or "I am sorry this is happening."
Verbally validate by stating these same thoughts when it would help someone else to hear them.
Have self-compassion, which is the act of directing care toward yourself when you are suffering.
Here is a simple way to give compassion to yourself:
When you are feeling pain or suffering, take a short moment to think "This hurts" or "This is hard."
Breathe and imagine that you are being wrapped up in the caring embrace of someone who loves you unconditionally. Maybe that's a parent, partner, friend or spiritual healer.
Once you have recognized and honored the pain in yourself and others, you can more easily see through the dark cloud of suffering and open the door to gratitude.
Practicing gratitude
When you're in a challenging situation where it is hard to see the good, begin by comparing your situation to a situation that is worse — where the suffering would be greater. Having awareness that there are worse situations often gives rise to a sense of gratitude.
Asking yourself these questions can help increase your awareness:
What would be a worse situation that the one I am in?
Who is suffering more than I am?
Who can help me find gratitude? Often two brains are better than one.
Developing a gratitude practice — a set of actions that you can take that will give rise to feelings of gratitude in yourself and others — is another way to shift away from the overpowering negatives that cause suffering. There are endless ways to practice gratitude.
Here are a few ideas to get you started practicing gratitude:
Make a gratitude list, and add to it daily.
Tell someone you love them and how much you appreciate them.
Notice the beauty in nature each day.
Watch inspiring videos that remind you of the good in the world.
Include an act of kindness in your life each day.
Call family more often.
Spend quality time with people who are important to you.
Write a card to someone, and tell them something nice.
When you think a negative thought, look for the positive fact.
Make gratitude a habit.
The world is grappling with a new reality right now. One thing is certain: We can be grateful that history tells us that pandemics do end and that this current situation is temporary. Practicing compassion and gratitude will help us cope until the pandemic ends.
Jennifer Wickham is a psychotherapist in Behavioral Health in Eau Claire, Wisconsin.
---
Discover Gratitude
Mayo Clinic Health System offers a self-guided program called Discover Gratitude with a printable journal and resources to help you jump-start your gratitude journey.
Watch this video to learn more about the Discover Gratitude program:
---
For the safety of our patients, staff and visitors, Mayo Clinic has strict masking policies in place. Anyone shown without a mask was either recorded prior to COVID-19 or recorded in a non-patient care area where social distancing and other safety protocols were followed.
Topics in this Post