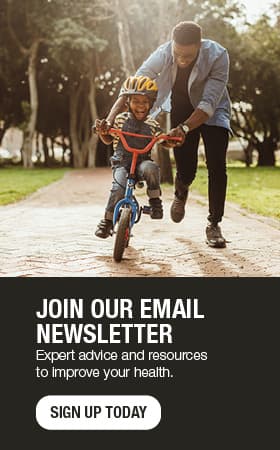 Not a gardener? Reap the benefits of fresh and local foods at the farmers market
Your local farmers market can be a feast for the eyes, the stomach and maybe even the soul. Colorful produce. Neighbors meeting neighbors. That feel-good smile people get knowing they're working toward healthier physical and mental well-being.
In northwest Wisconsin, we are fortunate to have access to a variety of fresh fruits and vegetables during the summer. Buying local produce is a beneficial option, in more ways than one.
You may wonder, "Why should I buy food locally?" Buying local food is a positive growing trend across the nation. When you buy locally, you are supporting the farmers in our community and our local economy. Furthermore, it is a great alternative to having to maintain your own home garden.
It is a lot of work to grow your own foods, and not everyone has the time, space or proper environmental conditions required for creating and maintaining a home garden. Instead, you can visit the local farmers market. It's fun to develop relationships with local farmers and members of the community, and it inspires you to eat healthier and feel good about your choices, mentally and physically. You can find all sorts of foods at the local farmers market, such as asparagus, greens (lettuces, kale and arugula), rhubarb and other items, such as bread, cheese, herbs and more.
Other ideas to try are to contact a nearby farmer who may sell or let you pick your own produce, join a community supported agriculture (CSA) group to receive weekly deliveries of produce from local farmers or, next time you shop at the grocery store, ask if they feature local produce.
Stay inspired to buy fresh, local foods by finding fun, delicious recipes in a cookbook or online. In fact, a trip to the market or making a meal as a family may inspire your child (or even you) to try new dishes.
Here are some healthy and delicious recipes to use, depending on what's in season at the farmers market:
Ingredients
1 medium zucchini, about 6 inches long
1 tsp. olive oil
1/8 tsp. garlic powder
1/8 tsp. onion powder
2 T. grated Parmesan cheese
Directions
Preheat oven to 375 degrees. Trim ends off zucchini. At every half inch along zucchini, slice most of the way through zucchini, but don't cut all the way down. It should look like the zucchini is sliced in rounds, but all the slices are still connected underneath.
Gently pat zucchini dry with a paper towel. Place zucchini on piece of aluminum foil large enough to wrap completely around it. Drizzle top of zucchini with olive oil. Sprinkle with garlic and onion powders. Wrap zucchini in foil, and pinch closed. Lay it on a baking sheet.
Bake for 30 to 35 minutes or until zucchini is tender when you poke it with a fork. Remove from the oven and open the foil. Sprinkle cheese over zucchini. Leave the foil open. Put zucchini back in oven for 1 to 2 minutes, until cheese melts and turns a little brown. Serve warm. Serving size: ½ zucchini; 52 calories.
Source: mayoclinic.org
Ingredients
4 packed cups torn fresh spinach
1 cup sliced fresh strawberries
1 cup fresh or frozen blueberries
1 small sweet onion, sliced
1/4 cup chopped pecans, toasted
Salad dressing
2 T. white wine vinegar or cider vinegar
2 T. balsamic vinegar
2 T. honey
2 tsp. Dijon mustard
1 tsp. curry powder (can be omitted)
1/8 tsp. pepper
Directions
In a large salad bowl, toss together spinach, strawberries, blueberries, onion and pecans. In a jar with a tight-fitting lid, combine dressing ingredients. Shake well. Pour over salad, and toss to coat. Serve immediately. Serves 4; 158 calories per serving size of 1½ cup
Source: mayoclinic.org
Johnson is a health educator at Mayo Clinic Health System who interacts with Menomonie, Wisconsin, and area communities through wellness offerings.