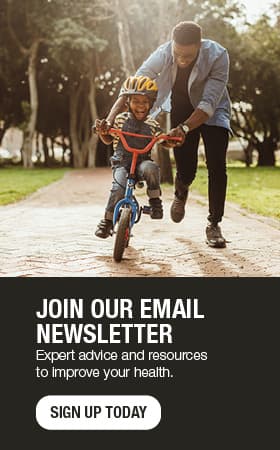 New disc golf course gives all ages a challenge
by Amy Mittlestadt
Menomonie, Wis.
Disc golf is one of those activities that I've always thought looked cool but had never tried because I have a young family. As a mother of three (ages 8, 6 and 4), I'd never made the time to research the rules of the game or the equipment I'd need to play. For goodness sake, I didn't even know how to throw the disc.
When I heard about Mayo Clinic Health System's disc golf course grand opening event at Menomonie Middle School earlier this summer, I signed us up. What a great way to get a taste of the sport without making any effort other than showing up on time.
At the event, not only did we get hooked on a new activity that is low-cost and is great way to keep us moving, we learned the basics of the game and skills. Even my 4-year-old thought it was fun and got a kick out of throwing his disc. Since the event, we've only made it back to the course once, but the kids have enjoyed throwing the discs at makeshift targets around our country home. My 6-year-old is working to perfect his drive.
If you're like our family and don't know where to start, don't worry! Everything you need to know (rules, technique, course map and score cards) is outlined at the beginning of the course at the Menomonie Middle School…all you need to do is show up with a disc in hand.