Monday Run Day 7: Dealing with pain and swelling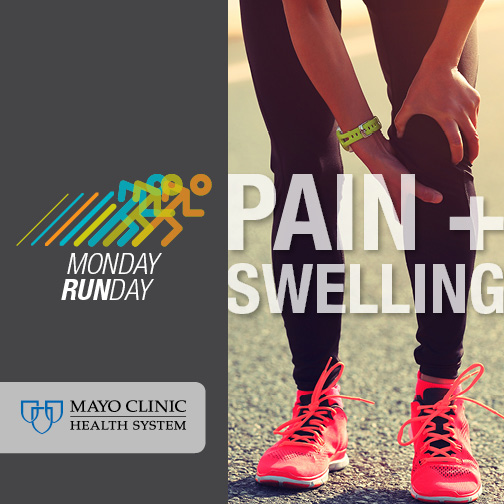 We've all heard the saying, "No pain, no gain," and chances are by this time in your training, you've felt some pain. When putting your body through the rigorous training required for a marathon, how much pain is too much? When should you power through, and when should you take it easy and get checked out?
"The big thing is to listen to your body," says Mike Ramaeker, board-certified specialist in sports physical therapy at Mayo Clinic Health System in Eau Claire. "We often get this Rocky mentality, where we need to finish a particular run in progression, and we don't listen to the little aches and pains."
Lots of runners have knee pain, and it doesn't mean you have to give up on your goal, especially if your pain level is low level (from 0–3/10), consistent, without escalation and you don't have swelling the day after.
"Let's say you start out, and you have a knee pain of 1/10. You keep running, and that pain level never changes. Keep running, but get it checked out," Ramaeker says. He recommends using ice, stretching or modifying your activity to ease pain, rather than masking it with pain killers.
However, if your pain level escalates more than two points, or you wake up with swelling in your knee or hip, you need to get checked out or you may increase your risk of making the injury worse.
One thing that prevents athletes from getting checked out, Ramaeker says, is the fear they'll be told they have to stop training. While there are cases when a doctor must say a runner shouldn't run, it's likely you can still keep working toward your goal in some capacity.
"There's good research that says you can moderate knee pain with changes in pace," Ramaeker says. "You can be treated and continue to run. You can modify the plan, work a few interventions in, and you can still finish your plan and your run. This is what we can do, how we can help you. We'll get you to your half or full marathon."
So, listen to your body and keep working toward your goal.
Topics in this Post