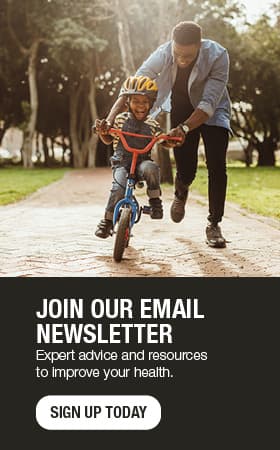 Monday Run Day 3: Enhancing athletic performance with nutrition
Topics in this Post
By Mayo Clinic Health System staff
Many athletes feel nutrition is the missing link to enhancing athletic performance. When an athlete fuels correctly with adequate nutrition, their athletic performance can be at peak. Whether you're a dedicated runner, swimmer or even an occasional weekend warrior, you can enhance performance by using whole foods you already may have in the pantry. The day-to-day basics of how to choose the best foods and when to incorporate them can help to build a winning sports diet.
These suggestions will help you get started:
Don't skip breakfast.
Of all the nutrition mistakes you can make, skipping breakfast is the biggest. Missing breakfast is a missed opportunity to get in a variety of nutrients, and breakfast also can support good energy balance. If breakfast is missed, you may feel low energy, have an increased intake of sweets and experience undesired weight gain. Research shows athletes who skip breakfast in hopes to lose weight have a higher likelihood to gain weight, instead. You will not gain weight by eating a breakfast meal. However, you likely will gain weight if you miss breakfast and then compensate by over-indulging later in the day.
If you are a morning exerciser, a balanced breakfast that includes a carbohydrate with a little protein can quickly replace your depleted muscle stores and heal muscles, so they are refreshed for the next training session. This meal might be cereal and milk, granola and yogurt or toast with peanut butter.
Assess carbohydrate needs.
It's important for athletes to incorporate carbohydrate-rich foods in their diets. A carbohydrate-rich diet that includes whole grains, fruits and vegetables should be the foundation for every type of athlete, along with adequate protein and healthful fats. Unfortunately, there is a lot of confusion on carbohydrates and their role in sports nutrition. Carbohydrates are the best choices for fueling muscles and promoting adequate muscle recovery after a workout. Even athletes who participate in power sports need carbs to help restore muscle glycogen. A daily carbohydrate intake of 3 to 5 grams of carbohydrate per pound of body weight will prevent muscle glycogen depletion and allow an athlete to train at their best and compete at peak potential.
Assess protein needs.
Depending on the type of athletic activity you're participating in, you may be eating too much, or too little, protein. If you are working out in weight room, there is probably a lot of discussion about protein shakes, chicken breasts and other protein sources. If you are a dancer or runner, you may have more focus on a high carbohydrate-based diet with cereal, pasta and breads. Protein is an essential nutrient for promoting and repairing muscle tissue and boosting immunity. The best sports nutrition recommendation is one that contains adequate, not excessive, amounts of protein.
Most athletes need slightly more protein than nonathletes to help repair small amounts of muscle damage that can occur in training, to promote new muscle tissue and help provide the energy for exercise. In general, most athletes need .5 to .7 grams of protein per pound.
Fuel before exercise.
It's important athletes and everyday exercisers fuel themselves before exercise. Eating a snack or light meal before your workout increases your energy potential. Fueling before a workout can offer other benefits, such as preventing hypoglycemia. A light snack helps manage hunger, settle your stomach and fuel muscles with glycogen to enhance exercise performance.
Choices of what to eat before exercise can vary from person to person and sport to sport. Foods eaten before a workout will be athlete-specific. Many athletes use trial and error to determine what sets well with them for their type of exercise. It always is important to try to incorporate a carbohydrate along with a small amount of protein and fat.
Fueling during and after a workout.
If you are a recreational exerciser, working out three to four times a week for 45 to 60 minutes, you do not need to add additional food to supply energy for your workout. If you work out more than 90 minutes a day or more than once a day, it would be beneficial to add additional carbohydrates during a workout to maintain your energy.
You may need an additional 30 to 60 grams of carbohydrates depending on the intensity of your workout. Examples include a 32-ounce sports drink (60 grams), banana (30 grams) or four fig cookies (45 grams). Meals post-workout should include carbohydrates to help replenish the muscle with energy. Protein also should be incorporated into the meal for muscle repair. Try to avoid high-fat and fried foods post-workout.
Finally, don't forget the importance of hydration.
Athletes should drink 2 to 4 cups of water two hours before a workout. During a workout, athletes should drink between 1 to 1.5 cups every 15 minutes. After a workout, 2 to 3 cups of water per pound of weight lost should be replaced. Water is the best fluid to consume before and during an exercise. After exercise, a beverage with carbohydrates and electrolytes is recommended. It also is encouraged to eat a slightly saltier food for a snack, such as pretzels.
Topics in this Post