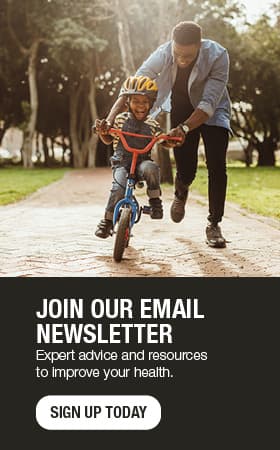 Monday Run Day 16: Recovery time
By Mayo Clinic Health System staff
You did it! Congratulations! Completing a full or half-marathon is no easy task, but we always knew you could do it. Now, after all of your hard work, reach around and give yourself a huge pat on the back.
After months of discipline, it's natural you may be tempted to spend your first day off training indulging in junk food and other guilty pleasures.
Here are a few tips to keep in mind in the 24 hours after the big race:
Focus on eating proper meals.
As you pick your foods, try to keep them reasonably healthy, and drink lots of water. Your body has been through a lot. More than likely, you may be a little dehydrated.
You have earned the right to celebrate, but don't overdo it.
Your body is still recovering. Adding alcohol and lots of time standing on your feet can be fun, but know your body has its limits.
Get some well-deserved sleep.
You'll likely be so tired that falling asleep won't be an issue. The problem is you'll likely be so sore that staying asleep could be harder than you think. Put plenty of fluids and, maybe, a snack on your bedside table, and keep your feet elevated.
By the end of 72 hours, you should be through the toughest part of your recovery process, but you need to get there first. Know that rest and recovery for your body is not a "want" at this point, it's a "need." Once the adrenaline wears off, the fatigue and soreness will be all that's left. Follow these tips to promote recovery in the three days following your race:
Do your best to avoid being stationary, other than while sleeping. Light walking, an easy dip in the pool or a short spin on an exercise bike will each, in their own way, help your muscles flush out toxins and aftereffects of the race. You'll need frequent rest, but total rest is your enemy here.
Continue to eat healthy. You are what you eat, especially when your body is in such a vulnerable state. A treat or two is OK, but try to save the real craziness for a later date when you truly can savor the food.
Lightly working on your calves, feet, hamstrings, glutes and quads is another great way to stay loose and promote recovery. Whether you use your hands or a tool, taking the time to focus on your trouble areas will help.
Moving On
Once you've made it through the first three days of recovery, your work isn't done. Your body still is a long way from being where it was prior to the race. You'll want to continue staying active by walking or including some cross-training into your post-race training regimen. You should wait a minimum of one to two weeks before returning to running.
You can be proud of your accomplishment, and now you've rightfully earned a little rest. Thanks for bringing us along on your journey.
Now that you have built a healthy habit of regular exercise, read more about the benefits of keeping exercise in your routine.