We are experiencing high call volumes:
Use your account on the Mayo Clinic app or patient portal to check symptoms, get care recommendations and make an appointment.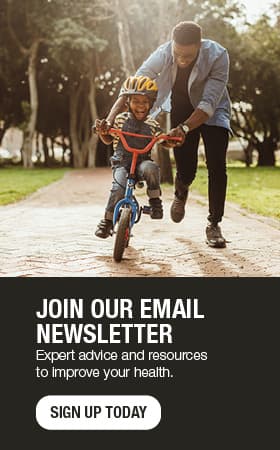 Men's health: Prostate cancer risks, treatment
September is Prostate Cancer Awareness Month, an ideal time to learn more about one of the most common cancers in men. According to the American Cancer Society, more than 238,000 new cases of prostate cancer will be diagnosed and nearly 30,000 deaths will occur in 2013. Understanding the disease, as well as its risks and treatments, is key to living a high quality, healthy life.
1. What is prostate cancer?
Prostate cancer occurs in a man's prostate, a small gland responsible for producing seminal fluid that nurtures and transfers sperm. Typically, prostate cancer grows slowly and is confined to the prostate in early stages, but there are certain forms that are aggressive and spread rapidly. Early detection is important for effective treatment, although active surveillance (watchful waiting) is an option for men whose cancer is small, slow-growing, limited to one area of the prostate and symptom-less.
2. What are symptoms of prostate cancer?
While early stages of prostate cancer often don't cause many symptoms, more advanced stages usually do.
Typical symptoms can include:
Trouble with urination
A weak stream of urine
Blood in urine or semen
Pain in the abdomen, groin or lower back
Erectile dysfunction
If you are experiencing any of these symptoms, it's important to speak with your health care provider team.
3. Who is most at risk for prostate cancer?
Prostate cancer only affects men and risk increases with age. From 2005 to 2009, the average age at diagnosis for prostate cancer was 67, and 35 percent of all diagnosed patients were men between the ages of 65 and 74, per the American Cancer Society.
Other risk factors are:
Race — African American men experience higher rates of prostate cancer – especially aggressive forms.
Family history — Men with a family history of prostate cancer are more likely to develop the disease.
Obesity — Prostate cancer tends to reach an advanced stage before diagnosis in obese men.
4. Positive outlook.
Prostate cancer is very treatable if caught early. In fact, the American Cancer Society found that more than 2.5 million men who received a prostate cancer diagnosis are still alive today. Many survivors embrace a balanced, healthy lifestyle, which helps build the immune system and improve overall well-being.
Healthy lifestyles don't have to be hard. Moderately exercising 150 minutes each week through activities like gardening, walking and swimming deliver significant health benefits.
Diet also is an important component of reducing the risk of prostate cancer. The Prostate Cancer Foundation recommends a diet rich in fruits, vegetables, whole grains and lean sources of protein. Experts also suggest limiting dietary fat derived from red meat and dairy while consuming more fish, which contains Omega-3 fatty acids for enhanced protection against prostate cancer.
5. Should I have a prostate cancer screening test?
The best way to determine if a prostate cancer screening test, including the prostate-specific antigen (PSA) test, is appropriate for you is to discuss your concerns, family history and other risk factors with your health care provider team.
This month, take time to educate yourself, friends and family about prostate cancer and the positive impact that living a healthier lifestyle has on disease prevention. As always, speak with your health care provider team about any questions or concerns you might have.
More than 2 million men in America are living with prostate cancer. Watch as urologist Joe Lee, M.D., talks about prostate health, including screening, treatment and prevention:
---
For the safety of our patients, staff and visitors, Mayo Clinic has strict masking policies in place. Anyone shown without a mask was either recorded prior to COVID-19 or recorded in a non-patient care area where social distancing and other safety protocols were followed.
Topics in this Post