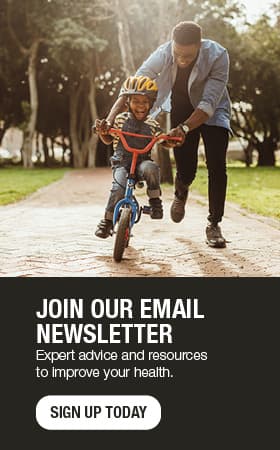 Maintaining human connection in time of physical distancing
By Mayo Clinic Health System staff
Connection with people is an inherent aspect of our human society. We seek out and lean on human interaction when we are experiencing the stress of life's challenges. This biological programming drives us to gather in groups, usually shielding us from mental and physical harm. The COVID-19 pandemic challenges us to be creative in how we maintain our social connections, and manage our mental and physical health.
The Centers for Disease Control and Prevention has recommended a policy of physical distancing, which is a strategy to slow the infection rate to protect our most vulnerable community members. To practice physical distancing, stay at least 6 feet from other people who are not in your household in both indoor and outdoor spaces. By following this strategy, along with wearing a mask and washing your hands, we can slow the spread of the virus.
Everyone needs a varying amount of real social contact to maintain his or her mental and physical health, and this can be strained due to physical distancing recommendations. As the pandemic stretches into months, we must continue to be creative to meet our need for social connection.
It is important to understand that physical distancing does not mean withdrawing from society. It is an invitation to contribute and connect in another way to the communities in which we live. We can think about maintaining connection in two ways: internally and externally.
External strategies for maintaining connection
External strategies for maintaining connection can be thought of as creative ways we can safely communicate through our senses of sight, hearing, taste and touch.
Some examples of safe connection using the senses are:
Use electronics to stay in contact with friends, neighbors and loved ones. This could include using videoconference programs, making voice calls instead of sending texts or talking with a neighbor through windows while maintaining a safe distance.
Spend quality time with the people you live with, such as playing board games or completing an indoor project.
Make a family meal or dessert recipe that reminds you of friends or family you are unable to visit, and then call them to tell them about it. This way, you get an experience of internal and external connection.
Write in a journal about your experiences during this time. Not only will this help you sort out what you are thinking and feeling, but also it can be shared going forward as a way for future generations to connect with the past.
Internal strategies for maintaining connection
Internal strategies for maintaining connection can create a sense of shared meaning that connects us to our community through our experiences and shared community values.
Some ways to create shared meaning include:
Recognize we do not live in isolation. Our interconnectedness and choices affect others in our community, which affects people in neighboring communities, regions and so on.
Identify friends and loved ones in your life who you are protecting by using a physical distancing strategy.
Recognize how you are protecting others by protecting people close to you.
Think about what personal and community protection means to you. How does this feel? What value does this represent?
Spend time sensing and feeling the importance of living your community values in your mind and body.
Inspire, encourage and recognize others for following protective strategies at work; at home; and through electronic means, such as calls, videoconferences and social media.
Finally, recognize that when we act together to maintain safe distance during this pandemic, we are connecting and bonding. We are acting out the best parts of humanity.
My wish for you, our community, our country and our world is for us to be safe and healthy. Will you join me?
Learn more about COVID-19 and coping:
---
This post was updated to reflect new recommendations. The information is accurate at the time of its posting. Due to the fluid nature of the COVID-19 pandemic, scientific understanding, along with guidelines and recommendations, may have changed since the original publication date in March 2020.