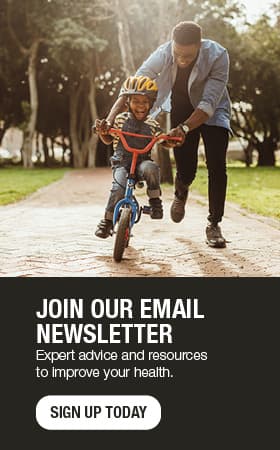 Help kids unplug while school is closed
Technology is an important tool for families as schools close their doors in response to the COVID-19 pandemic. We are fortunate to have apps, such as Zoom and Skype, to help us stay connected, even during social distancing.
Maintaining social connections helps people remain resilient during difficult times. It's important for children to virtually connect with extended family and friends to know that they are OK.
While it's important to maintain social connections and gain peace of mind related to friends and family, it's also important to unplug from electronics, get creative and stay active.
Here are some tips to helping your family unplug during this stressful time:
Create family fun.
While social distancing and having kids out of school for an extended time frame can be stressful, why not reframe it? Look at this as an opportunity to create new, fun memories.
Keep kids busy.
Free time can lead to boredom for many, which can result in arguing and poor behavior. Plan activities for kids that include a mix of education, chores and fun. Having fun can help kids release the stress and anxiety they may be feeling.
Share your skills.
Now is a great time for adults to share their skills with kids. Perhaps you know how to cook, write, sew, quilt, tie fishing flies, swing a golf club, use a computer program, change a tire or check the car's oil. Teaching kids these skills will not only keep them busy, but help them expand their skill set.
Try something new.
Maybe there's a skill you or your child has always wanted to learn. Now's a good time to research it online and give it a try.
Explore your senses.
Many children and adults find comfort and calming affects through sensory exploration. Keep hands busy with Play-Doh, sand, slime or bread dough. The internet has many recipes for creating sensory experiences.
Get outside.
Getting outside is an important part of childhood and should continue during this time of social distancing. It encourages curiosity and physical activity, helps to soak up vitamin D to prevent depression and seasonal affective disorder, promotes children's development and gives your kids a greater appreciation of nature. Walk around the block, play in the yard, draw with sidewalk chalk, play yard games, tidy up the yard, help with a neighbor's yard or sit outside while reading.
To keep kids active and creative while offline and inside, try to:
Build.
Make an indoor fort.
Build ramps for toy cars or balls using blocks, Legos or cards.
Use recycled materials to make art or something new.
Make a bird feeder.
Craft.
Melt old crayons to make rainbow crayons.
Cut pictures and words from magazines to make a collage or secret notes.
Use boxes, containers and rubber bands to make instruments.
Make sock puppets to put on a puppet show.
Cook or bake.
Try something new or an old favorite.
Exercise.
Roll dice and do jumping jacks or other forms of exercise according to the number on the dice.
Play follow the leader.
Create an obstacle course.
Try yoga or meditation.
Play music and dance.
Have a flashlight dance party.
Make fun.
Camp in the living room.
Picnic indoors or in the yard.
Look through old photos.
Play a game.
Play beanbag toss, board games, dominoes, cards, hide-and-seek, shadow charades with a flashlight or flashlight limbo.
Conduct science projects.
Make paper airplanes, and estimate and measure how far they fly.
Plant seeds indoors to get ready for spring planting.
Make a volcano.
Have a spa day.
Soak your feet.
Trim and polish your nails.
Give yourself a facial.
Think.
Learn a new language.
Assemble a puzzle.
Make a scavenger hunt for your family.
Write.
Create a new story or song.
Send a letter to family, friends or soldiers.
Write a play and act it out.
Keep a journal about the fun and feelings you have during this time of social isolation.
Tina Tharp is a community engagement and wellness specialist in Menomonie, Wisconsin.