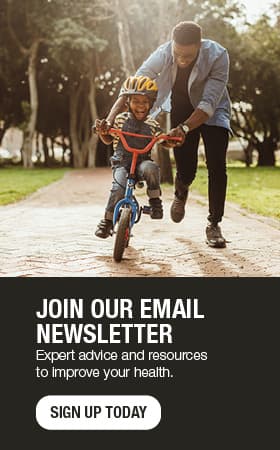 Healthy substitutions for holiday favorites
When I help patients make healthy lifestyle changes, it is never a complete makeover of their entire routine. I help people make changes based on what they are doing now. This includes making substitutions for current habits. The holidays can be a fun time to experiment with substitutions – and to see if anyone notices.
Gravy. We tend to load it on during the holidays. Instead of turkey drippings, use canola oil. It may be the same amount of calories, but the oil will have healthier kinds of fat. Go for low sodium broth.
Mashed potatoes. Potatoes by themselves are not high in calories, but when we add sour cream, butter, or other high-fat additions, the calories quickly add up. For creamy potatoes, add skim milk, plain Greek yogurt, fat-free sour cream, tub margarine (these tend to not have trans fats) or even some of the starchy water that the potatoes were boiled in.
Sweet potatoes. Skip the marshmallows, and use a sprinkle of brown sugar or maple syrup instead. Even better – toss chopped sweet potatoes with olive oil and your choice of seasoning and bake in the oven on a cookie sheet until crispy.
Stuffing. Use whole grain bread if you're making it homemade. Otherwise, there are whole wheat and low sodium options for instant stuffing available. Add extra veggies like celery and onions.
Seasonings. Instead of instantly reaching for the salt shaker, opt for some healthier seasoning substitutions. Try basil, oregano, garlic or onion powder, rosemary, thyme, Mrs. Dash, black pepper, or any other salt-free herb or spice.
Green bean casserole. Opt for the low-fat, low-sodium cream of mushroom or chicken soup. Go heavy on the green beans, light on the other ingredients. If you're using canned green beans, choose the no-added salt version, or rinse salted green beans. According to MyPlate, USDA's replacement for the Food Pyramid, half of our plate should be fruits and non-starchy vegetables. Sounds like a good challenge for the holidays to me!
Turkey or ham? Roasted turkey typically has less sodium than ham, so opt for turkey if you have the choice. Of course, it depends on how the turkey is seasoned, so if you're cooking the bird, use herbs and seasonings that are not salt-based.
Desserts. For pies, choose a graham cracker crust versus a traditional crust. Instead of full-fat whipped cream, chill evaporated skim milk and then whip. For baking, use one cup of applesauce or other fruit puree to replace one cup of oil, and replace one whole egg with two egg whites. Swap half of the cookies and candies that you would normally have with fruit (back to that MyPlate challenge).
Beverages. Shoot for as many calorie-free or low-calorie beverages as possible. Try water, skim or low-fat milk, or diet lemon-lime soda with a splash of juice.
Whether you're trying to watch your weight, feel better, or eat healthier for diabetes or another condition, a few simple swaps help make it easy to still enjoy eating during special occasions.