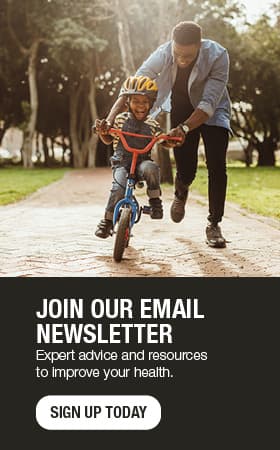 Good health begins with good nutrition
Good health starts with good nutrition. To set yourself up for success, think about a healthy diet as a number of small, manageable steps rather than a single drastic change. If you approach these changes gradually and with commitment, you will have a healthy diet sooner than you think.
Keeping a healthy weight is important in many ways. Controlling your blood pressure, blood sugar and cholesterol are just a few of the benefits of keeping active and eating sensibly.
Lunch is a great place to save some serious calories. Instead of a tuna sandwich with mayonnaise and a side of potato chips (about 1,100 calories), try a baked potato loaded with veggies and sprinkled with a little cheese (about 250 calories). For dessert, choose a bowl of fruit with a tablespoon of fat-free whipped topping sprinkled with a little nutmeg on the top (150 calories) instead of a 3-ounce serving of cookies (375 calories). Do this just two times a week, and you'd save approximately 2,200 calories. That's about three-quarters of a pound of body fat.
Every change made to improve your diet helps. You don't have to be perfect, and you don't have to completely eliminate foods you enjoy to have a healthy diet. The long-term goal is to feel good, have more energy, and reduce the risk of cancer and other diseases. Don't give up — every healthy food choice you make counts.
Get recipes to help maintain a healthy diet.