Posted By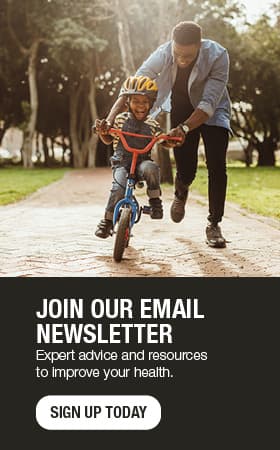 Gaining lost weight? There's help to keep it off
Are you frustrated because you lose weight, but keep gaining it back? You're not alone.
If not being able to keep weight off is something that's been discouraging you, you might gain some motivation by hearing from the more than 10,000 people who have lost more than 30 pounds and kept it off for more than a year. These people have documented their weight loss and maintenance in a study called The National Weight Control Registry.
Study participants complete annual questionnaires about current weight, diet and exercise habits, and behavioral strategies for weight loss maintenance. Sharing experiences shows that it's not impossible to reach and maintain your weight goals.
WHAT WORKS?
There is a range of strategies that work; however, there are top behaviors that are keeping the weight off these participants.
Seventy-five percent of participants weigh themselves at least once a week for accountability. This will keep you on track. You'll be more motivated when you can look down at the hard-core evidence of progress you're making each week. In addition, you can become aware of when you're plateauing or gaining to get yourself motivated to change what's not working. If you don't already have a scale, go out and get one.
Ninety percent of participants exercise an average of one hour per day. Exercising burns calories and leads to other healthy choices. When you work out, you're more likely to reach for a healthy snack and stay away from junk food, and you'll feel more energized. Once you start skipping exercise, making other good health choices also tends to slip. Stick to a routine to get in that one hour a day.
SUCCESS STORIES
The previous statistics are just a couple of the research findings from the National Weight Control Registry. Participants in the study also share their success stories.
People who managed their weight with help from Weight Management Services at Mayo Clinic Health System also share personal success stories in hopes of motivating others. Read about:
Carleen, who lost 175 pounds to reach her desired weight.
Stacey, who tried everything to lose weight, but only had temporary success before discovering what worked for her.
Shirley Shelley is a clinical dietitian in Weight Management Services in Eau Claire, Wisconsin.