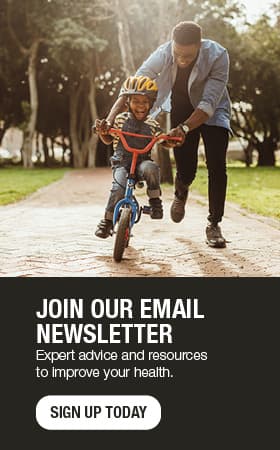 Fresh fruit smoothies from a pedal-powered blender
Study after study shows that the secret to getting kids to crave healthy foods is to involve them in the process. Kids who learn to garden and cook are more likely to both try and enjoy foods that are good for them.
On Labor Day weekends, a team from Mayo Clinic Health System — Franciscan Healthcare in La Crosse, Wis., takes that concept to one of its most-fun extremes, enlisting kids to provide the pedal power for mixing fruit smoothies in a human-powered blender.
More than 150 kids attend the medical organization's annual Bike Safe event, which promotes the use of helmets and helps kids practice safe bicycling.
"The kids love the human-powered blender and the smoothies," says Seth Rossow, one of the event organizers. "You just don't see a stationary bike powering a cooking appliance every day. Some kids line up to pedal several times."
It takes about 90 seconds to mix a batch of smoothies. The kids waiting to pedal also enjoy free samples of fresh banana and apple slices and learn about healthy options.
The bike is owned and maintained by the La Crosse County Health Department, which lends it for use at the event.
"Involving the kids in this unusual and fun process is a great way to reinforce the message that we don't always have to eat processed food," says Mike Tangen, Franciscan Healthcare's executive chef, who supervises the smoothie station. "It shows kids that they can make their own healthy, delicious snacks to power up before they go out to play."
Chef Mike's Pedal-Powered Smoothies
6-8 servings
Freeze the fruit:
2 sliced bananas
½-pint raspberries
½-pint blueberries
Add it to the blender with:
4 cups (1 quart) orange juice
½ cup (4 ounces) Greek yogurt, plain
1 tablespoon agave*
"Agave is the secret ingredient," says Tangen. "It's a natural sweetener that provides a healthy alternative to sugar and a different flavor than honey." The agave is a succulent plant with narrow spiny leaves and tall flower spikes, native to the southern United States.