We are experiencing high call volumes:
Use your account on the Mayo Clinic app or patient portal to check symptoms, get care recommendations and make an appointment.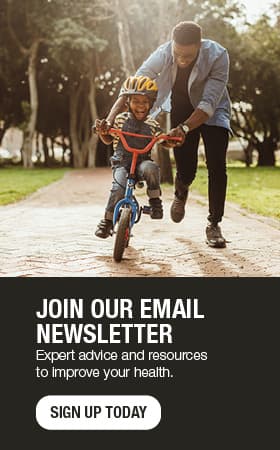 Fat facts: Choose right for heart health
Your body needs fat to function. But not all fats are created equal.
"Trans fat has a bad reputation, and for good reason. Most trans fat is made by adding hydrogen to vegetable oil," says Sally Gilgen, a registered dietitian at Mayo Clinic Health System in Eau Claire, Wisconsin. "The resulting product, known as partially hydrogenated oil, raises LDL ("bad") cholesterol, lowers HDL ("good") cholesterol and increases your risk of heart disease and Type 2 diabetes."
Trans fat can be avoided by choosing fresh foods and limiting processed foods in your diet. Reading the food label also can help you identify sources of trans fats. Trans fats are found in prepackaged foods including baked good, fried foods, creamers, margarines and refrigerator dough.
"To get the fat your body needs, replace trans fats and saturated fats with monounsaturated fats," explains Sally. "These are found in olive, peanut and canola oils, as well as nuts, fish and other foods containing unsaturated omega-3 fatty acids."
Sally also recommends avocados, the star of this heart-healthy recipe:
Avocado salsa
Ingredients
5 Roma tomatoes, chopped
3 avocados, cubed
1/2 chopped red onion
2 tablespoons chopped cilantro
2 cloves garlic, minced
1/2 lime, juiced
1/4 teaspoon salt
Ground black pepper, to taste
Directions
In a medium bowl, combine the tomatoes, avocados, red onion, cilantro and garlic. Add lime juice. Season mixture with salt and pepper.
Read more about heart health and healthy food:
---
For the safety of our patients, staff and visitors, Mayo Clinic has strict masking policies in place. Anyone shown without a mask was either recorded prior to COVID-19 or recorded in a non-patient care area where social distancing and other safety protocols were followed.
Topics in this Post