Posted By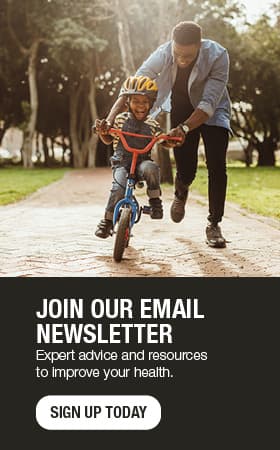 Decorating safety: Don't be Clark Griswold this holiday season
While you're stringing lights and decorating the tree, here are tips to make your home festive and safe this holiday season:
Ladders
While climbing ladders to decorate the outside of the house with lights may be common in November and December, it contributes to an increased number of falls. Falls from heights of greater than 5 feet can result in fractures, internal bleeding and head injuries. Ensure that the ladder you use is placed on firm, level ground. Ask a family member to be a spotter for you. This person should stand at the bottom, stabilizing the ladder and pointing out potential safety issues. If you're using an extendable ladder that leans against the wall, make sure it extends past the height that you're trying to climb to increase stability. If you take medications to thin your blood, or use a walker or cane, you are at increased risk of injury and should avoid using ladders altogether.
Candles
If you like to use candles to decorate your home around the holidays, never use them on or near your Christmas tree. Be sure to keep the candles in places where they cannot get knocked over or easily grabbed by a small child. All candles should be extinguished when you go to sleep or leave the house. Or use battery-operated candles to produce the holiday glow with less risk.
Lights
Inspect electrical decorations for damage, such as frayed cords or cracked sockets. Never connect more than three strings of incandescent lights together.
Electrical outlets
A dangerous electrical outlet is one that has too many plugs inserted. Overloaded outlets are common causes of holiday fires. If your outlet has a six-outlet extender attached to another six-outlet extender, you should reconsider your decorations. Turn off or unplug decorations when you go to sleep or leave the house.
Christmas tree
When you place a tree in a tree stand, it should be flush to the ground so it can't tip over. Decorate evenly across the whole tree so it's not lopsided. Hang small ornaments that can be a choking hazard out of the reach of small children and pets in your house. If you plan on getting a live tree, keep it well-watered to reduce flammability. Here's a extra tip if you plan on purchasing a live tree: Bounce the trunk on the ground to test how dry the tree is. If you see a shower of needles, the tree is too dry.
Plants
Keep poinsettia and mistletoe out of the reach of children and pets. Poinsettia and mistletoe are not poisonous, but they can make you or your pets feel sick.
Ice
While not directly related to holiday decorations, ice and snow accumulation increases the risk of falling for all ages during the holiday season. Leave dress shoes and heels at home. Wear lightweight boots with good support, or purchase snow grips for the bottoms of your shoes or boots. Walk slowly and take small steps ― almost from side to side ― to help you maintain your center of gravity.
These are just a few safety tips for decorating your home, but with these tips you should be able to have a safer, jollier holiday season.
David McAlpine, M.D., is an Emergency Medicine physician in Austin and Albert Lea, Minnesota.