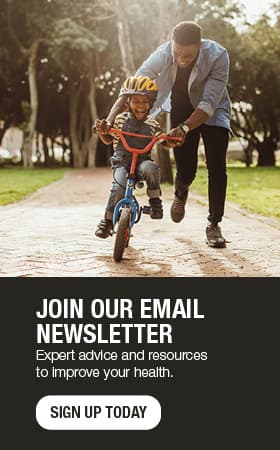 Come on, get happy — and healthy — outside
You may not be able to hike the Appalachian Trail or climb Mount Everest this summer, but you still can take a walk on the wild side by seeking out trails and parks closer to home. When you're on the move outdoors, those benefits can be good for both your physical and mental health.
Consider these outdoor natural stress relievers:
Explore a new hiking trail.
Pedal along a former railway line that's been converted to a bike path. The Rails-to-Trails Conservancy website is a great resource for finding a path near you.
Canoe, kayak or paddle board on a nearby river or lake.
Try an outdoor activity that's off the beaten path, such as soccer golf, parkour or zip lining.
Pack a picnic and walk to a nearby park for dinner.