We are experiencing high call volumes:
Use your account on the Mayo Clinic app or patient portal to check symptoms, get care recommendations and make an appointment.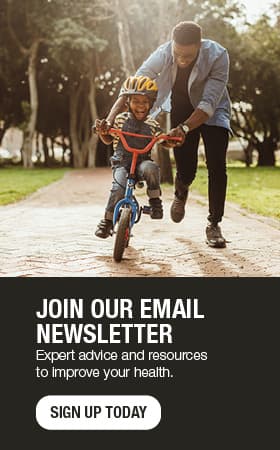 By Jon Thorpe, Corporate Art Consultant, Mayo Clinic Health System in Eau Claire
A couple months ago, Eau Claire lost a long-time friend and leader in the art community. UW-Eau Claire art professor Charles Campbell died at age 83. Charley and I sat together on what was previously known as the Luther Hospital Arts Committee.
We worked with Mayo Clinic Health System staff to identify and acquire pieces of art to display for the benefit of the patients. It would be difficult to imagine the organization having the quality and breadth of its art collection without Charley's guidance.
In honor of his memory, I wanted to share several notable works of Charley's that are still prominently displayed in the Eau Claire facility's downtown Luther Campus. I will provide a brief description of the pieces and where people can view them:
A. "Sumac," a large painting which hangs in the 1st floor elevator vestibule in the Luther Building on the Luther Campus.

B. "Landscape from the Deck," an even larger painting which hangs in the lower level elevator vestibule in the Luther Building on the Luther Campus.

C. "Blue Cows," a watercolor which hangs in Conference Room No. 1 next to the cafeteria on the Luther Campus.

D. "Burr Oak," a lithograph of his original watercolor, which hangs on the lower level vestibule of the "A" elevator on the Luther Campus. Another copy of this lithograph hangs near the stairwell of the lower level waiting room on the Clairemont Campus.

E. "Vase of Scotch Broom," a colored pencil drawing which hangs across from the nurses' station on the 5th floor of the Wishart Building on the Luther Campus.

F. "October Corn, Mid Morning," a large painting which is the focal point for the Orthopedics waiting room on the 4th floor of the Midelfort Building on the Luther Campus.
---
For the safety of our patients, staff and visitors, Mayo Clinic has strict masking policies in place. Anyone shown without a mask was either recorded prior to COVID-19 or recorded in a non-patient care area where social distancing and other safety protocols were followed.