We are experiencing high call volumes:
Use your account on the Mayo Clinic app or patient portal to check symptoms, get care recommendations and make an appointment.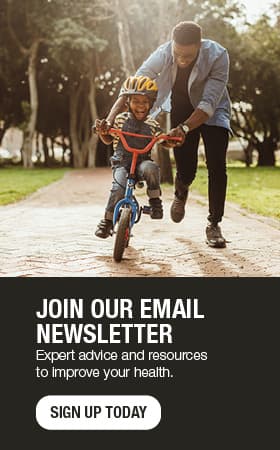 Cancer Survivorship: Living Well Beyond Cancer
Cancer survivorship is commonly defined as the process of living with, through and beyond cancer. It begins at the point of diagnosis, through your treatments and for the remainder of your life. Family members, friends and caregivers also are considered part of the survivorship experience.
Survivorship is a unique journey for each person. I commonly hear cancer survivors express many different emotions upon completing treatment — you feel excited and relieved to have finished cancer treatment. But, you may also feel anxious and ask the question, "Now what?" It can be difficult not to have the safety net of frequent contact with your health care team. Don't worry — these feelings are normal. However, it is important to be aware of the physical, emotional and spiritual effects following cancer treatment and the resources that are available to help.
Unfortunately, just because cancer treatment has ended, it does not mean all of the physical effects also will end. Fatigue is the most common side effect caused by cancer and cancer treatment. You also may experience pain, neuropathy, memory loss, hormonal changes, lymphedema and other symptoms. These symptoms can persist for months or years following treatment. Your body may look different, and you may have scars from surgery.
Survivors often share with me that their lives have changed in a way that is difficult to explain to others. It may seem hard to go back to doing things you did before you had cancer. It is common to experience a wide range of emotional symptoms, such as anxiety, depression, anger and grief. Family and friends may expect you to "get back to normal," but your "normal" now may have changed. You may fear your cancer will come back. Cancer may have affected your finances, employment and relationships. Some people find their spirituality has strengthened, while others may question their spiritual beliefs.
Always remember, there are resources available to help you cope as a cancer survivor. It is essential to keep in contact with your health care providers regarding any of the symptoms you are experiencing. There often are treatments that can help with the symptoms. Completing your follow-up examinations is important. A healthy lifestyle including exercise, eating a balanced diet, maintaining a healthy weight, avoiding tobacco and limiting alcohol consumption can improve your quality of life.
There are excellent resources to assist with the emotional and spiritual effects of cancer. It can be helpful to express your worries to a family member, friend or spiritual leader. Stress management tools, including meditation, healing touch, art, music, prayer and exercise, may be helpful as well. There are several online support services available through the American Cancer Society and other national organizations. Locally, there are support groups, counseling and other programs available. A cancer guide, like myself, or social worker can help connect you with local and national resources. You are not alone on your survivorship journey.
---
For the safety of our patients, staff and visitors, Mayo Clinic has strict masking policies in place. Anyone shown without a mask was either recorded prior to COVID-19 or recorded in a non-patient care area where social distancing and other safety protocols were followed.