We are experiencing high call volumes:
Use your account on the Mayo Clinic app or patient portal to check symptoms, get care recommendations and make an appointment.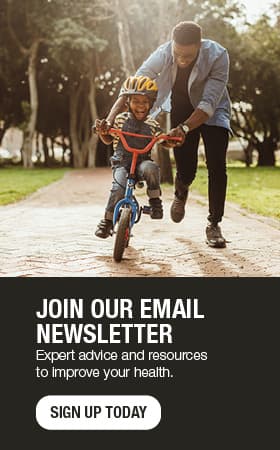 Brain injury prevention -- part 1 of 2
The brain is a precious thing. It controls your muscles, thoughts, reasoning, breathing and a host of other vital bodily functions. Unfortunately, the brain is not exempt from damage. In fact, according to the Centers for Disease Control and Prevention (CDC), there are at least 1.7 million traumatic brain injuries each year. Traumatic brain injuries are caused by bumps, blows, jolts or penetrating injuries to the head that alter normal brain function.
Fortunately, preventing brain injuries is something you can do starting right now.
Risk Factors
Individuals who are at the highest risk of brain injuries include:
Young children, particularly newborns to 4-year-olds. Their heads are disproportionally larger, and as any parent can tell you, kids often land on their head.
Teens and young adults, especially those between 15 and 24 years old. This group participates in more contact sports.
Adults 75 and older. Diminished vision, balance issues and arthritic joints cause a significant amount of falls in this age group.
Prevention
There are many proactive measures you can take to help prevent brain injuries and head trauma. Following these basic tips will have a positive impact on your brain health:
Wear a helmet. While your skull does a great job of protecting your brain, it was not designed to take higher speed impacts. It's important to wear a helmet while you are riding an all-terrain vehicle, bicycle, motorcycle, skateboard or snowmobile. Be sure to wear helmets or other approved forms of head protection when playing any contact sports, skiing, snowboarding or riding a horse.
Don't drive under the influence. We all know drinking and driving is dangerous, but it is also important to avoid driving under the influence of drugs, including many prescription medications.
Buckle up. Always wear your seatbelt. Secure small children in the back seat in a safety seat that is the right size for their height and weight.
Prevent falls. You can effectively reduce falls in your home by installing handrails in bathrooms and on stairways; improving lighting; keeping your floors and stairs free of clutter; inserting slip-resistant mats in your bathtub and shower; and exercising regularly.
Read more:
Part 2: Brain injury prevention
---
For the safety of our patients, staff and visitors, Mayo Clinic has strict masking policies in place. Anyone shown without a mask was either recorded prior to COVID-19 or recorded in a non-patient care area where social distancing and other safety protocols were followed.