We are experiencing high call volumes:
Use your account on the Mayo Clinic app or patient portal to check symptoms, get care recommendations and make an appointment.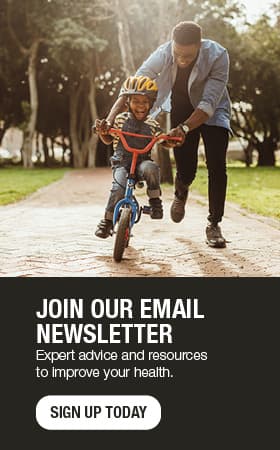 Women's Camp has a lot to offer
By Lisa Kraszewski
The first time I went to the Great Escape Women's Wellness Camp was in 2012. The brochure was enticing, offering lots of different, fun activities. I was so excited to go, and in the end, I was not disappointed.
Camp Manitou is a beautiful setting — lots of pine trees and a gorgeous, clear blue lake. Each day was packed with many ways to be active, learn something new, enjoy the outdoors or just relax.
I certainly stayed active at camp. I tried archery and kayaking for the first time. The instructors were helpful and friendly. In fact, camp staff even got up early so we could go kayaking at 7 a.m. I did a boot camp fitness class, yoga and even jumped on the blob (a giant pillow floating in the lake). We jumped off a high platform onto the pillow; the next lady to jump onto the pillow catapulted me into the lake.
I attended wellness talks given by Mayo Clinic Health System providers and learned new ways to take better care of myself. One of my favorite things was the scarf dying. I dyed a silk scarf green and blue and still love wearing it today.
The food was really good — fantastic even. Everything was fresh and delicious, and there was a lot of variety. There was a great salad bar and plenty of fruits and vegetables, but they served main entrees, too.
I attended again last year and had a wonderful time. In 2013, I did the mud hike for the first time, which is a hike where you go through mud that is shoulder-high at some spots. That was so much fun!
Meeting new people, trying new things and being around a supportive group of women was wonderful. I look forward to camp again this year!
---
For the safety of our patients, staff and visitors, Mayo Clinic has strict masking policies in place. Anyone shown without a mask was either recorded prior to COVID-19 or recorded in a non-patient care area where social distancing and other safety protocols were followed.
Topics in this Post