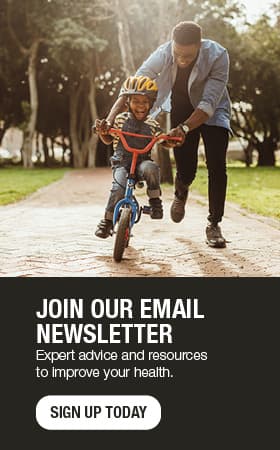 Volleyball match has special significance for freshman whose mom is a breast cancer survivor
Breast cancer survivor Lori Timm-Pierog of Eau Claire will speak Friday, Oct. 4, at the volleyball match at UW-Eau Claire's Zorn Arena. Lori's daughter Mackenzee, plays for the Blugolds.
Over all the years of kids' activities, Lori Timm-Pierog of Eau Claire only missed one game of her daughter Mackenzee's sporting events. It was 2007, and Lori just had come home from having mastectomy and breast reconstruction surgery at Mayo Clinic Health System.
But through 24 weeks of chemotherapy, another year of weekly intravenous antibody treatments of Herceptin — and the fatigue and other side effects that followed — Lori was in the stands, cheering on her daughter.
"How she still found the energy to come to my weekend games and endure a day of 'bleacher butt,' I will never know," wrote Mackenzee, a high school freshman at the time, in a 2009 essay contest. "My mom was brave and strong, and no cancer could take that away from her."
Now, a freshman volleyball player at the University of Wisconsin-Eau Claire, Mackenzee and her mom will be featured at 7 p.m. Friday, Oct. 4, in the Blugolds breast cancer awareness volleyball match at UWEC's Zorn Arena. The annual event, sponsored by Mayo Clinic Health System, raises money for the American Cancer Society. Information about breast cancer is shared throughout the match. October is Breast Cancer Awareness Month.
Encouraging women to get their annual mammogram, beginning at age 40, is the message Lori plans to share with fans at Friday's game.
"Do the screening — every year. If I would have waited, I could have died," says Lori, of her fast-growing cancer. "Don't put it off. A lot of people get a false sense of security if they don't have family history of breast cancer, but I didn't have a family history either."
Lori's daughters, Mackenzee and her sister, Ali, both played varsity volleyball at Eau Claire North High School. At Friday's game, North's volleyball team will be in attendance along with high school teams from Altoona, Chippewa Falls, Eau Claire Immanuel, Eleva-Strum, Gilmanton, Lake Holcombe, Mondovi, Owen-Withee and Pepin. The schools, including Eau Claire Regis, also will hold breast cancer awareness volleyball matches of their own this fall with fundraising for the American Cancer Society. Mondovi and Lake Holcombe already held their breast cancer nights, raising about $4,800 and $3,000 respectively.
Fans are encouraged to wear pink. Special "Dig It" shirts will be sold, with proceeds going to the American Cancer Society.
"Over the years, this annual breast cancer awareness game means more and more to our team," says Kim Wudi, UWEC volleyball coach. "We find it's a way to acknowledge that cancer touches so many of us in so many ways. The more awareness we can help generate the better."
Since 2010, Mayo Clinic Health System has sponsored this annual breast cancer awareness Blugold volleyball match. "Getting the word out to students and their families about early detection of breast cancer is important," says Terri Soley, mammography supervisor at Mayo Clinic Health System in Eau Claire. "When breast cancer is detected early, treatment can be less invasive and women's survival is increased. Lori's story is another testament to the fact that mammograms save lives."
For Lori, a case of "bleacher butt" from cheering in the stands is small in comparison to the heart failure and lymphedema she has dealt with as side effects to breast cancer treatment. "But the flip side is: You're still here," she says. "I always feel like I'm lucky."
Mackenzee feels lucky too: "My mom's cancer made me appreciate her and all that she does for me so much more," she wrote. "She is a beautiful, strong, intelligent woman whom I can always depend on to be by my side, watch my back or hold my hand. She is my role model and what I strive to be every day. She is my mom, and I love her."