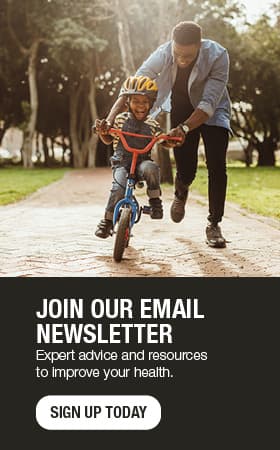 The skinny on skin cancer: One doctor's personal experience
*Editor's note: We are saddened to learn of Dr. Asp's passing on Jan. 31, 2018. We are grateful he shared his wisdom and expertise with us on our Hometown Health blog.
---
I was never one who enjoyed sitting out in the sun for long periods trying to get a tan, and I've never used a tanning bed. I do, however, enjoy outdoor activities, such as running, biking and cross-country skiing. I have fair skin, a history of cancer in my family and for some 25 years exposed my skin to the dangers of the sun on long bike rides or runs. I was pretty ignorant about the dangers of ultra violet radiation as I frequently went outdoors with no sunscreen. Unfortunately, my health paid the price.
It's fitting that May is National Melanoma Awareness month as that was the month I was diagnosed with the disease. The melanoma was initially contained and treated in the back of my head near the site of the original tumor with surgery, radiation and injections of the drug Interleukin. In September 2014, a diagnostic scan revealed prostate cancer, which was unrelated to the melanoma. I had surgery in December of that year, which was successful in removing the prostate cancer. However, another scan in March 2015, showed that the melanoma had spread to the liver, spleen and bone. Since then, I began treatment and continue to receive IV immunotherapy on a regular basis at Mayo Clinic in Rochester.
Because of my experience and what I've learned over these past two years about this disease, I hope to educate others about the harmful effects of ultraviolet radiation in order to minimize their risks of developing this disease. It all starts with education, protection and prevention.
Did you know?
There are three basic types of skin cancer:
Basal cell carcinoma is the most common type of skin cancer that grows on the skin's basal cells on the outer most layer of the skin. This type of cancer usually develops on skin that receives a great deal of sun exposure, such as the nose, scalp, neck and hands. It rarely spreads to other areas of the body, and with early detection, it is usually removed.
Squamous cell carcinoma is the second most common type of skin cancer, which grows in the squamous cells in the epidermis or skin's upper layers. This also commonly develops on skin that is highly exposed to the sun, but it can also develop in other areas, such as inside the mouth, throat and genital areas. Individuals who smoke or chew tobacco increase their risk of obtaining squamous cell carcinoma in the mouth and throat. If this type of skin cancer is untreated, it can spread to other parts of the body, be disfiguring and fatal.
Melanoma represents 5 percent of all skin cancers and can be fatal. It can develop on normal skin, on an existing mole or other parts of the body, such as eyes, nails, feet and mouth. Melanoma can spread quickly, and without removing it or establishing treatment, it can be fatal.
Risk factors
While anyone can get melanoma, there are a number of risk factors in developing melanoma. These include a history of cancer in one's family — particularly melanoma — fair skin with freckles, the number of mole's on one's body and the amount of sun exposure an individual has experienced in their lifetime. It takes only one blistering sunburn, especially at a young age, to more than double a person's chance of developing melanoma later in life. In addition, exposure to tanning beds before age 30 increases a person's risk of developing melanoma by 75 percent. And individuals who regularly use tanning beds are eight times more likely to develop melanoma than people who have never used them.
Most people enjoy a beautiful sunny day, and there are many benefits of sunshine. Our culture tends to project the image that the sun is healthy and that a tan body is better, healthier and more beautiful than a white body. As a result, many people spend hours in the sun or going to tanning beds to tan their skin. However, we've learned that there is a tremendous danger to our skin when we use tanning beds or overexpose our skin to the sun's ultraviolet rays.
Some exposure to the sun is not entirely bad. A measured amount of sun exposure will facilitate vitamin D production, which is good for bone health, and supports the health of the brain and immune system. Also, some sun exposure helps treat skin disorders, such as psoriasis and atopic dermatitis. Sunlight can assist people affected by seasonal affective disorder and can give people a sense of well-being. On the flip side, too much ultraviolet radiation from the sun leads to premature skin aging in the form of wrinkles, lax skin and brown spots, and damage to DNA, which causes mutations in skin cells that cause skin cancer.
Skin cancer stats
It's a myth that skin cancer is a disease that affects only old people. Anyone can get skin cancer, and it occurs in people of all skin colors and ages. According to the Melanoma Research Foundation, 1 in 5 Americans will get skin cancer in their lifetime, and the incidence of melanoma is increasing. Melanoma has one of the fastest rates of increase compared to other types of cancers. Here are some other statistics you may not know about:
From 1960 to the present, melanoma is increasing roughly 20 to 50 percent every five years.
From 1980 to 2004, the incidence of melanoma in young women increased by 50 percent.
Melanoma is the second most common cancer among 15- to 29-year-olds and is the No. 1 cancer in young adults ages 25 to 29.
In males ages 15 to 29, there has been a fourfold (333 percent) increase in melanoma from 1970 to 2009. For females ages 15 to 39, there has been an eightfold (706 percent) increase.
In males ages 40 to 60 from 1970 to 2009, there has been a four-and-a-half-fold increase, and in females age 40 to 60 in the same time frame, a 24-fold (2,333 percent) increase in melanoma.
When there is damage to skin cell DNA, skin cells are prompted to produce more melanin, which is the pigment that gives our skin its color. The melanin production signals there is DNA damage and tries to protect the skin from further damage. Repeated ultraviolet exposure continues to accumulate. Therefore, the risk of skin cancer increases.
Any tan, whether you get it on the beach or in a tanning bed, is bad news because it is an indication of skin cell damage caused by harmful ultraviolet radiation. There is no such thing as a safe or protective tan, as any tan is a sign of skin damage. According to the Melanoma Research Foundation, individuals using tanning beds are 2 1/2 times more likely to develop squamous cell carcinoma, 1 1/2 times more likely to develop basal cell carcinoma and 75 percent more likely to develop melanoma than those who do not tan.
Many states, including Minnesota, outlaw tanning bed use for anyone under the age of 18.Tanning bed equipment has been classified by the World Health Organization (WHO) as carcinogenic and is placed in the same category as tobacco, arsenic and plutonium.
What preventive measures could you take to protect your skin from overexposure to ultraviolet radiation? First, it is important to remember that you need to protect your skin not just in the summer, but also in the winter, fall and spring. At higher altitudes, there is greater risk, as well as near or on the water, sand or snow.
Here are seven tips to protect yourself and your loved ones from UV radiation:
Avoid the sun between 10 a.m. and 2 p.m. This is when the sun is most intense and produces its greatest chance of sunburn. It is a myth that you cannot get sun damage on a cloudy day, because even on cloudy days, your skin can be damaged. Up to 80 percent of the sun's ultraviolet rays can penetrate through clouds and fog.
Wearing clothing — particularly clothing that has a high UPF (ultraviolet protective factor) — to protect our skin is important. Slipping on a shirt, wearing a hat and using sunglasses with ultraviolet protection is smart thinking. Wearing clothing that is tightly woven and bright- or dark-colored tend to protect more than pastels or bleached cottons. While there are companies that produce clothes that have ultraviolet protective factors woven into them, individuals can add laundry additives to their wash that provide a higher UPF to their clothes. The higher the UPF, the more protection it provides. Thus, a shirt with 30 UPF means that just 1/30 of the sun's ultraviolet radiation will reach the skin.
Generously use sunscreen when outdoors. The American Academy of Dermatology recommends using a sun protective factor (SPF) of at least 30.The SPF number indicates how long it will take for the UVB rays to redden the skin when using a sunscreen compared to how long the skin would redden without sunscreen. Thus, an SPF of 30 means it will take 30 times longer to redden the skin and will protect one against 97 percent of the sun's UVB rays. Use sunscreen that is broad spectrum

,

which protects from both the UVA and UVB rays. UVA rays are longer rays that cause skin damage and age the skin. UVB rays are shorter rays that cause skin damage and burn the skin. Apply sunscreen 30 minutes before going out, and re-apply every two hours or immediately after swimming or excessive sweating. There is no current published data indicating regular sunscreen use has an adverse effect on the human body.
Do not use tanning beds or tanning booths. All of Canada and many states in the U.S. outlaw the use of tanning beds for individuals under age 18. Tanning beds' ultraviolet radiation is a higher intensity sun lamp that increases the risk of melanoma 12 times that of regular sun exposure.
Stay away from sun burning your skin. As indicated, experiencing one bad sunburn as a child or teen doubles the risk of getting melanoma.
Examine your skin from head to toe every month. Early detection of any new bumps or signs of changes in your skin is critical. It is important to check areas that are difficult to see. So, having someone check those areas, such as the back of the head, back or other areas, may be necessary. If you notice anything changing, growing or bleeding, call your physician or dermatologist immediately.
With an annual physical, have your physician or dermatologist perform a skin exam. You may need to ask your physician or dermatologist for a skin exam.