We are experiencing high call volumes:
Use your account on the Mayo Clinic app or patient portal to check symptoms, get care recommendations and make an appointment.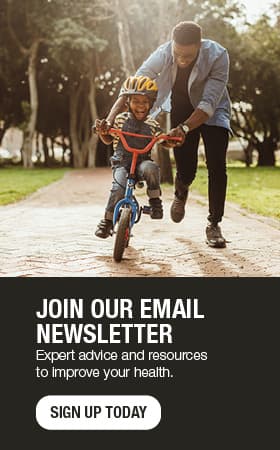 Surprise diagnosis emphasizes the importance of well-baby exams
Like many parents, Becky and Shawn Kubat looked forward to their new daughter's well-baby exams.
"We liked to see how much Paige weighed and how much she was growing," says Becky.
But when their daughter was diagnosed with a rare congenital condition that was first noticed at her 4-month well-baby exam, the Kubats gained a new perspective on the appointments.
Vickie Parsons, a pediatric nurse practitioner at Mayo Clinic Health System in Mankato, examined Paige that day.
"I knew something was off the minute I stepped into the room," says Parsons. "Paige was sitting on her mom's lap and she wasn't holding her head up. She was more limp than usual. That's not normal for a baby that age. And it was a big change from her last visit."
Parsons asked a few questions and learned that Paige had been crabby and sensitive to light. When Parsons tried to examine the baby's eyes, she resisted.
"I wasn't sure what was wrong but was worried there might be a neurological problem," says Parsons. She ordered some tests and told the Kubats that Paige needed to be admitted to the hospital for observation.
"That's when I burst into tears," says Becky. "Initially, I thought Vickie was overreacting. Paige had been eating and sleeping well. It didn't seem to me like anything was wrong with her."
At the hospital, Paige had several blood tests and an ultrasound. All came back normal. Then an ophthalmologist examined Paige.
"The doctor told us her corneas were too large, even for an adult," says Becky. Paige was referred to a pediatric ophthalmologist at Mayo Clinic, where she was diagnosed with congenital glaucoma in both eyes. Glaucoma is a group of eye diseases that cause optic nerve damage. Most cases, including Paige's, are a result of increased pressure within the eye due to a buildup of a fluid that flows in and out of the eye. Congenital glaucoma — glaucoma that is present at birth — is extremely rare. If not caught early and treated, the condition can lead to blindness.
"We are so grateful to Vickie for catching this," says Becky. "Saying thank you is not enough. There are no words big enough."
Well-child exams: Stay on schedule
How often should children be seen by their provider? The American Academy of Pediatrics recommends well-child exams at the following ages:

• 3 to 5 days
• 1 month
• 2 months
• 4 months
• 6 months
• 9 months
• 12 months
• 15 months
• 18 months
• 24 months
• 30 months
• 3 years
• 
Once a year from 4 to 21
---
For the safety of our patients, staff and visitors, Mayo Clinic has strict masking policies in place. Anyone shown without a mask was either recorded prior to COVID-19 or recorded in a non-patient care area where social distancing and other safety protocols were followed.