We are experiencing high call volumes:
Use your account on the Mayo Clinic app or patient portal to check symptoms, get care recommendations and make an appointment.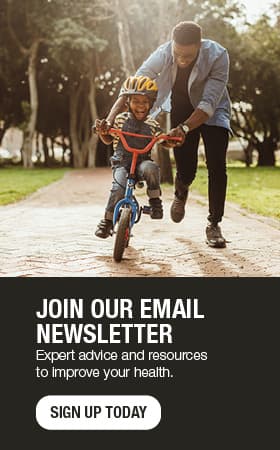 Special care for special girls
Corrina Rouvel was just a month old when doctors at Mayo Clinic Health System – Franciscan Healthcare discovered she had a rare heart defect called aortopulmonary window. In this condition, there is a hole between the major artery that takes blood from the heart to the body and the artery that takes blood from the heart to the lungs.
Little Corrina had open-heart surgery at Saint Marys Hospital in Rochester three days later. She recovered well and her parents, Rachel and Jason Rouvel, were told Corrina would likely have no lingering effects. The Rouvels thought their hospital days were behind them.
"Corrina's defect happens in just 0.1 percent of all congenital heart defects," says Rachel Rouvel. "It was a fluke."
But when Rouvel became pregnant again, she learned the baby she was carrying had a different type of heart defect — complete atrioventricular canal defect — which is often associated with Down syndrome. In atrioventricular canal defect, there's a hole between the chambers of the heart and problems with the valves that regulate blood flow in the heart.
"It was another fluke," says Rouvel.
After she was born, Greta spent 11 days in the Neonatal Intensive Care Unit at Mayo Clinic Health System – Franciscan Healthcare in La Crosse. The specialists there confirmed her Down syndrome diagnosis and arranged for Greta to have open-heart surgery in Rochester. That surgery, like her sister's, went well.
Both Greta and Corrina have yearly follow-up appointments to ensure their hearts remain healthy. Greta also has annual appointments with specialists at the Down Syndrome Clinic in La Crosse (see below).
"The Down Syndrome Clinic brings specialists together so that our patients with Down syndrome can see a variety of providers on one day, rather than having to schedule appointments on multiple days," says pediatrician Jennifer Brumm, M.D., who coordinates the clinic. "The appointments usually take two to three hours. We then meet as a team to discuss each patient and develop a comprehensive plan for his or her care."
For Greta, that plan includes physical and occupational therapy.
"Since starting physical therapy, Greta has improved by leaps and bounds," says Rouvel. "She's started climbing stairs, playing with toys and tearing the house apart to find things to play with. I am so happy that we're finally at that point developmentally. She seems more like an average toddler now. She's eating like a toddler, too. I used to have to blend everything that I fed her, and I don't have to do that anymore. Occupational therapy has been a huge help by suggesting foods to try and encouraging me to keep at it and not to give up."
If Greta's follow-up care should include an appointment with a specialist in Rochester, 
Dr. Brumm can easily view test results or appointment notes thanks to Mayo Clinic Health System – Franciscan Healthcare's connection to Mayo Clinic.
"Our shared electronic medical record system lets us see anything that Mayo puts in our patients' records, and the Mayo doctors can look at our records, too," says Dr. Brumm. "We can also easily get in touch with the Mayo specialists via e-mail or phone calls."
Rouvel says she appreciates the convenience and coordination of the Down Syndrome Clinic. But more than convenience keeps the family coming back to Mayo Clinic Health System – Franciscan Healthcare.
"The staff there are knowledgeable, accepting and friendly," says Rouvel. "They know us and our girls. If I call in because one of the girls is sick, I just say, 'This is Greta's mom' and they know exactly who I am. They really care about their patients."
---
For the safety of our patients, staff and visitors, Mayo Clinic has strict masking policies in place. Anyone shown without a mask was either recorded prior to COVID-19 or recorded in a non-patient care area where social distancing and other safety protocols were followed.