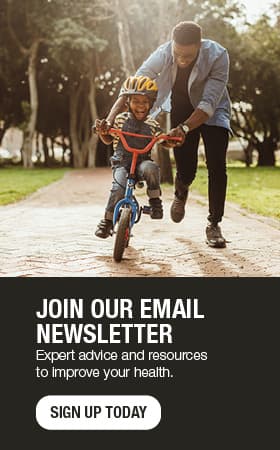 Small town, big results: Spine surgery brings relief to Austin accountant and mother
Topics in this Post
Patricia Kroymann was unloading her dishwasher on a normal Saturday when she suddenly felt excruciating pain in her back and legs.
"I knew right away something wasn't right. I thought maybe it was a muscle spasm," says Patricia. "I thought with Tylenol and rest it would get better."
Instead, by the time Monday morning arrived, Patricia could not get up from her bed. Her husband rushed her to the Emergency Department on the Austin campus of Mayo Clinic Health System – Albert Lea and Austin for evaluation.
"They actually admitted me to the hospital for a couple of days because I was in such excruciating pain," says Patricia.
After several tests, an orthopedic surgery team determined that Patricia had a special type of herniated disc in her spine called disc extrusion where a piece of disc in the spine separates and, in her case was pinching a nerve. The orthopedic surgeon and certified physician assistant started Patricia on a regimen of physical therapy and injections to help control the swelling and pain as well as close monitoring of her condition.
Patricia was hopeful after the first injection, but it soon became clear that she would need surgery.
"I actually had a follow-up appointment set up, but I didn't make it," says Patricia. "I was in too much pain."
Patricia again reported to the Emergency Department, where providers contacted the orthopedic surgeon immediately. In two days, Patricia was in the operating room in Austin undergoing a discectomy.
"When I woke up, the pain in my leg was gone," says Patricia. "I was off my feet for a while, but I didn't even need physical therapy."
Patricia says she couldn't be happier with the care she received, all at Mayo Clinic Health System in Austin.
"I have recommended Mayo Clinic Health System to people because of their fantastic bedside manner and my successful surgery," says Patricia. "I'm so happy to have these resources available here in Austin."
Topics in this Post