Siblings use Patient Online Services to track mother's health from a distance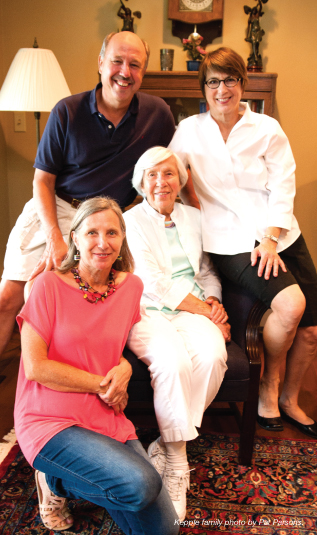 There comes a time in life when roles shift and children must take care of their parents. Though it makes life more complicated, modern technology can make it easier than it used to be.
An active family
Hazel Kepple, of Albert Lea, is 92 years young. She lives at Bancroft Creek Estates in Albert Lea, and has lived an adventurous life.
"She was basically an at-home mom, but has always been curious," says Jane Johnson, Hazel's daughter, who lives in Albert Lea and is Hazel's primary caregiver. "She went to business school and was always interested in the stock market. She started WIG, a women's investment group in Albert Lea."
Hazel's husband, Paul, a former Navy pilot, passed away five years ago. Jane says he had a plane when she and her siblings were young, and they took plane trips. Hazel always wanted to travel and learn more. She and Paul traveled extensively and, several times, flew their own
plane to Mexico.
Not your mother's health care — or is it?
While Jane cares for Hazel in Albert Lea, she and her siblings, Lloyd Kepple of Minneapolis and Anne Kepple of Rio Claro, Brazil, use Patient Online Services to keep track of their mother's health care.
"We started using the patient portal when she started having esophagus issues and had trouble swallowing," says Jane. "She went to Mayo Clinic in Rochester and physicians made small incisions in her esophagus to make it more flexible. That has helped a lot."
Jane and her husband, Peter, personally use Patient Online Services, too. "I was on the board at Mayo Clinic Health System – Albert Lea and Austin and learned about the patient portal three years ago when it started," she says. "With Mom's esophagus, we were a little concerned. Anne was in Brazil and Lloyd was in Minneapolis, but they wanted to be in the loop."
Sibling support
When Jane talked to her mother about the patient portal, Hazel was all for it. "She thought it was a good idea, so I set it up, sent my siblings the username and password, and then we could all see test results and physicians' notes," she says.
"At one point before her throat surgery, I sent an inquiry through the portal," says Anne. "I received a response along the lines of 'the physician would like to discuss your question with you personally —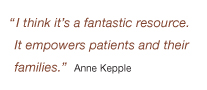 how can he reach you?' We set up a phone call and had a very informative and helpful conversation."
Jane says the patient portal has opened a new door for her family to take ownership of Hazel's health care. "We can talk to her about her test results and we feel good about discussing things with one another based on documented results," she says. "I like that we're all getting the same information right from the doctors' notes. It creates a health care community, and takes some of the mystery out of Mom's health care."
"I think it's a fantastic resource," Anne says. "It empowers patients and their families."
Topics in this Post