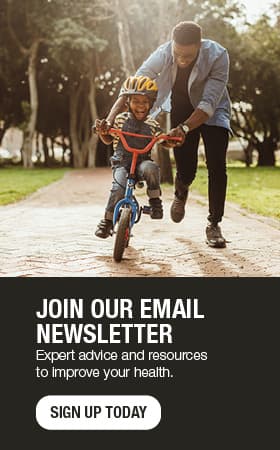 Dave Eitrheim, M.D., a longtime family medicine physician at Mayo Clinic Health System – Red Cedar in Menomonie, has cherished the relationships he's established with patients through the years — from being the first to see and hold patients' newborns to comforting families after a loved one's death.
"I've always considered it to be a privilege for families to ask you to be a part of such important events in their lives," Dr. Eitrheim says.
But for Dr. Eitrheim, the circle of life now has come full circle. He was diagnosed with a terminal tongue cancer in July 2013 and likely has just months to live.
However many days remain, Dr. Eitrheim is determined to make the most of them.
Jim Deming, M.D., Dr. Eitrheim's palliative care physician and former colleague, isn't surprised by his friend's optimistic outlook.
"His glass is not half full. It's overflowing," says Dr. Deming, who describes his peer, now patient, as self-driven, easy-going, approachable, whip smart, and a person of deep faith and humility.
Despite the current circumstances, Dr. Eitrheim, 57, still strives to live each day to its fullest.
Dr. Eitrheim, who earned the Wisconsin Academy of Family Physicians' Family Medicine Physician of the Year Award in 2004, retired at the end of April because of his aggressive cancer. He's undergone surgery, chemotherapy and radiation, battling more than his share of unpleasant side effects in the process.
In May, he was given a six- to nine-month life expectancy. Now seven months out from that, Dr. Eitrheim has shown an unexpected positive response to his chemotherapy and rallied against the cancer invading his body. An avid runner, he even felt well enough to pick up his hobby again — completing a marathon on Nov. 1, no less.
"It was certainly not an easy one for me, but it just felt really good to do it," Dr. Eitrheim says.
The Rails to Trails marathon, held along the Elroy-Sparta State Trail, was Dr. Eitrheim's 90th. While it wasn't his strongest, it was, perhaps, his most powerful, knowing it's also likely his last.
He credits Dr. Deming for encouraging him to follow his dreams and see the race through.
"It was Jim Deming who said 'What would give you a really great day?' Thinking about that, I thought 'I would love to run another marathon,'" Dr. Eitrheim recalls.
Dr. Eitrheim's current prognosis remains a bit of a mystery. While in a far better place from his original diagnosis, doctors are optimistic but still don't know what the future holds.
"We're just so, so happy for him, but we don't know, and he doesn't know," Dr. Deming says. "He knows he's at the mercy of a biological terrorist."
Dr. Eitrheim's need for palliative care, which offers pain and symptom management, will continue even when he transitions to hospice care, intended for patients who've exhausted all treatment options. It brings him comfort to know that Dr. Deming will be with him every step of the way.
"I know I'm going to reach a time at the end of life where improving symptoms like pain is going to be vitally important, and I know that Jim will take on that role once again," he says.