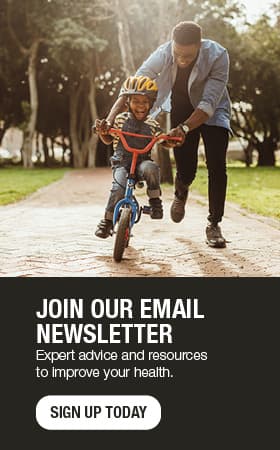 Rolling with the punches: Great medical care under unfortunate circumstances
If you're a parent, you know that the more kids you have, the more complicated your family schedule becomes. Though the saying "I don't have time to be sick" is well-known — and the sentiment rings true — some health complications create a tough road to recovery regardless of how busy life is.
Paula West, a Lake City, Minnesota, resident and daycare provider with four children of her own, learned that the hard way when, over the course of three months, she had vascular vein-stripping surgery, suffered a broken leg and required emergency surgery for appendicitis. And, for some of that time, her husband was on National Guard duty.
Late last spring, West was busy juggling her in-home daycare business and managing the schedules of her kids, ages 11, 13 and 15-year-old twins, when she visited her primary care provider, Kathy Lofberg, a nurse practitioner at Mayo Clinic Health System in Lake City, to discover that she was a candidate for a vein-stripping surgery in her legs.
Since she is on her feet most of the time for her job, she didn't want to ignore the symptoms she had experienced. "The veins in my legs were bulging out of the skin a bit, and they were starting to itch," she says. "A blood flow test revealed that the veins weren't closing, so I chose to have the surgery. My mom had the same thing happen when she was younger, so it might be hereditary."
Further testing at Mayo Clinic Health System in Red Wing, Minnesota, confirmed that West would benefit from the procedure, so she moved forward. "I had heard some horror stories about the surgery, but it went very well," she says. "It was a 90-minute outpatient procedure. I had to take it easy for two to three days, and keep my legs elevated and wear compression socks, but the recovery went well. I returned for a follow-up ultrasound, which showed no blood clots, so I was good to go."
A LUCKY BREAK
West's recovery went well, and she returned to life as usual when a freak accident occurred. "I was walking down the staircase in my house, missed a few steps and fell down the stairs," she says. "I knew immediately that something was wrong. I hobbled up the stairs and called for my family. One of my neighbors, who I provide daycare for, is Randy Foss, M.D., a family medicine physician in Lake City. I called him, and he made a house call."
An X-ray at the Emergency Department in Lake City showed fractures in her fibula. Fortunately, no surgery or cast was required, since the affected area doesn't support crucial body weight. Providers recommended that West take it easy, wear a tight wrap around her leg and use the compression stocking from her vein surgery. Her recovery also included occasional follow-up X-rays to monitor progress. She had planned to take off June and July for her leg to heal.
SURPRISE SURGERY
Recovery went well until approximately two weeks after the leg injury. "I was starting to have flu-like symptoms before my second X-ray," she says. "I spent the night before in deep pain with a piercing sensation below my chest. I had to go in for my X-ray anyway, so I thought I could get it checked at that time. In the meantime, I couldn't keep any food down."
The next morning, West's daughter drove her to the scheduled leg X-ray. She told the nurses about her stomach pain. "They wanted to keep me after the X-ray. I really wasn't feeling well and was going to have to wait a while, but they were able to squeeze me in."
During the initial exam of her abdomen, providers thought it could be food poisoning. West says that when they pressed her stomach, her pain level went through the roof. Providers immediately ordered a blood test and a scan.
---
"What I appreciate the most about Mayo Clinic Health System is the kindness of the nurses and the wonderful woman who helped me through one of my toughest times." — Paula West
---
While waiting in a wheelchair at the Red Wing hospital, West experienced, perhaps, the worst pain of her life. "I was in so much pain, and I didn't really have anyone there with me since I had my daughter stay in the waiting room," she says. "She's only 15, and I didn't want her to be scared. But, after my stomach was pressed, I was almost ready to pass out in the wheelchair." West describes a kind woman — whom she thinks was a Mayo Clinic volunteer — caring for her as she waited, getting her water and rubbing her back to help her think about something other than the pain. "I don't know the woman's name, but she took it upon herself to help me. I am so grateful for her kindness."
The results of the tests finally came back; it wasn't influenza. Less than two hours later, West was prepped for an emergency appendectomy. A general surgeon made three incisions in her abdomen and removed her appendix.
"Thank goodness I went in for the X-ray," says West. "I would have stayed home and treated my pain as if I had the flu. If I hadn't come in, my appendix would have ruptured. That would have been really tough."
Her medical issues were, indeed, tough, and her husband, Lonnie, and friends had to step in to help. But, through the long, challenging summer of unfortunate events, she says she had an excellent experience with her health care. "From the broken leg to surgery, the nurses in Red Wing were fabulous," she says. Every time I've been to Red Wing for care, the providers there have been great."
West has been through a lot, to say the least, but she had her final leg X-ray in August and continues to recover well. "It's tough to get things done with four kids, and my husband was at work in the National Guard for four days when I broke my leg," she says. "But, I've had great friends, parents and community members to support me and help us with food," she says. "What I appreciate the most about Mayo Clinic Health System is the kindness of the nurses and the wonderful woman who helped me through one of my toughest times."