We are experiencing high call volumes:
Use your account on the Mayo Clinic app or patient portal to check symptoms, get care recommendations and make an appointment.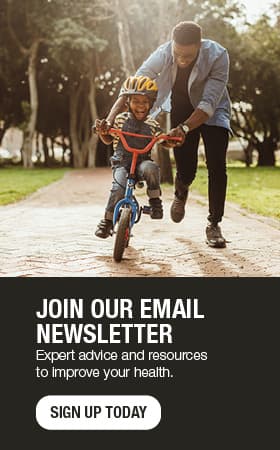 Rochester woman finds care worth a commute to Lake City
Mary Jewison grew up in Plainview, Minn., population 3,340. When she became pregnant, Jewison knew she wanted the type of medical care she remembered receiving as a child.
"I wanted that 'Cheers' experience, to be somewhere where everybody knows your name," she says, referring to the theme song from the '80s sitcom.
The only problem? Jewison lives in Rochester, population 106,769. But instead of giving up her dream, Jewison decided to chase it — all the way to Lake City, 35 miles away.
"I talked to a friend who had delivered her baby in Lake City and loved the experience," says Jewison. "I called the clinic, asked the receptionist to recommend a laid-back provider, and scheduled an appointment with Dr. Renelt."
Jewison says her first appointment with John Renelt, M.D., Family Medicine, convinced her that she had made the right choice.
"Dr. Renelt is relaxed. He doesn't lecture. And he's good at explaining things," says Jewison. "Even though I'm a nurse, I'm not an OB nurse, so I appreciated all of the information he gave me. His nurses, Claudia Stone and Jo Kopischke, are amazing, too. They are helpful and always know who I am when I call. It is so nice not having to explain my situation to a different nurse every time I call."
Jewison also appreciated Dr. Renelt's flexibility.
"He came into the clinic several times on his day off because those were the appointments that worked for me," she says. "He was always extra accommodating."
For most of her pregnancy, Jewison made the drive to Lake City once a month. But as her pregnancy progressed, her appointments became more frequent. By the last month of her pregnancy, she was making the trip twice a week.
When it was time for Jewison to deliver her baby — a little girl she and her husband, Jason, named Ila — Dr. Renelt started his vacation a day late so that he could be at Ila's birth.
"One of the biggest reasons I wanted to get care in a small town is that I wanted to be seen by the same doctor and same nurse throughout my pregnancy," says Jewison. "I didn't want someone I'd never met before to be there in the delivery room. It mattered to me that Dr. Renelt was the one who delivered Ila."
Dr. Renelt understands the importance of the relationship that develops between providers and patients. It's one of the reasons he's chosen to practice small-town medicine.
"I really enjoy getting to know my patients and their families," he says. "It's an honor to be part of their lives. And it's a special honor to be present for a child's birth."
Jewison continues to travel to Lake City for Ila's well-child visits. At one of her first appointments, Dr. Renelt gave Ila a gift — a bunny blanket embroidered with her name and birth date.
"That meant so much to us," says Jewison. "It was such a sweet thing to do. You can tell Dr. Renelt is a doctor for the right reasons. You can tell that he does it because he loves it."
---
For the safety of our patients, staff and visitors, Mayo Clinic has strict masking policies in place. Anyone shown without a mask was either recorded prior to COVID-19 or recorded in a non-patient care area where social distancing and other safety protocols were followed.