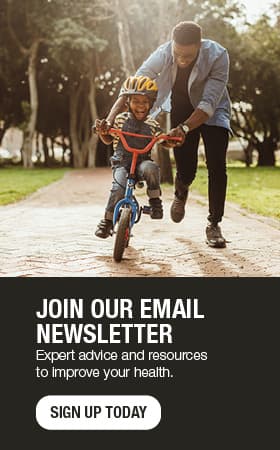 Recovery went better, quicker than Lake City man expected
Lifelong Lake City, Minnesota, resident Tom Bremer says he likes being active. When he's not working as a machinist, there's a good chance he's teeing off on a local golf course. "My only rule is that it has to be above 45 degrees, or my hands get way too cold," Bremer chuckles.
Towards the end of the 2015 golf season, Bremer noticed mild discomfort in his lower abdomen. He dismissed it as a pulled muscle, but it persisted. Soon after, he could feel a bulge developing. He suspected a hernia.
"I'm a guy and don't generally go to the doctor unless I have to," says Bremer. Almost a year went by before Bremer scheduled an appointment with his primary care provider at Mayo Clinic Health System in Lake City. "I could feel it getting bigger by that time," he says. Bremer did have an inguinal hernia. He was referred to Paul Hartzheim, M.D., a general surgeon who operates in Lake City and Mayo Clinic Health System in Red Wing.
An inguinal hernia occurs when tissues, such as part of an intestine, protrude through a weak spot in the abdominal muscles. The resulting bulge can be painful, especially when coughing, bending over or lifting a heavy object. Symptoms can vary from mild, as in Bremer's case, to bothersome. Although uncommon, hernias can lead to life-threatening complications.
"Many times, we can safely watch a hernia, but it will not improve on its own. It's time to consider surgery when the hernia becomes increasingly more painful or gets bigger," says Dr. Hartzheim. "Hernia repair is a very common, safe procedure. We have a lot of experience in this locally."
Bremer had surgery mid-morning in August 2016 and went home in the afternoon. Dr. Hartzheim made a small incision below Bremer's navel and repaired the hernia using a minimally invasive laparoscopic technique. Hernia surgery takes about an hour. "Discomfort after surgery varies from person to person. We're using some of the newer, longer-active anesthetic that lasts two to three days in some cases and a nerve block technique to help reduce discomfort," says Dr. Hartzheim. "Many patients are walking right after the procedure."
"It went quicker and better than I thought it would," Bremer says. He only took pain medication for two days after the surgery and was back to work and the golf course in no time. " I had my checkup with Dr. Hartzheim on day seven after surgery. Eight days after surgery, I was out golfing," says Bremer. "Everything went just great. I am feeling good now."
---
For the safety of our patients, staff and visitors, Mayo Clinic has strict masking policies in place. Anyone shown without a mask was either recorded prior to COVID-19 or recorded in a non-patient care area where social distancing and other safety protocols were followed.