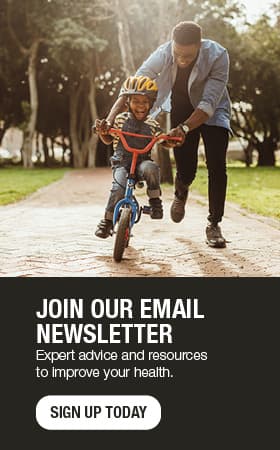 Quick medical attention helped Eau Claire stroke survivor
"It was like a light switch went off." That is how Mark Diers describes how he felt on Super Bowl Sunday, Feb. 7, 2016. He was at work at a retail store when, suddenly, he had trouble speaking and couldn't make his right hand work correctly.
"I remember asking my co-worker if my speech was slurred," says Diers, a 64-year-old from Eau Claire, Wisconsin. "The lights seemed so bright, and I stumbled three times going up the stairs. I wasn't sure what was happening, but I knew I didn't feel right."
What Diers didn't know at the time was that he was having a stroke. A stroke occurs when the blood supply to part of the brain is interrupted or severely reduced. It deprives brain tissue of oxygen and nutrients. Within minutes, brain cells begin to die.
A co-worker of Diers drove him to the Emergency Department at Mayo Clinic Health System in Eau Claire. "It was still hard to get words out, and I stumbled a couple of times on the way in. Within a minute of describing my symptoms to the ER team, there were a lot of people buzzing around me."
Neurologist Donn Dexter, M.D., was on call and examined Diers. "Mr. Diers was fortunate that he came into the hospital right away. The guidelines allow people like him, who are having a stroke and get evaluated promptly, to be treated with the clot-busting drug TPA," says Dr. Dexter.
Tissue plasminogen activator, TPA, is a medication that is administered into the circulatory system and breaks up clots. The medication must be given within four and one-half hours from the start of stroke symptoms. "Only approximately 2 percent of stroke patients are candidates for this treatment, mostly due to time exclusions," explains Dr. Dexter.
After receiving TPA, Diers felt much better. "It was like a light switch went back on again. In 20 minutes, I felt like I could go back to work."
Dr. Dexter describes TPA as a "true modern miracle drug" but cautions that it does not work for every patient. "We need to be very careful about picking the right patients for this treatment," explains Dr. Dexter. "Getting emergency care immediately is critical. The drug at 90 minutes works much better than it does at four and one-half hours."
While there are stroke risk factors that you cannot control, such as age, sex and family history, other risk factors can be controlled with healthy lifestyle choices, such as regular exercise, a healthy diet and maintaining a healthy weight. However, any person at any age can have a stroke.
Diers spent one night in the Critical Care Unit at the hospital. His primary concern was watching the Super Bowl. "I asked the nurse if I could watch the game. She pointed to the TV in the room but I said, 'Yeah, but do you have taco dip?'"
Even without taco dip, Diers was appreciative of his care. "I am so very grateful and impressed with the level of care I received at Mayo Clinic Health System in Eau Claire. Everyone was awesome."
When Diers is not at work, he likes to ride his bicycle through the Chippewa Valley countryside and canoe with his wife, Rhonda. He also is sharing what he has learned about stroke with everyone in his life. "I've read a lot about stroke since February. It's amazing how lucky I am, because there are chapters and chapters about all the different side effects. I'm a lucky guy."
Dr. Dexter agrees, "If he would have come to the Emergency Department a little later, he could have been a lot worse. Getting treatment right away was key."