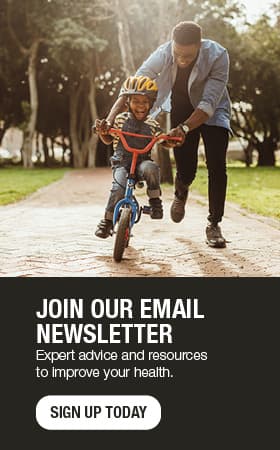 Piecing together the puzzle of patient care: 'Dutch' Thompson's cancer journey
While everyone around him was embracing the holiday spirit, Tom "Dutch" Thompson felt miserable. He already had a doctor's appointment on the calendar and thought it could wait. When his daughter Michelle saw him, "she told me, 'You look like you're dying. We're going to the emergency room right now,'" says Thompson. "She wouldn't take no for an answer."
When Dutch arrived at the Emergency Department (ED) at Mayo Clinic Health System in his hometown of Lake City last December, he was relieved to learn that his primary care provider was working in the ED at the time. After some blood tests, Dascher worked with her hospital colleagues to admit Dutch to the hospital to administer blood because his hemoglobin counts were so low.
Paul Hartzheim, M.D., a Mayo Clinic Health System general surgeon who works in both Red Wing and Lake City, performed a colonoscopy on Dutch and found cancer in the resulting biopsies. "It really hit me hard," says Thompson. "No one can prepare you for that. But Dr. Hartzheim was so polite, he gave my daughter and me the space we needed instead of overwhelming us with too much information."
Dr. Hartzheim informed Dutch that he would need to confirm the location of the colon cancer with a CT scan. "Before I even got out of my hospital gown," says Thompson, "we had one scheduled." The CT confirmed that Dutch's cancer was contained in one portion of the colon, and Dr. Hartzheim released Thompson and scheduled surgery at Mayo Clinic Health System in Red Wing for the following week. "There was no waiting. It all pieced together like a puzzle," says Thompson.
A week later, Dutch arrived in Red Wing for his surgery. He heard whistling down the hall and realized that it was Dr. Hartzheim. "He tried to apologize for the whistling," says Thompson. "But I loved it. This guy loves his job, he loves what he does and he cares about the patient. I can't tell you the relief I had just in knowing that and in talking to him." Soon after, the same team that performed Dutch's colonoscopy in Lake City operated on his colon in Red Wing and successfully removed his cancer.
Claire Thomas, M.D., an oncologist at Mayo Clinic Health System in Red Wing, determined that Dutch would not need chemotherapy. With support from family and friends, Dutch made a full recovery. "Last year, I got a colon cancer surgery appointment for Christmas," says Thompson. "This Christmas, I received confirmation through a follow-up colonoscopy that I'm cancer free."
For Dr. Hartzheim, Dutch's care shows that the way Mayo Clinic collaborates to ensure the right care at the right time and in the right setting works. Mayo Clinic's care model emphasizes comprehensive, timely assessment and treatment; high quality, integrated and seamless health care; teamwork; and lifelong wellness and illness prevention. "We all worked together in a team approach for Dutch, arranging his care in the most appropriate facility closest to home," he says.
Dr. Hartzheim also credits Dutch's providers in the ED with his success. "The primary care folks are the real heroes in this story," says Dr. Hartzheim. "They ensured he was thoroughly checked out and did all the right things."
---
For the safety of our patients, staff and visitors, Mayo Clinic has strict masking policies in place. Anyone shown without a mask was either recorded prior to COVID-19 or recorded in a non-patient care area where social distancing and other safety protocols were followed.
Topics in this Post